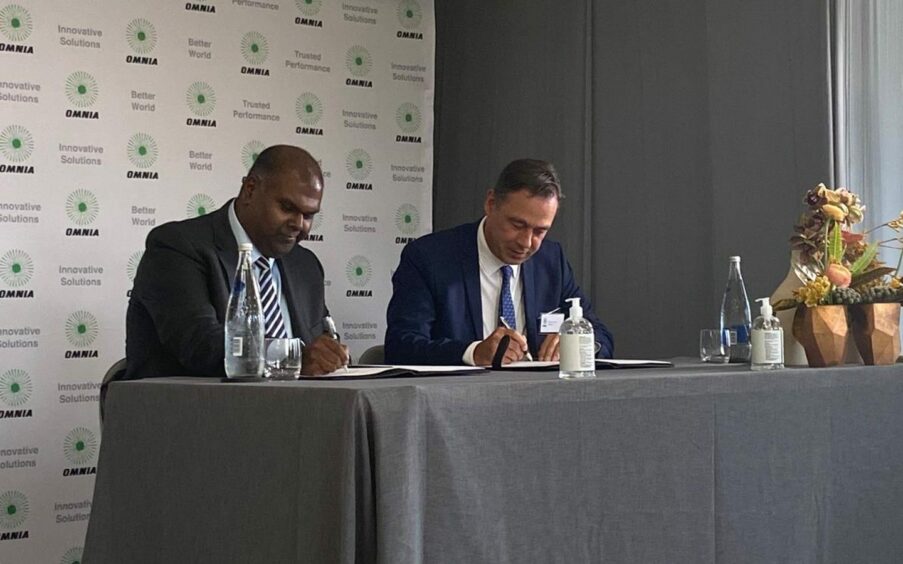 Germany's PNE has signed on to a plan to produce green hydrogen and ammonia in South Africa with local company Omnia Holding.
The memorandum of understanding (MoU) envisages a 100,000 tonne per year green ammonia plant. It would take renewable energy from sources such as wind and solar, the statement said.
The plan would save around 180,000 tpy of CO2 emissions. PNE would develop equipment to deliver wind and solar power to the plant.
Signing the MoU paves the way for the companies to flesh out their plans for a green ammonia development.
Omnia is an "experienced ", said PNE CEO Markus Lesser. "Green hydrogen and its downstream products are key to facilitating South Africa's decarbonisation and energy transition goals while unlocking sustainable growth opportunities."
Lesser said the plan would scale up its 2.0 strategy "in which solutions around Power-to-X play a significant role".
Cutting emissions
Omnia CEO Seelan Gobalsamy said the South African company was always looking at ways to add value through its supply chain.
"Being innovative and using green technology is at the heart of our approach. The fact is that onsite production of green ammonia will significantly reduce our CO2 emissions, embed sustainability into our products, and support the country's green energy journey," Gobalsamy said.
Omnia currently relies on conventionally produced ammonia, which has substantial associated carbon emissions.
Omnia would work with PNE's subsidiary WKN to "develop technology solutions together that reduce industry risk, improve operational safety, and create a lower environmental footprint".
The statement noted that green ammonia produced domestically would reduce South Africa's reliance on imports and the strain on its overburdened rail network.
PNE also noted South Africa's push to scale up renewable energy through the Just Energy Transition Partnership (JETP). A group of countries, including Germany, agreed at COP26 to provide $8.5 billion in financing to help South Africa move away from coal.
Lesser said projects such as this one with Omnia would help decarbonise. "In addition, we remain true to our principle of only implementing economically successful commercial projects."
PNE is an experienced developer of on- and offshore wind farms. It also offers solar photovoltaic (PV) work and storage.
Enormous and complex
Omnia, in January, launched a 5 MW solar plant at Sasolburg. Gobalsamy also broke ground on the second phase of the plant. The South African company said these investments would reduce its dependency on the unstable national grid and on coal-fired power.
South Africa is facing "indefinite load shedding", Omnia said. National utility Eskom  is challenged by issues that are "enormous and complex".
Speaking last month, Gobalsamy said stakeholders must work together to find solutions to the energy problems. "We are exceptionally proud to do our part to alleviate the electricity challenges and reduce Omnia's impact on the environment."
Recommended for you

Prax to buy out Total from Natref refinery