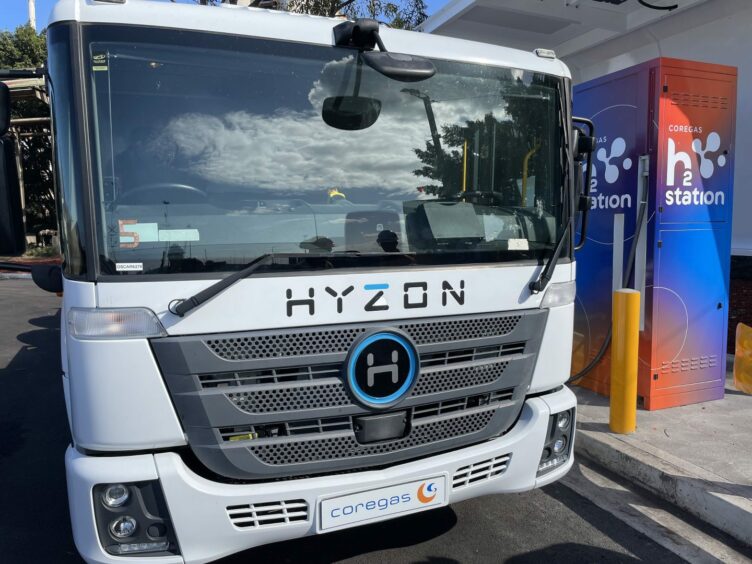 Haskel and Coregas have launched a first commercial hydrogen refuelling station in New South Wales.
Haskel provided its turnkey GENO hydrogen station for the Coregas H2Station, at the Bluescope Steel site. HGVs, buses and refuse vehicles will use the fuelling station.
Haskel technical sales manager in the region Stewart Anderson welcomed the collaboration on this "ground-breaking project, bringing our extensive high pressure gas experience and expertise in the hydrogen mobility sector to Port Kembla".
The facility can provide more than 400 kg of hydrogen per day. It will take feedstock from the production plant, compress it to 350 bar and then move it to the station, 50 metres away.
"The Haskel hydrogen system features world-leading compression, storage and dispensing equipment specifically designed and optimised for H2Station," said Coregas' Australia general manager Alan Watkins. "Transitioning our fleet to FCEVs is a cornerstone of the company's decarbonisation roadmap."
Grander plans
The Port Kembla Investment Fund backed Coregas' fuelling facility plans, awarding funding under round four in March 2021. Commonwealth Scientific and Industrial Research Organisation (CSIRO) described it as a "first step" towards Port Kembla becoming a hydrogen hub.
Coregas signed on to acquire two hydrogen fuel cell trucks from Hyzon Motors in 2021.
Watkins, speaking at the time, said hydrogen was an attractive option. "We believe the shorter refuelling times, longer range, and higher payloads of hydrogen-powered heavy vehicles compared to equivalent battery electric vehicles means they will have a crucial role to play in making Australia's transport sector sustainable."
Bluescope signed a deal with Shell in December 2021. This focused on the potential use of green hydrogen at the Port Kembla steel works. Shell pulled out in August 2022.
Recommended for you

Hedge fund boss slams hydrogen bets as 'complete waste of time'