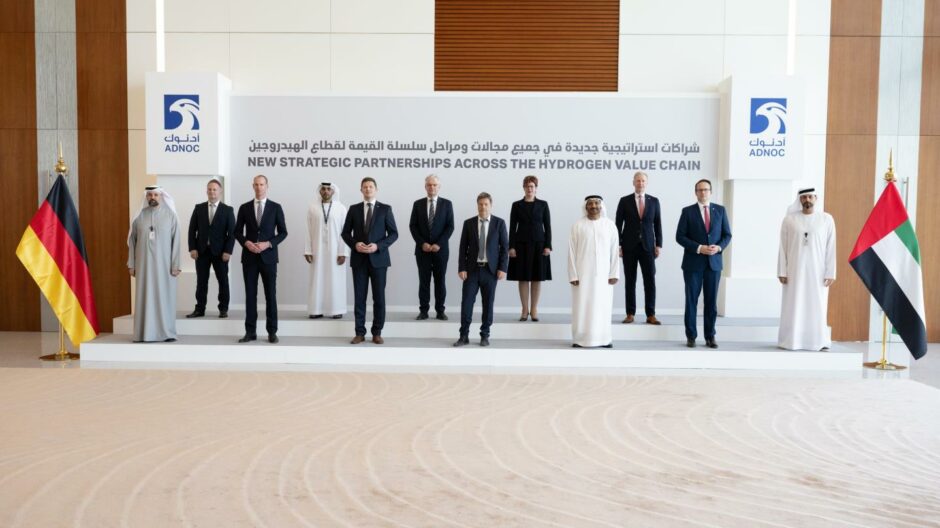 Germany has struck agreements with Adnoc on securing low-carbon test ammonia cargoes, which will play a key part in the European state's energy transition.
German Federal Minister for Economic Affairs and Climate Action Robert Habeck is visiting the United Arab Emirates, following his visit to Qatar to talk LNG.
Adnoc said it had signed a memorandum of understanding (MoU) and a joint study agreement (JSA), focusing on clean hydrogen.
Germany aims to import 3 million tonnes per year of clean hydrogen by 2030, increasing this to 11mn tpy by 2050. The UAE aims to provide 25% of hydrogen to "key global markets", Adnoc said.
Adnoc head, and UAE Minister of Industry, Sultan Ahmed Al Jaber, said the UAE and Germany had "a deep, longstanding bilateral relationship".
Adnoc has "ambitious growth plans for clean hydrogen, a critical tool in efforts to decarbonise hard-to-abate sectors, which we are actively delivering on to meet demand in Asia, and through today's partnerships, Europe as well".
Germany's Habeck said boosting hydrogen supply chains "is key for our transition to sustainable energy and for achieving the decarbonisation goals in line with our commitments under the Paris Agreement. Today's agreements signal a decisive milestone towards meeting our climate action ambitions."
Drilling in
Adnoc struck individual deals with Aurubis, RWE, GETEC and STEAG. These focus on collaboration in hydrogen. They will see the first blue ammonia demonstration cargo from the UAE to Germany this year.
Fertiglobe will produce the ammonia at its Fertil plant, in Ruwais. Adnoc and partners are working on a 1mn tpy blue ammonia plant at Ta'ziz in Ruwais.
Germany's Uniper and Hydrogenious signed a JSA with Adnoc and JERA on exploring hydrogen transportation. This will focus on Hydrogenious' liquid organic hydrogen carrier (LOHC) technology.
Hydrogenious aims to transport hydrogen in toluene.  The company's CEO Daniel Teichmann said LOHC could enable the meeting of "demand at scale in a safe and cost-efficient manner. We could not imagine a better project consortium that can cover the entire value chain from source to consumption."
Finally, Adnoc signed an MoU with logistics company HHLA and AD Ports Group. This will focus on expanding Hamburg's port into hydrogen. AD Ports signed a deal in mid-2021 with TAQA on a 2mn tpy green ammonia export project in Abu Dhabi.
Habeck held high-level political talks in Qatar on the weekend, paving the way for LNG contracts. Germany is moving to LNG out of necessity but it has made a number of commitments on hydrogen imports.
The German minister, speaking ahead of his visit to Abu Dhabi, said the focus would be on green hydrogen. First, this will go into decarbonising steel and chemical industries. In the longer term, the aim is to replace Russian gas supplies.
Updated at 3:53 pm with Hydrogenious comment. 
Recommended for you

ADNOC looks to Aberdeen's 'tartan' revolution for $5bn UAE opportunity