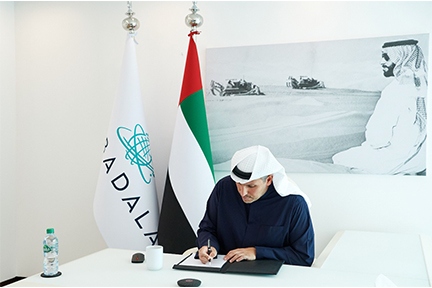 Adnoc, Mubadala Investment and ADQ have signed a memorandum of understanding (MoU) on launching the Abu Dhabi Hydrogen Alliance.
The Hydrogen Alliance intend to establish Abu Dhabi as a "trusted leader of low carbon green and blue hydrogen" in international markets. They will also work together on developing green hydrogen in the United Arab Emirates.
The first step of the alliance will be a demonstration plant at Masdar City. This will be developed under an agreement with Siemens Energy and Masdar. Mubadala signed an MoU with the German company, focusing on the production of green energy.
"Our engagement with ADNOC and ADQ is an important step in the establishment of the UAE's hydrogen economy, and to align on technology, investment, the development of the domestic market and our approach to international partners and offtakers," said Mubadala CEO Khaldoon Khalifa Al Mubarak.
The alliance intends to develop a plan for the adoption of hydrogen, and its production, in the UAE. The three companies will also "align" on how they approach international markets.
ADQ CEO Mohamed Hassan Alsuwaidi said his company's work in mobility and logistics put it in good standing to "drive local adoption in sectors with high energy demand".
Adnoc blue
"This alliance integrates our complementary strengths as energy and financial leaders to address the global challenge of meeting energy demand, while reducing emissions," said Adnoc's CEO Sultan Al Jaber.
"While we explore green hydrogen opportunities through the Alliance, Adnoc will place special emphasis on pursuing blue hydrogen projects by expanding on its existing hydrogen capacity, leveraging its significant gas reserves and best-in-class infrastructure, as well as its extensive customer relationships to help advance the hydrogen industry, both domestically and internationally," he said.
Adnoc already produces 300,000 tonnes per year of hydrogen and has plans to increase this to 500,000 tpy. The company signed deals with Japan's Ministry of Economy, Trade and Industry (METI) last week on potential co-operation around fuel ammonia and carbon recycling.
The German connection
Mubadala's MoU with Siemens will have an initial focus in Abu Dhabi but should expand internationally over time.
The two companies agreed to various goals around hydrogen. These include plans to establish an Abu Dhabi-based world-class player in synthetic fuels. They will also work together on technology and reducing costs of green hydrogen.
"Through this strategic partnership, we expect to be able to leverage Abu Dhabi's strong foundations for the production and sale of green hydrogen, prove a strong business case and attract investment for the development of new facilities, and establish Abu Dhabi as a reliable supplier of green hydrogen to global markets," said Mubadala's CEO of UAE investments Musabbeh Al Kaabi.
Siemens' managing director in the Middle East Dietmar Siersdorfer noted the company's green hydrogen production from proton exchange membrane electrolysis. "We look forward to advancing and leveraging the many applications of green hydrogen, in partnership with Mubadala and the other key stakeholders throughout the hydrogen value chain, for the benefit of the UAE and the world."
Recommended for you

In Scholz's UAE lighthouse talks, RWE scores a first LNG cargo