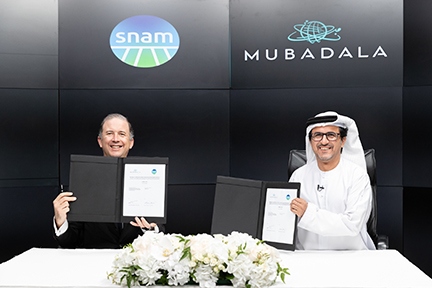 Mubadala Investment and Italy's Snam have signed a memorandum of understanding (MoU) on hydrogen development in the United Arab Emirates.
The MoU covers joint investments and development initiatives, they said.
The two sides will carry out a range of assessment activities. These include technical and economic feasibility studies on potential projects. The aim is to "foster and promote hydrogen development in the UAE, and elsewhere globally".
Mubadala's CEO of UAE Investments Musabbeh Al Kaabi signed the agreement with Snam's CEO Marco Alverà.
Al Kaabi said Mubadala had supported "a balanced energy mix through our investments in portfolio companies that are contributing to clean, affordable and resilient energy solutions in the UAE and abroad.
"This signing with Snam is an extension of our joint efforts to develop a hydrogen economy for the UAE, and we are committed to advancing the role hydrogen will play to meet future energy demand globally."
Snam is developing green gases, Alverà said.
"At the same time, Snam is further strengthening its presence in the UAE and in the Gulf area", he said. The company considers such a move strategic, given "their crucial role in the energy transition".
"We will work closely with Mubadala leveraging our mutual know-how and investment capabilities in order to identify projects of common interest in the UAE and contribute to the development of a hydrogen-fuelled economy."
Snam was the first European company to test a blend of hydrogen and natural gas in its network. It is working on the development of new projects. These include how to use hydrogen in industries such as railways and steel.
Recommended for you

Petrochemical giant Ineos signs MoU with Aberdeenshire's Acorn CCS project