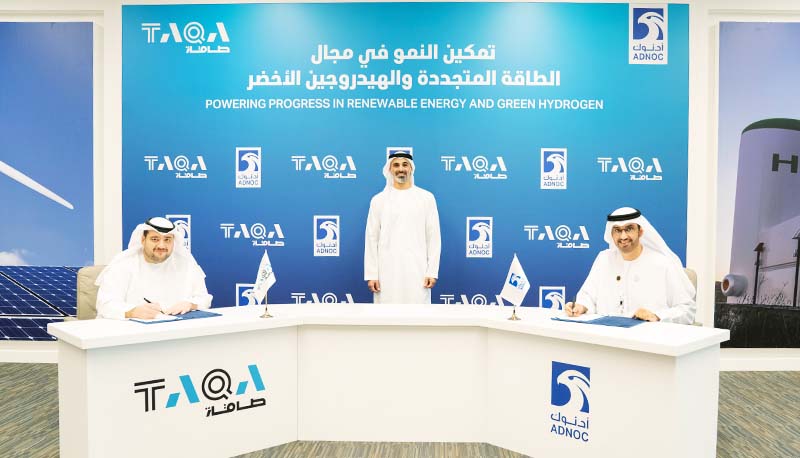 Adnoc has launched a renewable energy and green hydrogen venture with Abu Dhabi's TAQA.
The two energy companies are teaming up to create a "clean energy powerhouse", they said. The plan is to reach at least 30 GW of renewable energy by 2030.
Sheikh Khaled bin Mohamed bin Zayed Al Nahyan oversaw the signing ceremony, today, during Adipec. Adnoc group CEO Sultan Ahmed Al Jaber signed the deal with TAQA chairman Mohamed Hassan Alsuwaidi.
"This innovative and collaborative venture is a bold new initiative, as it combines both companies' respective areas of expertise and paves the way for our viable entry into the clean energy space," Al Jaber said. Adnoc will be able to "capitalize on the many renewable energy and hydrogen opportunities, both locally and globally" as a result.
"Building on ADNOC's highly successful partnership and growth model, we invite other partners to join this promising new venture on its exciting journey," he said.
Critical elements
Alsuwaidi said the partnership would be a "powerful catalyst to unlock significant potential for accelerating the green hydrogen market and rapidly expanding renewable energy.
"TAQA is supporting Abu Dhabi's aim to be a green hydrogen hub using our expertise in low-cost solar PV and desalinated water: two critical elements for green hydrogen."
Adnoc and TAQA now plan to reach detailed joint venture arrangements, the statement said.
The United Arab Emirates launched its Hydrogen Leadership Roadmap earlier in November. Under this, it set out plans to capture a 25% market share in hydrogen. Adnoc sees exports to Asia as a core growth area. It signed a deal with a Japanese and Korean company on blue ammonia exports this week.
Adnoc made a major move towards renewable energy last month. It signed a deal to secure up to 100% of its grid power needs from nuclear and solar sources.
Blue hydrogen has tended to dominate Abu Dhabi's plans. However, some states have pushed to skip blue hydrogen and move straight to green. Blue hydrogen includes carbon capture facilities, but not all the emissions can be captured.
Recommended for you

Adnoc stacks three discoveries with 650 million barrels