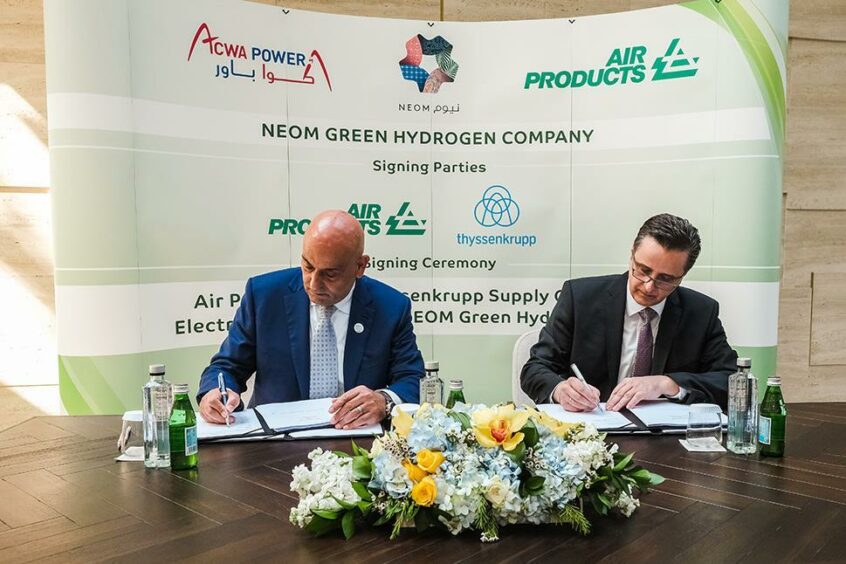 Thyssenkrupp Uhde Chlorine Engineers has won work from Air Products to provide a 2 GW electrolysis unit to produce green hydrogen in Saudi Arabia.
Air Products is playing a role in the NEOM construction project.
Thyssenkrupp CEO Denis Krude said his company could offer two "decisive factors" for such large-scale work. "With our large-scale standard module size and gigawatt cell manufacturing capacity per year together with our joint venture partner De Nora we are able to deliver large capacity projects today," he said.
This work will see the company expand its manufacturing capacity further, he said.
"We also aim for a strong local setup which is key to delivering customized service solutions throughout the entire plant life-cycle and enables our strategic partner in their vision to become a global decarbonisation pioneer."
Thyssenkrupp will engineer, procure and fabricate the plant based on the company's 20 MW alkaline water electrolysis module.
Engineering and procurement work has begun. NEOM aims to begin producing hydrogen in 2026.
The plan covers the export of green hydrogen as ammonia by Air Products, to global markets. Air Products COO Samir Serhan said the "development and execution of this innovative megaproject is one of many required to drive a successful energy transition".
The company will continue to "develop, build, own and operate facilities that help address the world's significant energy and environmental challenges. This project is the kickoff to become a frontrunner in the green hydrogen economy."
Air Products signed up to the plan in July 2020, with ACWA Power and NEOM.
Thyssenkrupp said it had been working on the plans from an early stage. Signing the project is a "key milestone" in developing the green hydrogen facilities.
Grand plans
NEOM does not just have ambitions on the green hydrogen front. In November, the company announced the launch of its Oxagon plan, intending to redefine "the way humanity lives and works in the future".
Oxagon will include the world's largest floating structure, providing a port, logistics and rail delivery facility. It will be made up of seven different sectors, all wholly powered by clean energy.
NEOM's Oxagon plan follows The Line, a proposed zero emission smart city, which will run from the Red Sea to Saudi's northwest.
Continuing its clean energy focus, NEOM has also recently signed an agreement to launch a joint venture with Volocopter. This aims to provide the "world's first bespoke public vertical mobility system". NEOM aims to begin initial flights with Volocopter aircraft within the next two to three years.
Thyssenkrupp also has ambitions to scale up its hydrogen work. Last month, the company set out plans for a partnership with Dii Desert Energy. This aims to produce green hydrogen and ammonia in the Middle East and North Africa.
Recommended for you

Green hydrogen: a driver for success across the Highlands