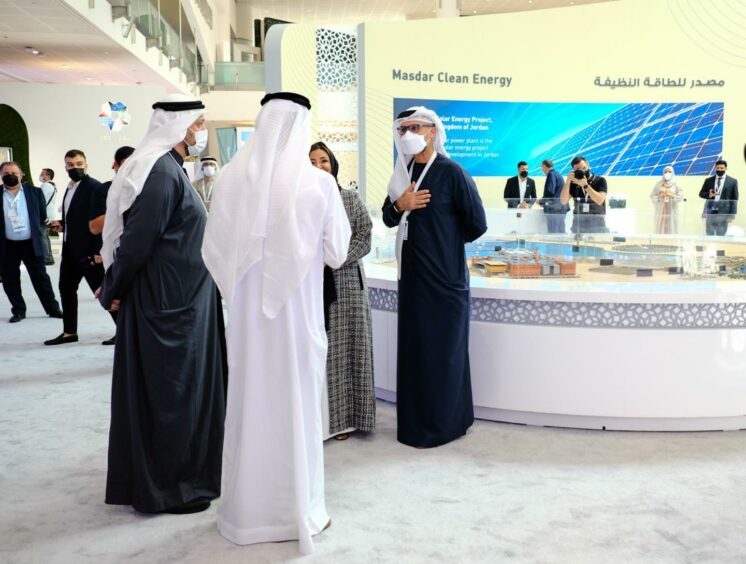 Masdar has struck international deals on two of its domestic green hydrogen projects, on the sidelines of Abu Dhabi Sustainability Week (ADSW).
TotalEnergies has signed up with Masdar and Siemens Energy to back a green hydrogen development plant, which they will build at Masdar City. The end product will be sustainable aviation fuel (SAF).
Masdar has also struck a deal with France's Engie and local fertiliser producer Fertiglobe on a proposed green hydrogen facility at Ruwais.
Green kerosene
On the SAF plan, Total has come onboard in order to provide its manufacturing and marketing knowledge for the green kerosene. Total's vice president for refining and petrochemicals in the region, Francois Good, said the French company would also deploy its renewable energy expertise.
The aim is to act "directly on the carbon intensity of the energy products used by our customers". Total has a "strategy of building a multi-energy company with the ambition to get to net zero by 2050″.
Masdar CEO Mohamed Al Ramahi said the signing with Total was "a significant step forward for this exciting project. The demonstrator plant will help to establish the commercial viability of green hydrogen as an essential decarbonised fuel of the future", he said. It will also "support Abu Dhabi's development as a green hydrogen hub".
Partnerships with such international partners, he said, would "help the hydrogen market develop its full potential". The market will "really take off in the years to come".
Masdar announced last year that it was working with Siemens Energy and Marubeni on the plant. Local support is coming from the Abu Dhabi Department of Energy and the Khalifa University of Science and Technology. Etihad Airways and Lufthansa signed up as offtakers.
The plan involves reaching front-end engineering and design (FEED) on the project later this year. The intention is to reach first production in 2024.
Masdar is working on three green hydrogen projects, of which this demonstration plant is the most advanced.
Fertiglobe
Earlier today, Fertiglobe announced the agreement with Madar and Engie on a planned 200 MW green hydrogen facility. This, it said, should come onstream by 2025.
The plant would supply Fertiglobe's existing ammonia facility. Fertiglobe is a partnership between Abu Dhabi's Adnoc and Netherland's listed OCI.
Masdar's Al Ramahi signed the deal with Fertiglobe CEO Ahmed El-Hoshy and Engie regional managing director Frederic Claux.
El-Hoshy said the deal was a "great opportunity" to play a role in the global energy transition. "Abu Dhabi is an ideal location to produce green hydrogen", he said. The emirate has a "commitment to a low carbon future, its unique renewables profile and its strategic geographic location."
He went on to say the agreement followed an announcement from December 2021 on a 100 MW electrolyser in Egypt. "Ammonia is the dominant energy carrier for hydrogen," he said. "There is a huge opportunity for green ammonia to deliver green hydrogen all over the world to fuel the clean economy and meet growing demand for renewable sources of clean energy."
The third of Masdar's green hydrogen deals is with BP. The two companies set out plans for facilities in the UK and Abu Dhabi in September 2021.
Recommended for you

Masdar cements UAE hydrogen position in Egypt