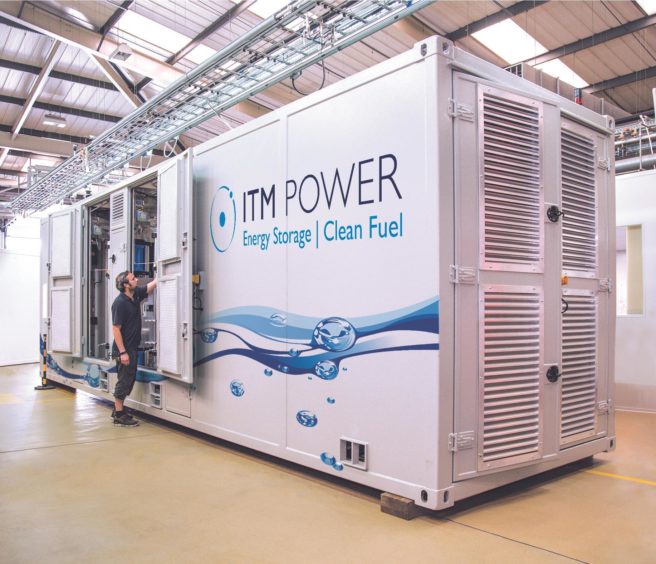 Concerns about the UK's ability to make the most of the energy transition's enormous economic opportunities are well founded.
For all the rhetoric around a "green industrial revolution", the domestic renewables supply chain is yet to find its footing, while thousands of jobs in the oil and gas industry have fallen by the wayside.
But, despite all the doom and gloom there are clear-cut examples of UK firms seizing the initiative and making inroads into the global decarbonisation market.
Headquartered in the UK's former steel capital of Sheffield, ITM Power has already established itself as a world leader in the design and manufacture of electrolysers for use in the production of green hydrogen.
With the role the superfuel has to play in the future energy mix becoming ever clearer, the firm, which also has bases in Germany, Australia and the U.S., now caters to a radically expanding market.
Last year, ITM's backlog hit £120 million, making the firm's recent move into its huge new, state-of-the-art headquarters even more pressing.
The 134,000 square foot manufacturing facility on the outskirts of Sheffield is the largest of its kind in the world, with a production capacity of 1 gigawatt (GW) per annum.
It's hoped the move will allow the firm to deliver a significant step change in cost reduction through volume and semi-automation.
"In all the notable years in my career, 2020 has got to go down as the most productive, as well as the most unusual," explained Dr Graham Cooley, ITM's chief executive.
The firm, which currently has a total headcount of 218, was founded in 2001 and originally produced both electrolysers and fuel cells.
Three years later it became the first UK-based hydrogen and fuel cell company to go public when it was floated on the alternative investment market (AIM) of the London Stock Exchange, a move which raised £10 million.
When Dr Cooley joined as chief executive in 2009 he took the decision to solely focus on producing electrolysers, a choice that quickly came to fruition when the firm recorded its first sale the following year.
He said: "It's been quite a journey for ITM. The progress that we've made as part of the wider energy transition has been quite amazing. Things are very different to the way they were a decade ago.
"ITM originally built electrolysers and fuel cells. We then focussed the company on the former because I believed that market would be larger and that's certainly turned out to be the case. We've concentrated for the last 11 years solely on electrolysis equipment."
ITM's ambitions have been aided in the past few years by the growing awareness of the importance of green hydrogen, especially from institutional investors.
The firm recently went through a funding round in which it raised £172 million, meaning it is now well placed to respond to likely increases in demand for electrolysis equipment.
Dr Cooley said: "The capital markets have got a very strong understanding of green hydrogen. There has been a lot of research and there is a lot of knowledge about our industry, particularly in the large ESG funds. That's been a massive change in the last decade.
"Green hydrogen is the only net zero energy gas and it will have to be deployed if we're going to cut carbon emissions at the level required – it's absolutely essential.
"The world uses energy in two forms; electrons and molecules. Green hydrogen is the only route to net zero molecules and there's a real realisation in the capital markets that it's going to be a cornerstone of efforts to decarbonise the economy."
In order to keep pushing the boundaries of hydrogen production, ITM is engaged in several research initiatives with companies from across the globe.
Last month, the Oyster project, which is exploring integrating electrolysers with offshore wind turbines, was awarded five million euros of funding.
The scheme, which is being carried out in collaboration with Orsted, Siemens Gamesa and Element Energy, is due to run until 2024.
Dr Cooley explained that they are looking at how to incorporate a desalination unit so that seawater can be used in the process, thereby creating a "fully integrated approach to developing green hydrogen".
He added: "We're building a 1.4 megawatt (MW) electrolyser that will be fully marinised, meaning it can deal the harsh environment offshore. Ultimately, what you will have then is wind turbines that make molecules instead of electrons.
"Desalination for large scale electrolysis is important, not only for offshore deployments but also in countries where fresh water is limited."
ITM is also working with Orsted, as well as Phillips66, on a project to decarbonise industrial activity in Humberside.
The firm is currently carrying out a front end engineering design study to connect a 100MW electrolyser to Orsted's 1.4GW Hornsea Two offshore wind farm in the Southern North Sea.
Green hydrogen would then be supplied for use at Phillips66's Humber oil refinery, which processes 234,000 barrels of crude daily for use in feedstocks and the manufacture of plastic.
Dr Cooley said: "Humberside is a very interesting area. It's the most carbonising region in the UK because it has a lot of heavy industry – there are three power stations and two refineries, as well as an industrial port.
"It's a prime target for decarbonisation and, with the Hornsea developments landing there, it's also the perfect place to produce green hydrogen."
As well as being crucial in decarbonising heavy industry, Dr Cooley is also keen to stress the key role the superfuel has to play more generally.
He said: "The biggest market for green hydrogen is power to gas energy storage where you use the fuel to replace natural gas in the grid. We work closely with an Italian company called Snam, which is the world's second largest gas transmission company. Only Gazprom is ahead of them.
"They have a very strong vision of replacing natural gas with green hydrogen to completely decarbonise the gird and ensure it hits net zero. The largest energy sector on the planet is methane and so replacing that with the only net zero energy gas is obviously the mission.
"We've only got 30 years to completely eliminate carbon emissions and the gas grid, as well as LNG, is by far the largest challenge for the transition. It's a huge new market for renewable power, as well as for electrolysis, and it gets us to where we want to be."
The challenge for the industry now is meeting the huge increase demand for green hydrogen in the coming decades.
The UK Government's 10-point plan for decarbonisation set a target of 5GW of low carbon hydrogen production capacity by 2030, something Dr Cooley described as "very bullish".
However, he remains confident that the industry is in a position to cope with the loads that are thrown at it with.
Dr Cooley said: "There is competition in the market and I think that's a very positive thing; the amount of demand that we're seeing is perpetually increasing.
"As CfD auctions for green hydrogen appear across Europe and companies bid for them, that demand is going to shoot up dramatically. My view is that the electrolyser industry will very rapidly become capacity constrained.
"That's the reason why we've moved into our gigawatt per annum factory. We also raised enough money in the funding round so that, if we want, we can build a second gigawatt factory. Nobody else has this sort of capacity in the UK.
"This will be a big part of the future energy mix as we head towards net zero and all the major companies are involved, whereas they weren't ten years ago.
"Most importantly, the capital markets are backing hydrogen. That's the green light the industry needs."