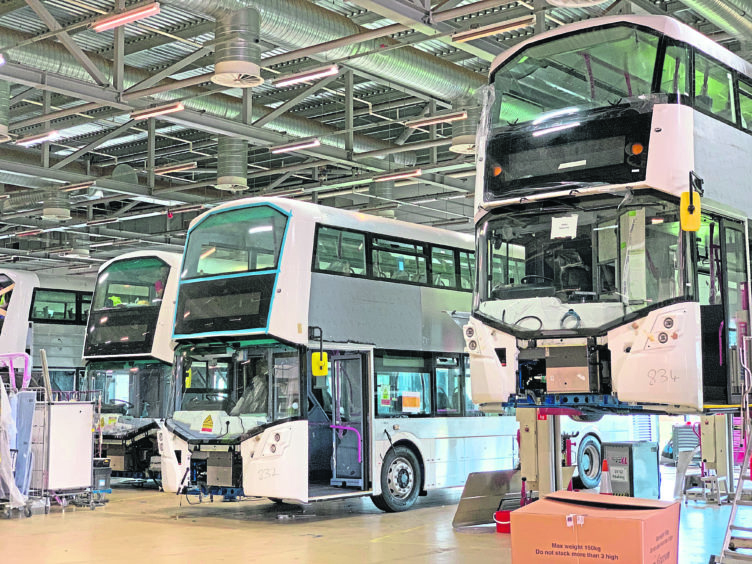 As the proclaimed Oil Capital of Europe, it seems only right that Aberdeen should be front and centre of decarbonisation efforts too.
After decades of providing a crucial link to the North Sea, the Granite City is now plotting a new, low carbon course to ensure the region maintains its reputation as a pace setter in the energy industry.
And one of the main characters in its next chapter will be hydrogen, an area it has already been involved in for a number of years.
A project was started in 2014 and a year later, ten, European Union-backed zero-emissions buses were launched in the city.
Aberdeen City Council (ACC) has built on those foundations and has clear aspirations for the use of the fuel in the city.
"By the time that initial cohort of hydrogen buses left the road in January 2020, they had clocked up about 1.2 million miles, making them the most successful hydrogen bus fleet in Europe. They were retired after the 5 year project timeline had been realised and fuel funding to achieve cost equivalence with diesel ran out, with one of the units going to North East Scotland College (NESCOL), which now has a course in fuel cells and hydrogen," said Councillor Philip Bell, ACC's hydrogen spokesman.
But it wasn't long until they were replaced and earlier this year, a new fleet of double decker hydrogen buses, the world's first, officially began ferrying people around the city.
Delivered through a mix of EU, Scottish Government and ACC funding, the initial 15 green buses, which will be joined by a further 10, already seem to have struck a chord with Aberdonians.
Cllr Bell said: "since launching in January, this new fleet has already done more than 100,000 miles. Many people haven't used them yet due to the pandemic but we've had great feedback from those that have – the quality of the ride is second to none."
But ACC's hydrogen ambitions aren't just limited to buses.
Last year councillors approved the creation of a hydrogen hub, a key step in Aberdeen's journey to becoming a net zero city.
It is also hoped the facility, intended to reduce the cost of hydrogen to parity with conventional fuels, can "unlock the potential" of the region, creating a hydrogen-backbone and adding another feather to its energy cap.
Other notable projects include Co-wheels, a pay-as-you go car club that allows members of the public to use hydrogen powered vehicles.
Meanwhile, the huge P&J Live centre, also known as Teca, is entirely powered by the largest hydrogen fuel cells currently in use in the UK.
The three cells kick out a combined 1.2 megawatts of electricity and 1.4 MW of heat, sourcing their power from an "anaerobic digester".
Crucially though, the potential for the fuel to create skilled, well-paid jobs, especially to replace those that will be lost as the use of oil and gas diminishes in the coming decades, isn't lost on the local authority.
Cllr Bell said: "The oil industry has decades of experience carrying and transporting gas; a lot of those skills are going to be directly transferrable.
"With training facilities like NESCOL and Aberdeen and Robert Gordon Universities, both of which have an increasing focus on energy transition, the learning facilities in the city are being built to be part of this transition.
"We're very minded that people will need to be retrained; that's all part of this and something that we're looking at very carefully.
"The city is positioning itself to generate huge quantities of green electricity and that can only be aided by the planned Energy Transition Zone, which will be located close to the new South Harbour.
"We're determined to steward Aberdeen's proud heritage and to make sure it becomes the 'Energy Transition Capital of Europe'."
Recommended for you

Royal opening for £420m Port of Aberdeen expansion