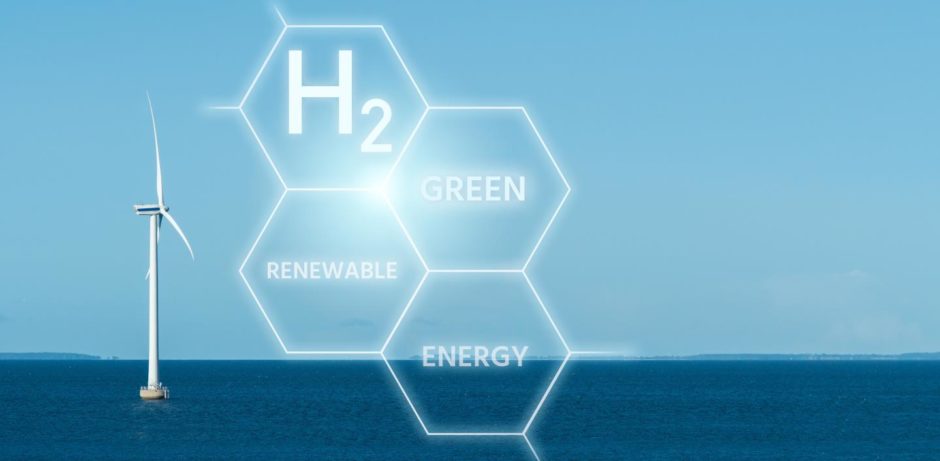 The global hydrogen technology manufacturing pie is going to be huge, according to Martyn Tulloch, OGTC head of energy system integration.
For net-zero to be achieved, multi-gigawatt manufacturing capacity will be required – there are going to be enough slices for everybody who wants one.
Yet Scotland still finds itself standing empty-handed at the hydrogen buffet table.
Scotland has got the "zero" part of net zero right, in that it's got zero electrolyser manufacturers.
However, Tulloch says there is "more to electrolysis than electrolysers", for example, compression, water purification and power technologies all have to be considered.
At the same time, he is keen to see Scotland realise some of its huge potential and develop its own hydrogen equipment manufacturing base, harnessing many of the transferable skills honed in the oil and gas industry.
Asked why this hasn't happened, to date, Tulloch said there were no obvious barriers preventing such a base from taking root – Scottish organisations and agencies just need to seize the day.
"It's being proactive about developing our own solutions and working with existing organisations who are willing to establish manufacturing capacity in what is going to be one of the most exciting markets in Europe," he said.
Tulloch does think the country is getting closer to hosting a manufacturer.
He believes the Energy Transition Zone that Sir Ian Wood's Opportunity North East intends to set up near the Aberdeen South Harbour expansion could attract that type of company.
For its part, OGTC is looking at specific solutions which would reduce the cost of producing blue hydrogen to £1.5 per kilogramme in 2030 from £1.8 in 2020, and green hydrogen to £2 per kg from £3.5.
OGTC is identifying gaps in the market while also working with companies to improve existing systems and fabrication processes, which is where much of the early gains are to be found.
And OGTC is not limiting itself to UK companies. It is casting a wide net to try to attract some of the most exciting global start-ups who are looking to establish a presence overseas.
Tulloch is keen to ensure that those companies come to north-east Scotland.
A key of focus for the organisation is unearthing and helping to advance assembly-line technology that will automate electrolyser manufacturing, making it more efficient.
Other options for lowering costs and improving efficiency include the development of more efficient catalysts and membranes, saltwater electrolysis, microwave gas reformation, new metering technologies and metal hydrides for storage.
OGTC's TechX accelerator programme is getting increasingly into the hydrogen space.
Its third cohort enlisted two hydrogen generation technology firms, which benefitted from seed funding and support from a range of mentors.
One of them, London-based Supercritical was in the news last month due to its involvement in a project to decarbonise the Ardmore distillery in Aberdeenshire.
It will use the distillery's wastewater, instead of fresh water, as a feedstock for its high-pressure, ultra-efficient electrolyser.
Produced hydrogen would be fed into the distillery's boiler to show that it can replace the liquefied petroleum gas fuel stock currently used to generate steam for heating the stills.
The other hydrogen-driven cohort member was sHYp, an exciting green-hydrogen-from-seawater venture which spun out of the laboratory of Columbia University's Daniel Esposito.
SHYp's membrane-less electrolyser can produce hydrogen directly from sea water or brine without the need for desalination.
That means it can be installed close to the source of renewable electricity such as offshore wind farms, floating power plants, or within ports.
The company is on track for a first commercial pilot before the end of 2021.
TechX will recruit its fourth cohort later this year before launching it in 2022.
It will have a "pure clean-energy focus" and Tulloch is anticipating a lot of applications from people with devices and solutions spanning the hydrogen spectrum.
OGTC recently announced its intention to invest up to £1 million in technologies which will accelerate hydrogen production, transportation, storage and utilisation.
Submissions must focus on technologies which will decarbonise offshore operations.
The initiative forms part of OGTC's net-zero R&D programme, which helps companies develop their technologies more quickly through funded collaboration with Scottish universities, colleges and higher education institutes.
The programme is backed by the Scottish Government, Scottish Funding Council and Scottish Enterprise. The deadline is June 14.
OGTC is already supporting industry partner Siemens in its quest to decarbonise offshore operations by repurposing turbines to function using a lower carbon fuel, potentially hydrogen or ammonia.
"If you look at the power demand offshore it's about 2.3GW, 24/7 so it's a carbon footprint of 15m tonnes per year," Tulloch said.
"It is a significant challenge for us to decarbonise and hydrogen-fuelled turbines could be one option, alongside electrification of course."
And OGTC and the Offshore Renewable Energy Catapult have been commissioned by Scottish Enterprise to identify potential hydrogen production sites around Scotland and the potential for gigawatt-scale green and blue hydrogen production and export. The resulting report will be published soon.
Other initiatives include trying to "broaden" out the Opportunity Renewables Integration Offshore Networks (Orion) project to include north-east Scotland, and indeed the whole of Scotland, in its scope.
Orion is being spearheaded by former OGA operations director Gunther Newcombe and Shetland Island Council.
It is currently focused on Shetland and the waters off the islands and seeks to deploy offshore wind to generate green electricity to power platforms and generate green hydrogen at scale.
Tulloch also spoke of the European Hydrogen Backbone, a vision to create an interconnected hydrogen transport infrastructure network across the continent by 2040.
He said OGTC is keen to look at what could be done to repurpose the offshore pipeline grid to supply hydrogen into the onshore grid.
"We feel there is a need for the oil and gas network to be investigated to see if it's possible to repurpose and reposition that, which would include pipeline relining and compressor technology, and potentially marine transport in the short term," he said.
In terms of use cases, Tulloch says the "jury is out" on the use of hydrogen for domestic heating and is in favour of electrifying as much as possible, while heat pumps will be "absolutely essential".
But guided by the Climate Change Committee heavy transport, he sees a role for hydrogen for powering ships, trains, trucks and hard-to-decarbonise industrial processes.
For the next decade, at least, he thinks the is a strong argument for using blue hydrogen, until the cost of green hydrogen comes down.
"At the moment, it is the most cost-effective way to produce low carbon hydrogen," Tulloch said.
"Green hydrogen costs will continue to decrease over time and, in time, reach parity, from 2030 onwards.
"But as an industry it would be remiss of us not to focus on the blue hydrogen opportunity in short term."