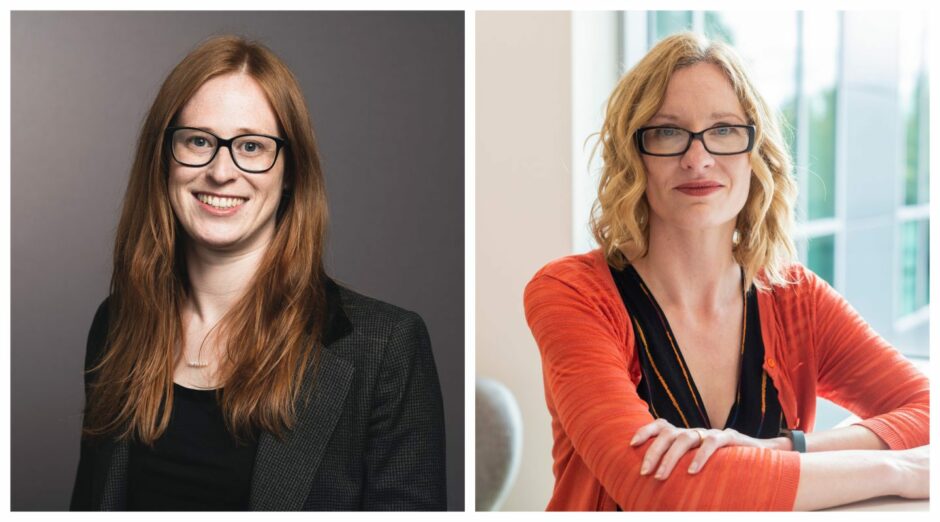 "This is not a free-for-all of 'let's have hydrogen at any cost'," insists Angela Needle, vice president of trade body Hydrogen UK and strategic director at gas network Cadent.
"This is a 'let's have low-carbon hydrogen because the purpose of it is to meet decarbonisation targets'."
Hydrogen, particularly its blue variation, has got its fair share of critics.
Last year the UK Government backed a "twin-track" approach in its Hydrogen Strategy: supporting use of both green hydrogen, derived from renewables, and the more controversial blue version, which comes via natural gas with related emissions stored through carbon capture and storage (CCS).
On the eve of that decision, Chris Jackson, chair of the UK Hydrogen and Fuel Cell Association and CEO of green hydrogen firm Protium, quit the body, describing blue as an "expensive distraction" at best, and at worst a "lock-in for continued fossil fuel use".
Asked about that decision, Hydrogen UK CEO Clare Jackson (no relation) says: "We think there's a role for a whole number of different hydrogen sources, as long as they are genuinely low-carbon.
"There are always going to be people who believe in certain technologies, there's always going to be debate here.
"Our view is if we can meet the low-carbon hydrogen standards then that shows it is genuinely low-carbon, is of value and should be supported under government schemes."
Set out by government in April, the Low Carbon Hydrogen Standard sets a maximum threshold for the amount of greenhouse gas emissions allowed in the production process for hydrogen to be considered "low carbon hydrogen".
It is designed to ensure hydrogen makes a direct contribution to the UK's carbon reduction targets.
Blue hydrogen is not as clean as green, but it's cheaper and the view is that it can be deployed more quickly at a time when wide-scale decarbonisation is needed.
For critics, electrification is mooted as a more efficient, cost-effective measure for decarbonising large parts of the economy.
Announcing its hydrogen strategy back in August, Westminster said a booming UK hydrogen economy could be worth £900 million to the UK and create over 9,000 "high-quality jobs" in the coming years.
Those figures could rise to £13bn and 100,000 jobs by 2050.
Ms Needle says that developing blue hydrogen will not only cut emissions but deliver future jobs for the current oil and gas workforce.
"There is still significantly lower carbon emissions in blue hydrogen than there is in natural gas and that is a positive step forward.
"We also have a world-class oil and gas sector in this country with people who are very experienced, who can put their mind to how to best use those assets for helping deliver a reduction in carbon emissions and climate change targets.
"This isn't all just about the colour of the hydrogen, it's about the delivery of a future economy in the UK in a place where people can have thriving jobs."
Opinion can be divided across industry. At a dinner in Aberdeen just last month, Steve Holliday, president of the Energy Institute, noted that he wasn't sure hydrogen "deserves the hype its getting as a fuel" – though crucially he did note its importance for tough to abate sectors.
On the other hand, Storegga CEO Nick Cooper insists that blending blue hydrogen into the grid "should happen tomorrow" thanks to its emissions credentials and the ability to quickly decarbonise gas supply.
Controversy particularly seems to seep into discussion online in energy circles, as noted recently by Laszlo Varro, vp of global business environment at Shell and former chief economist at the International Energy Agency (IEA).
On his personal Linkedin account (not representing Shell) he said his feed often has "one hydrogen sceptic article or infographics from a theoretical green think tank" followed by a multi-billion dollar contract from a large industrial company.
"It is happening, folks," he said. "There will be bad projects and dead end streets, winners and losers just like with any new technology, but it is happening."
He went on to offer the "the author of the nicest infographics of why hydrogen will never happen" a VIP invite to the next opening ceremony for the next big hydrogen project.
One study which has taken particular note is research from the Stanford and Cornell universities in the US, picked up by the New York Times last year, finding that blue hydrogen emits more across its entire supply chain than simply burning natural gas.
The conclusions were arrived at after the universities examined the life cycle greenhouse gas emissions of blue hydrogen, accounting for CO2 emissions and methane leaks from wells and other equipment during natural gas production.
Hydrogen UK's response to that study highlighted that the paper cites a 3.5% methane leakage rate, which is accurate in some parts of the world, but far higher than the UK's where Offshore Energies UK is setting a 0.2% target by 2025.
Going by the 0.2% figure would "completely transform" the paper's findings, it said, resulting in a 59% reduction in emissions from blue hydrogen without flue (exhaust) gas capture, and a 67% reduction from blue hydrogen with flue gas capture.
Another pragmatic issue which needs to be dealt with is the so-called "chicken and the egg" issue.
Westwood Global Energy Group published a report at the start of this year highlighting the fact that, many countries have the potential to produce hydrogen but lack clarity over the end-use like transport or heating. At the same time, these end-use markets won't develop until hydrogen is seen as an attractive alternative fuel.
"It is a challenge," says Needle, "and the challenge is that we use about 1200 terawatt hours (TWh) of natural gas in this country, which is the future market for hydrogen.
"And there's new markets too in terms of transport and things which natural gas doesn't currently supply."
She pointed specifically to heavy industry as a clear exemplar of where hydrogen can come to the fore, such as through the HyNet industrial cluster in north-west England and north Wales, which was selected for Track 1 funding in October by the UK Government and which Cadent is a partner in.
"We've got the whole value chain, a mini hydrogen economy in Hynet, all taking this step forward to get there", she says, citing the hydrogen production facility, CCUS capability and transport infrastructure for users who cannot switch to an electric solution.
Ms Jackson adds that "we've recently experienced is there is now a demand, there's a crying out for hydrogen within sectors of industry now.
"There's a recognition that if we're going to decarbonise, if we don't want to offshore some of this manufacturing then actually we need hydrogen in order to decarbonise."
Hydrogen UK – formerly the House of Commons' Hydrogen Taskforce – now bills itself as "the largest industry group in the hydrogen space in the UK".
It has 10 working groups, including several on specific end-use sectors like heat, transport and power generation.
Whilst government has "stepped in" on projects like Hynet, putting incentives in place on production, "the bit that's missing" is incentives on fuel switching to hydrogen, Needle says, which is where Hydrogen UK is focusing efforts.
Jackson adds that, beyond production and demand, is the infrastructure to move it, as well as the need for storage assets which "take time to build".
"We're very much looking at that whole value chain approach. There's an awful lot to be getting on with and at Hydrogen UK we're trying to pull it all together."
However the UK gets to net zero by 2050, it will require a huge investment; the Office for Budget Responsibility (OBR) estimates the government's "Balanced Net Zero Pathway" could cost £1.4 trillion at 2019 prices
However, with savings from other measures like energy-efficient buildings and vehicles could bring the net total to £344bn in real terms, which inevitably will mean further cost to consumers.
Needle adds: "I think that's the thing people are worried about right now, which is basically heating their homes to a point where it's comfortable, not having to cut back. I don't think that has addressed the energy security plans, they're very much future-looking rather than looking at the present.
"It is a concern because people will start to think about how do they even put money aside to change their boilers? Things like that. It's a big deal. I don't have answers, unfortunately, on that. My fear is that things start slipping down the road because we're not addressing that challenge."
Recommended for you

Green hydrogen: a driver for success across the Highlands