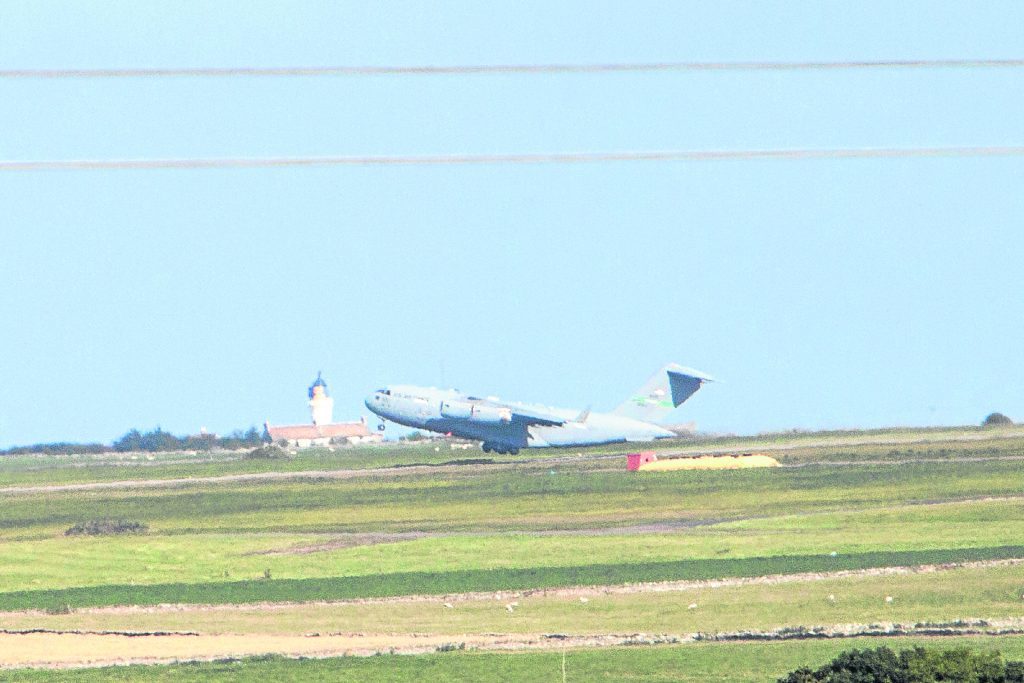 A plane carrying weapons-grade nuclear waste to the US left the Highlands the day after the UK's terror threat level was raised to "critical".
Armed police and anti-terrorism specialists stood guard at Wick John O'Groats Airport as the enriched uranium was loaded onto a US Air Force C-17 Globemaster transporter jet.
But last night opponents slammed the decision to go ahead with the flight on Saturday, just a day after the London tube bomb attack. Highlands and Islands MSP (Green) John Finnie said: "Every avenue should have been considered, including the current threat level, and it would have been appropriate to set that flight aside.
"My position is that they (these flights) should not be taking place anyway. Nuclear waste should really be securely looked after by highly trained staff on site.
"We are no doubt reassured that every consideration is given but, given the nature of it, there can be no external objective assessment as to appropriate levels of security."
Radioactive material is being moved from Dounreay, near Thurso, to be stored or reprocessed elsewhere as part of the site's decommissioning.
It is the third such flight under a deal agreed between the UK and US governments to transfer nuclear material in exchange for a medical grade uranium from the US used to diagnose cancer.
The plane firstly travelled to RAF Lossiemouth on Saturday – before heading for a nuclear facility in Tennessee – as the runway at Wick is 1,712ft too short for a fully fuelled Globemaster to get airborne.
Wick's runway was strengthened, but not lengthened in preparation for the flights in an £8million upgrade.
Up to 10 more flights are expected in the future as the decommissioning at Dounreay continues.
Mr Finnie added that terrorists would be seeking "prestigious targets" such as these flights and that the consequences of a disaster would be "unthinkable".
Tor Justad, chairman of Highlands Against Nuclear Transport (HANT), said: "I think everyone is aware of the heightened security and it does not seem to be an appropriate time to be adding to
the risks when these risks are avoidable. There is no reason why this flight had to happen on Saturday, just after the third terrorist incident in London in a few months."
A spokeswoman for Dounreay Site Restoration Limited said its priority at all times is to comply with regulations governing
the safe and secure transportation of nuclear material, both in storage and transit.
She added: "The security status of the site is unchanged. The Civil Nuclear Constabulary continues to provide armed policing to protect nuclear materials in our possession. We work very closely
with CNC to manage any redeployment of their officers under Operation Temperer in order to maintain the security of the site and nuclear materials at all times."