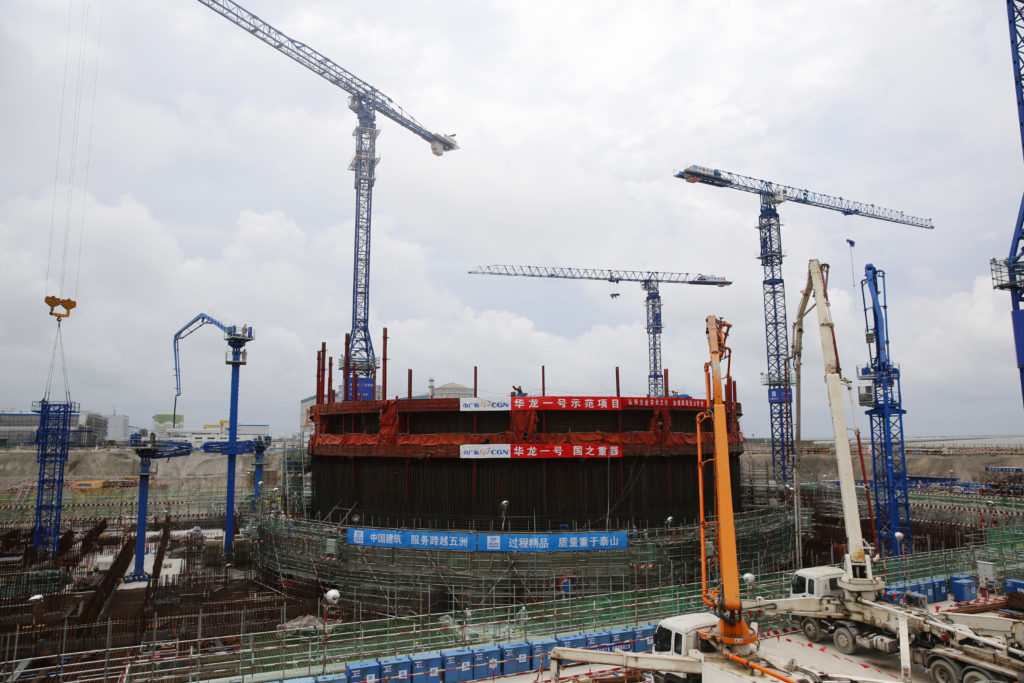 The United Arab Emirates, with help from Korea Electric Power Corp., finished building the Arab world's first commercial nuclear reactor, a milestone in the oil-rich U.A.E.'s effort to curb its reliance on fossil fuels and develop cleaner sources of energy.
Unit 1 of the Barakah complex plans to begin loading fuel in May, South Korea's energy ministry said in an emailed statement. South Korean President Moon Jae-in attended a ceremony on Monday to celebrate the facility's completion, the U.A.E.'s official WAM news agency reported.
It wasn't clear when Unit 1 in Abu Dhabi, capital and largest emirate of the U.A.E., will begin generating power. The Federal Authority for Nuclear Regulation will issue an operating license for Barakah Units 1 and 2 "when the operator meets all regulatory requirements," Christer Viktorsson, the regulator's director-general, said in an emailed response to a request for comment.
Barakah Unit 1 is the first of four nuclear plants that the U.A.E., with about 6 percent of the world's proven oil reserves, plans to bring into operation by 2021, the Persian Gulf nation's Energy Minister Suhail Al Mazrouei said in September. The plants are estimated to cost $25 billion and produce a combined 5,600 megawatts of power. Other Arab countries including Saudi Arabia and Egypt have also announced nuclear projects to help provide power to their growing populations and industries.
Imported Gas
The U.A.E. government expects the four Barakah plants to contribute almost 25 percent of the nation's electricity after they're all operating, Emirates Nuclear Energy Corp. Chief Executive Officer Mohamed Al Hammadi told a conference in Abu Dhabi on Feb. 28. The U.A.E. currently depends on imported natural gas to generate much of its electricity.
"The U.A.E. Peaceful Nuclear Energy Program will play a strategic role in the growth of our nation by enhancing our energy security, diversifying our economy, and creating employment opportunities for our people," said Mohamed bin Zayed Al Nahyan, Abu Dhabi's crown prince, according to WAM.
Barakah, located on a sparsely populated strip of desert on Abu Dhabi's Gulf coast, is the first commercial nuclear plant in the Middle East outside Iran. Unit 1, originally scheduled to begin operating in 2017, was delayed until this year "to ensure sufficient time for international assessments and adherence to nuclear industry safety standards, as well as a reinforcement of operational proficiency for plant personnel," ENEC said in a statement on May 5.
'Operational Readiness'
With construction of Unit 1 complete, "the project now shifts its focus to completing operational readiness preparations required to obtain the approval of the operating license," WAM reported. "The accomplishment is even more notable, given the complete absence of any previous nuclear industry of infrastructure within the U.A.E."
In 2009, a group led by Korea Electric won a contract to build four nuclear plants in the U.A.E. Kepco, as the utility is known, and unit Korea Hydro & Nuclear Power co-developed the reactors being built in Abu Dhabi, known as the APR-1400. The reactor, a so-called generation III unit, incorporates advanced design features that meet safety standards in developed countries like the U.S. and U.K. The first APR-1400 started in South Korea in December 2016, according to the International Atomic Energy Agency.
Construction of the Barakah complex began in 2012. Units 2, 3 and 4 are 92 percent, 81 percent, and 66 percent complete, respectively.
Korea Electric and U.A.E.'s ENEC are partners in the venture responsible for operating and maintaining the Barakah complex. The companies also on Monday said they plan to jointly expand their nuclear business overseas, which includes their ambitions to develop reactors in neighboring Saudi Arabia.
Saudi Arabia, the largest oil exporter, plans to build at least 16 nuclear reactors over the next 25 years at a cost of more than $80 billion. The Saudis also see atomic energy as a way to ease their reliance on finite fossil fuels, but they're also driven by competition with their regional rival Iran. Opposition to a possible deal for the U.S. to provide nuclear power technology to Saudi Arabia is growing after Crown Prince Mohammed Bin Salman said the kingdom would develop a nuclear weapon if Iran did.
Recommended for you

South Korea curbs plans for renewables in push for more nuclear