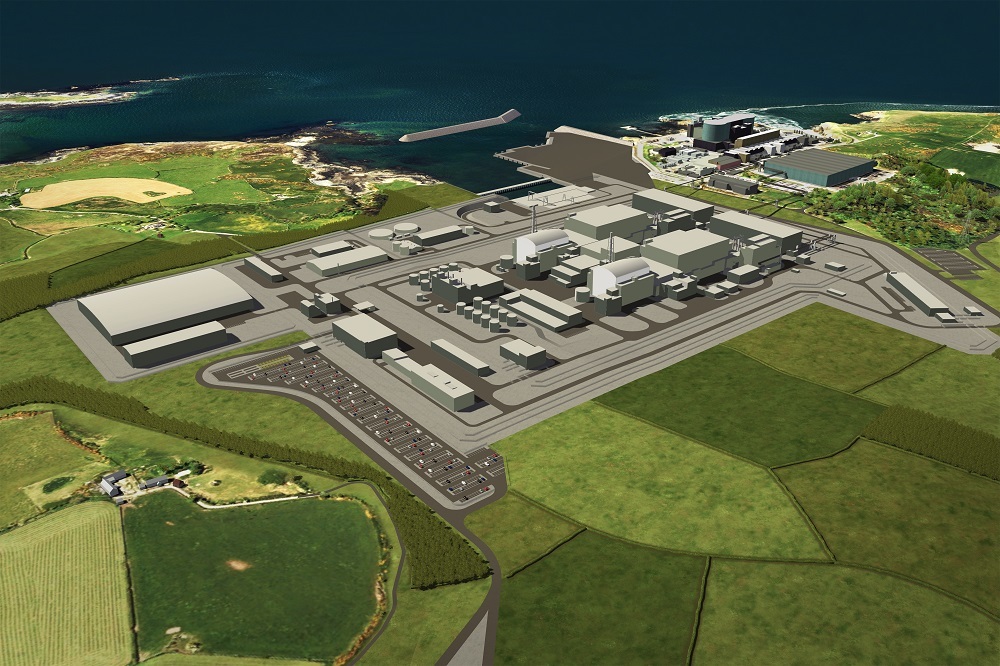 Unions have urged the Government to step in and help take Wylfa forward, after plans for the multibillion-pound new nuclear power station were suspended.
But environmental campaigners called for a rethink of UK energy policy.
Hitachi announced it was not continuing with the work on Anglesey in North Wales.
Doug Parr, chief scientist for Greenpeace UK, said: "Hitachi's confirmation that no solution has been found for its UK nuclear programme tells you all you need to know about the economics of nuclear power.
"In the meantime renewable energy costs, especially offshore wind and solar, have plunged dramatically, while new smart technologies including storage have arrived on the scene.
"A clever move now would be for the Government to accept that the nuclear bet didn't pay off, stop holding back renewables and have an urgent rethink about the future of UK energy."
An EDF Energy spokesman said its new nuclear power station at Hinkley Point in Somerset was making good progress, and a third round of consultations were under way for a plant at Sizewell in Suffolk, showing that nuclear has a "strong future" in the UK.
A spokesman said: "More than 3,600 people are now working on the construction site at Hinkley Point C and the project is on track.
"The UK policy identifying the need for nuclear to play a role alongside renewables has been supported by numerous independent studies.
"Nuclear provides low-carbon electricity when the wind doesn't blow and the sun doesn't shine. It will help lower overall energy costs to consumers as part of a balanced energy mix."
Sara Medi Jones, acting general secretary of CND, said: "Today's decision is good news because it opens the door to investment in the renewable technologies of the future, and to leave behind dirty and dangerous nuclear power.
"Hitachi's decision proves once again that there isn't an economic case for new nuclear, certainly not when renewables like offshore wind are cheaper sources of energy."
Justin Bowden, national officer of the GMB union, said: "The Government must act and step in now, pick up the reins and take whatever funding stake and leadership is necessary, to ensure Wylfa goes ahead on time.
"It is a basic function of government to guarantee we have enough electricity for our homes and industries and history shows that voters do not forgive or forget when the lights go out."
Unite official Peter McIntosh said: "Without Wylfa being built, there is no way the country can meet its climate change obligations which it committed to when it signed up to the Paris Agreement in 2016.
"We need to replace the current generation of nuclear plants and Wylfa is a key part of that programme.
"Business Secretary Greg Clark needs to step up to the plate and recalibrate energy policy with a vigorous commitment to substantial government funding for large-scale energy infrastructure projects."
The Business Department said Mr Clark will set out more detail on the Government's approach to new nuclear as part of the planned Energy White Paper to be published in the summer.
Officials pointed out that the cost of renewable technologies is falling rapidly, with the cost of offshore wind halving over the last two years.
The department said there will be no implications to security of energy supply following today's announcement, adding: "The Government is committed to a dynamic energy market, with a range of options for meeting future energy demand, including renewables, storage, interconnectors, new nuclear and more."
Secretary of State for Wales Alun Cairns said: "Today's announcement does not spell the end for opportunities at Wylfa. All parties continue to see potential in the site and the UK Government stands ready to discuss options for Hitachi or other partners to deliver new nuclear in North Wales.
"The UK Government remains committed to the nuclear sector and to delivering economic prosperity in North Wales. We have launched the £200 million Nuclear Sector Deal in North Wales to create the right business environment to ensure the sector remains cost competitive with other forms of low-carbon technologies, which helps us to deliver our Clean Growth Strategy."
Emma Pinchbeck, of RenewableUK – which represents the wind industry, said: "Today's announcement risks blowing a hole in the Government's plans to meet our carbon targets.
"We have the technologies, like renewables and nuclear, that can deliver a low carbon energy system and Government is rightly backing our world leading offshore wind sector, which can meet a third of our power needs by 2030.
"But Government has to review how it's using low carbon policies or we risk relying on more heavily on polluting gas and coal."
Amelia Womack, deputy leader of the Green Party of England and Wales, said: "Today's news underlines nuclear power as obsolete in the 21st century. There are now many different forms of renewable energy generation that are cleaner, cheaper, more efficient and don't come with the potentially devastating environmental downsides."
Rachel Reeves, who chairs the Business Select Committee, said: "The announcement deals a heavy blow to the Government's energy policy and to jobs and the local economy.
"This decision suggests the Government has taken its eye off the ball on a crucial plank of their nuclear energy policy. The Government needs to set out what they will do to try to ensure the suspension of the project is temporary rather than permanent."
Recommended for you

Interview: UK energy minister reaffirms oil and gas support ahead of COP26