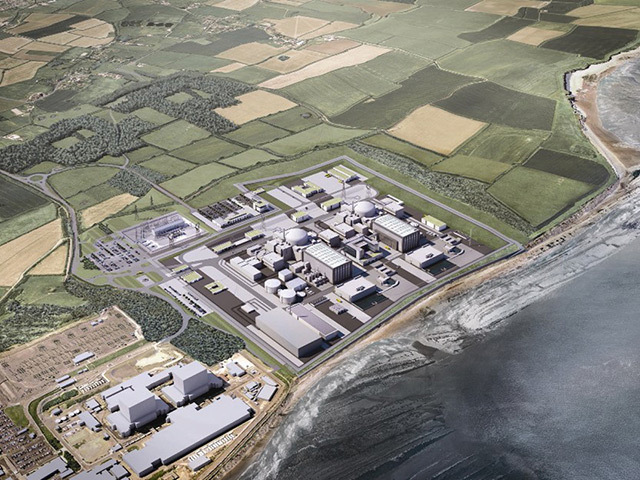 Nuclear energy may have a limited future in the UK if the Labour party gets into power.
Even as the country's main opposition party vows to drastically cut carbon emissions in the next decade, it also wants to rein in the expansion of one of the country's key sources of low-carbon energy. As the price of renewable energy plummets, it no longer makes sense to fund a wholesale replacement of the country's aging nuclear fleets, said Alan Whitehead, the opposition party's shadow minister for energy and climate change.
"I don't think there's long-term room in the market for a huge fleet of new nuclear," Whitehead said in an interview on the sidelines of a party conference on Tuesday. "If it's going to play a disproportionately destructive role as far as markets are concerned, it really doesn't have much of a place."
While nuclear energy makes up about a fifth of the U.K.'s electricity, most of the plants will shut down within the next decade. That would roughly coincide with the Labour party's tentative goal to get the country to net-zero carbon emissions.
Whitehead favors using more renewables to make up for the supplies that nuclear plants currently provide. He said the plunging cost of offshore wind makes atomic plants hard to justify.
The remarks are a rebuke for Electricite de France SA, which is building the nation's first new atomic plant in two decades at Hinkley Point in western England and seeking to build a copy of that plant at Sizewell on the east coast. The Hinkley plant will sell power for 92.50 pounds ($115) per megawatt-hour when it starts, a rate that's more than double what the latest round of offshore wind projects are set to charge.
EDF's other potential project, Sizewell, could also make it through construction, Whitehead said. It would have to either be completely funded by the developers or the government could step in and provide some guarantee during the construction phase, he said. Beyond that there's no realistic way to fund other projects.
That means other nuclear projects that were shelved earlier this year would have no pathway to ever be constructed. That could include EDF's Bradwell B project, Whitehead said.
A spokesman for EDF didn't immediately respond to request for comment.
In July, the Conservative government proposed a plan to fund new nuclear projects partially by charging consumers. That plan is unacceptable as it would leave consumers on the hook to pay for cost overruns, Whitehead said.
To pick up the slack from the retiring nuclear fleet, Whitehead envisions a significant expansion of renewable energy projects, including offshore wind. There could also be an increased role for tidal power, Whitehead said.
Recommended for you

Business sec says building nuclear power may increase energy bills