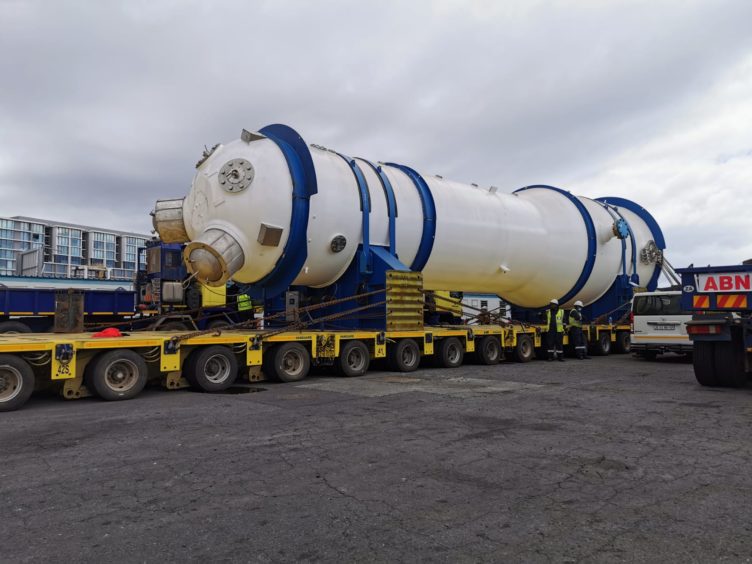 The first of Koeberg's new replacement steam generators arrived at the plant on September 29, Eskom has reported.
Eskom is working on the delivery of six generators. Each weighs around 380 tonnes and is 20 metres long. The company will install the first three at Unit 1 of Koeberg between February and January 2021.
The generators arrive at Cape Town Harbour and are then transported by road. The 40 km journey takes around eight hours for each generator. The trailer used to carry the generator is the longest in South Africa and requires four trucks each.
Eskom is replacing the generators as part of its plan to extend Koeberg's life by 20 years. The current steam generators have been in place since the first unit was connected to the grid in 1984.
Replacing the generators is part of a larger programme to keep Koeberg running. Eskom said the 20 billion rand ($1.2bn) works were its best investment into sustainable and less carbon intensive power generation.
Eskom will replace steam generators at Unit 2 of Koeberg between January and May 2022. This unit is currently offline for refuelling.
The power company plans to package and dismantle the old generators. It will then dispose of these at a national nuclear waste repository.
Delays
Areva signed a deal with Eskom in September 2014 to design, manufacture and install the six generators in Koeberg's two 900 MW reactors. The French company said the deal was worth 4.3bn rand ($259.1 million).
China's Senpec manufactured the generators.
Areva planned to carry out the installation in 2018. A legal challenge from Toshiba-owned Westinghouse Electric claimed Areva had won the bid illegally. A South African court ruled at the end of 2016 that Areva could continue its work.
Eskom had argued that it was critical that the company replace the steam generators in 2018, on safety grounds.
Recommended for you

Eskom bids farewell to "persona non grata" Oberholzer