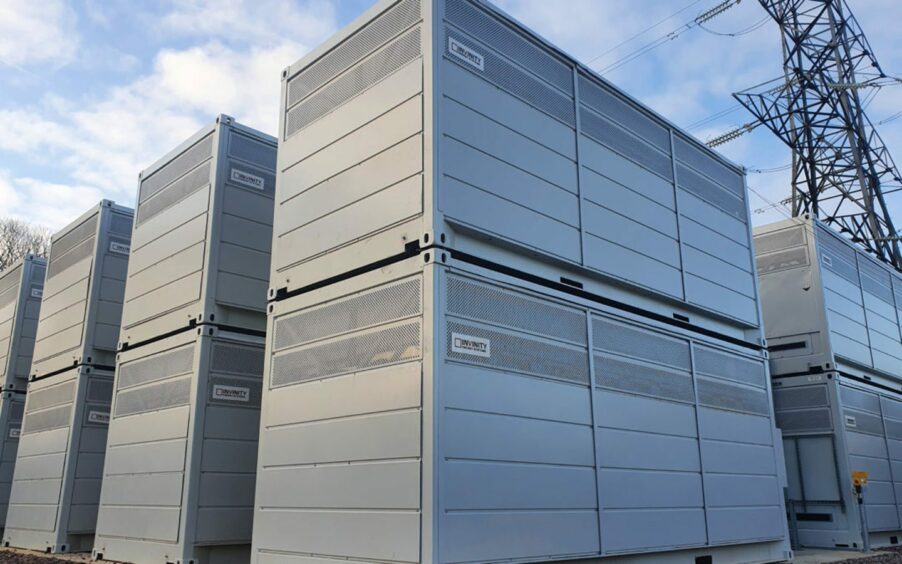 A pair of pioneering projects in Scotland have secured funding as part of the UK government's latest efforts to test and deploy new technologies to store renewable energy.
Projects backed by Synchrostor and Invinity Energy have won more than £20 million from the pot on offer from the Department for Energy Security and Net Zero (DESNZ), in a bid to help them test and prepare their technologies for the energy market.
The department notes that the expansion of technologies like these will enable more excess energy to be captured for later use, maximising the use of renewables, shoring up energy security and helping lower costs for consumers.
Edinburgh-based Synchrostor will receive £9.4m to build a 1-megawatt (MW) pumped thermal energy storage (PTES) grid-connected demonstration plant in Cumbernauld, with the ability to charge and discharge for a period of 10 hours, longer than current battery technology.
Based on a 'compressor-expander' machine, the system uses electricity to run a compressor, raising the pressure and temperature of an operating gas to heat a storage medium via a heat exchanger.
During discharge this reverses: the gas and the material flows change in direction, the compressor becomes an expander, the expander becomes a compressor, and the electric motor becomes a generator to return energy to the grid.
Invinity Energy meanwhile, will receive £11m to develop and manufacture its 7MW, 30MWh 4-hour Vanadium Flow Battery (VFB), the largest in the UK.
While VFBs are less energy-dense than comparable lithium-ion systems, they do not degrade as readily, meaning they can deliver power more consistently while handling multiple charge and discharge cycles.
Invinity plans to manufacture the 30MWh VFB at its factory in West Lothian, though the final deployment location is yet to be confirmed.
It confirmed in a statement that the award is based on a 'matched funding' structure, and is conditional on the company executing a sales contract with a project partner, who is expected to provide the balance of funding then develop, own, operate and optimise the battery project.
The two firms secured awards alongside Nottingham's Cheesecake Energy, which will receive £9.4m to test its FlexiTanker technology.
This system stores energy in the form of heat and pressurised air, using ex-service truck engines to become electrical power-conversion machines and a reversible air compression/expansion train to charge and discharge.
Cheesecake plans to install pilot units at two sites within a microgrid development in Colchester.
Flexibility from technologies such as electricity storage and EV smart charging could save up to £10 billion per year by 2050, according to DESNZ.
Accelerating the uptake of energy storage technology will also mean National Grid can balance the grid by activating storage systems instead of asking certain power generation technologies to switch off, further reducing costs to the taxpayer.
Minister for Energy Security and Net Zero Graham Stuart said: "Storing energy for longer periods is vital to build a robust and secure energy system and ensure that renewable energy is used efficiently.
"Fortunately the UK has a wealth of pioneering businesses that are making their mark on this industry.
"Today we're backing three UK businesses to make their projects a reality, which will go on to play a role in our country's energy security."
The £30m package follows a separate £32.8m award to five UK energy storage projects across the country in November 2022 to create first-of-a-kind prototypes of their technology.
A total of £69 million of funding has been awarded so far through this programme, helping to drive innovative technologies such as energy storage.
Recommended for you

Energy giant TotalEnergies comes aboard Orkney subsea wave power project