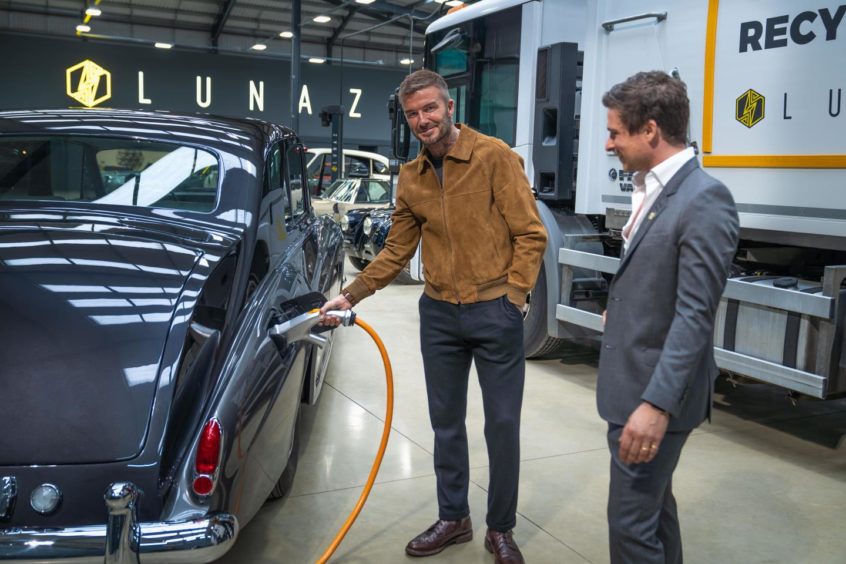 Former England, Manchester United and Real Madrid football star David Beckham OBE has taken a 10% stake in Lunaz, a UK electric vehicle company.
Silverstone-based Lunaz was founded in 2018 by Entrepreneur David Lorenz and F1 World Championship winning Technical Director Jon Hilton.
Lunaz converts conventional petrol and diesel-powered vehicles so that they can use its electric powertrain technology.
The company says it has proved its approach through conversions of the world's first fully electric Range Rover, Jaguar, Bentley and Rolls-Royce.
Its industrial vehicles offering will initially focus on heavy industrial vehicle classes 6 and 8.
This includes HGVs, refuse trucks, fire engines and commercial vehicles like airport scissor lifts. Eighty million HGVs currently exist in the UK, EU and USA alone.
This move responds to the pressing and legislated global requirement to transition fleets of all types to clean-air powertrains, in particular the planned ban on the sale of new Internal Combustion Engine (ICE) vehicles from 2030.
By this date, it is projected that more than 2 billion conventionally powered vehicles will exist on the planet that will eventually need either scrapping or converting.
The company says it will be significantly cheaper and ecologically more sustainable for fleet operators in the commercial and public sectors to convert HGVs and other lorries to electric than to scrap them and replace them with new electric vehicles.
For example, the Lunaz re-manufacturing and electrification process will extend the life by up to 70% of the existing weight and embedded carbon within a vehicle.
Mr Beckham is joined by prominent investors, the Reuben Brothers, the Barclay Family and Los Angeles based developer and tech entrepreneur Alex Dallal.
They join founding backers, the Art Advisor and clean-tech investor CJ Jones and hospitality and tech investor Navid Mirtorbi.
Mr Beckham said: "Lunaz represents the very best of British ingenuity in both technology and design.
"I was drawn to the company through their work restoring some of the most beautiful classic cars through upcycling and electrification.
"David Lorenz and his team of world-class engineers are building something very special and I very much look forward to being part of their growth."
To meet its ambitions and following sustained demand for converted classic cars, Lunaz has moved into an expanded manufacturing facility adjacent to its current site within the Silverstone Technology Cluster.
By the end of 2021, Lunaz Group will double the number of jobs for engineers and manufacturing technicians. It projects the creation of 500 highly skilled jobs by 2024.