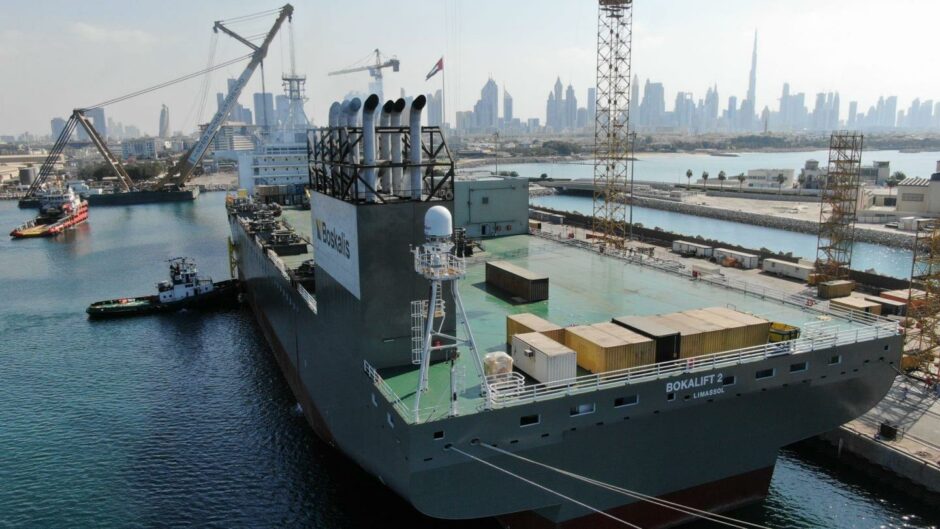 Drydocks World has completed a conversion project for Boskalis, transforming a ship into the Bokalift 2 crane vessel.
The Dubai-based port said the crane vessel's first project would be the transportation and installation of wind turbine foundations, offshore Taiwan.
Drydocks said the conversion process had involved 9,000 tonnes of steel. A 4,000 tonne crane will be installed in China.
Boskalis has said the Bokalift 2 conversion is its largest investment in 2021.
"Boskalis has been a fantastic client to us at Drydocks World and we thank them for the opportunity to deliver this critical project," Drydocks CEO Captain Rado Antolovic said.
"We are proud of our milestone achievements and in our ability to mobilise our team to deliver this project, with 5,600,00 LTI free man-hours. The work, which we have carried out, equips the vessel with enhanced performance and operational efficiency."
Drydocks began work with a steel-cutting ceremony in May 2020.
Taiwan headed
Boskalis has said it expects the vessel would enter service in early 2022, with work on the Changfang & Xidao wind project. The company, in October 2019, said the work would involve the installation of 62 three-legged jacket foundations and 186 pin piles.
The contract was worth 150-300 million euros ($170-340mn), Boskalis said. It will work on the project with Taiwan's Hwa Chi Construction Co.
The vessel has accommodation for 150 people and has 7,500 square metres of free deck space, Boskalis said. The revolving crane will be able to lift structures more than 100 metres high.
Boskalis said the Bokalift 2 would also be able to work in decommissioning and salvage.
Drydocks is working on various renewable energy projects. The company has also recently completed the fabrication of the Alpha topside. This will play a part in connecting the Hollandse Kust Zuid (HKZ) offshore wind farm with the onshore Dutch grid.
Recommended for you

Rovco signs three year lease deal for multipurpose support vessel