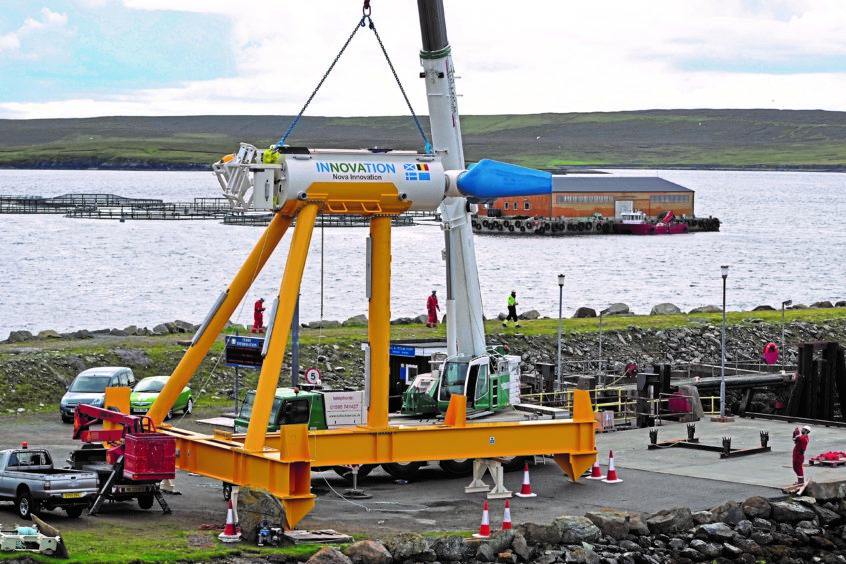 A Franco-Scottish alliance has been formed to speed up the deployment of commercial tidal energy schemes in both countries.
Edinburgh-headquartered Nova Innovation and Sabella, of Quimper in Brittany, north-west France, have pledged to work together to drive down project costs.
They said their partnership was sparked by the European Commission's target of delivering 1 gigawatt of marine energy capacity by 2030.
Nova and Sabella will share information on site development, technical expertise, environmental data and their thriving networks, as part of their pact.
Sabella chief executive Fanch Le Bris said he could see significant benefits from both firms working together to build capacity for tidal energy across France and the UK and "making tidal energy a commercial reality".
Nova CEO Simon Forrest said the pairing created a "pathway to accelerate delivery of larger, high-impact projects to take tidal energy mainstream".
Michael Matheson, cabinet secretary for net zero and energy in the Scottish Government, said: "I look forward to it delivering further opportunities for both companies – along with the wider sector – to grow, develop and realise the potential that tidal energy has in our journey to net-zero."
In 2016, Nova successfully installed the world's first offshore tidal array in Shetland.
The array has been powering homes, businesses and the Shetland grid for more than five years.
This year, Sabella took over GE Renewable Energy's tidal energy assets.
Recommended for you

Sir Keir Starmer pledges publicly-owned energy company