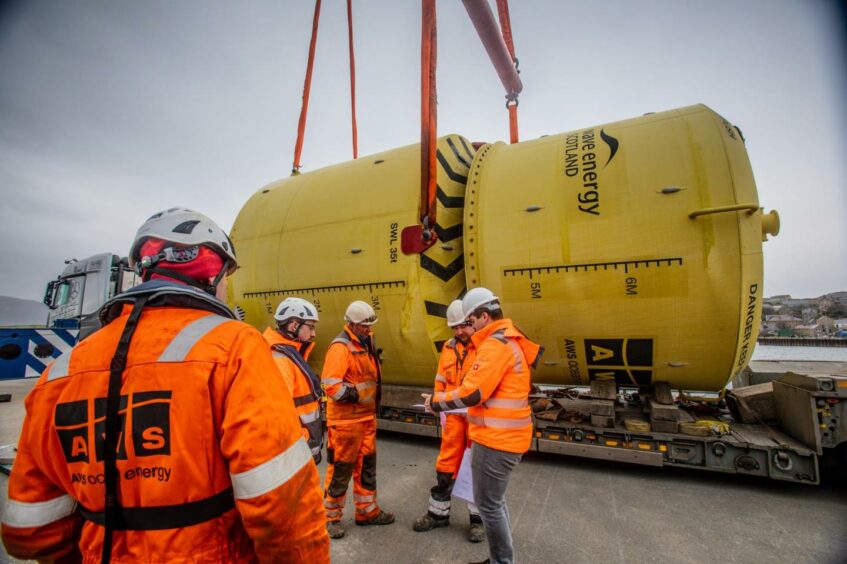 Wave energy leaders in Scotland see offshore wind developers as potential infrastructure partners in their drive to harvest vital renewable power from the country's waters.
The prospect of a wind/wave marriage of convenience emerged during Wave Energy Scotland's annual conference in Edinburgh where Net Zero Minister, Michael Matheson, said he saw opportunities for wind and wave developments to 'co-locate' their future offshore technologies.
Stating that the two sectors could benefit from a sharing of infrastructure and operational costs, the Minister also highlighted the potential for future output integration, thereby allowing wave and wind units to deliver energy at different times of the year.
Simon Grey, CEO of AWS Ocean Energy, Inverness, who also addressed the conference, agreed with the vision of energy generation from wind and waves being harnessed together, although he added that a government-backed strategic plan for wave energy would be needed to make this happen.
"It is certainly good to advance the idea of wave energy companies and offshore wind developers working together," he told Energy Voice. "This is a fairly new suggestion, but it is encouraging that it is starting to be discussed and taken seriously. The pressure now, however, is very much on the wave sector to show what we have to offer and why wind power companies should be talking to us."
There are already strong signs of technology progress coming from Scotland's wave energy industry, one of which is AWS's Waveswing wave energy converter which recently completed the first phase of sea trials at the European Marine Energy Centre (EMEC) in Scapa Flow, Orkney.
During his presentation to the Edinburgh conference, Mr Grey outlined the potential for the Waveswing model to be 'married' into the design of a floating wind turbine platform, using the same core structure and plugging into the same energy transfer-to-shore system.
"If we're to get wave energy delivering a meaningful contribution to Scotland's power requirements by 2040, however, we need to start planning now," said Mr Grey, adding that collaborating with offshore wind must be part of the country's overall energy debate.
"We need a strategic roadmap for wave energy, based on proof of concept from developers and a valid business plan for the industry. Support for this isn't going to come from venture capitalists, however. It will have to be backed first by government, only then will investors be willing to step up to take the sector forward."
Mr Grey, whose Waveswing unit is targeted to be fully commercial by 2040, believes Scottish waters have the potential to produce 'hundreds of gigawatts' of power, sufficient to replace the country's current dependence on oil and gas.
"It's a compelling proposition and very exciting," he said. "Our challenge as a wave energy sector is to make sure we fit into this total vision."
Public funding for wave energy, already put at close to £48 million since Wave Energy Scotland was formed at the request of the Scottish Government in 2014, was boosted during the Edinburgh conference by Mr Matheson's assessment that this is an 'exciting time for wave energy in Scotland'.
Noting that the sector was now reaching its crucial proof of concept phase, the Minister applauded the industry's achievements, expertise and passion, giving him increasing optimism for the future commercialisation of Scottish wave energy.
"And you can be assured," he told delegates, "that the Scottish Government will continue to provide its support for the development of marine and tidal energy in the years ahead."
Recommended for you

SSE pledges £100m for major Scottish pumped hydro site