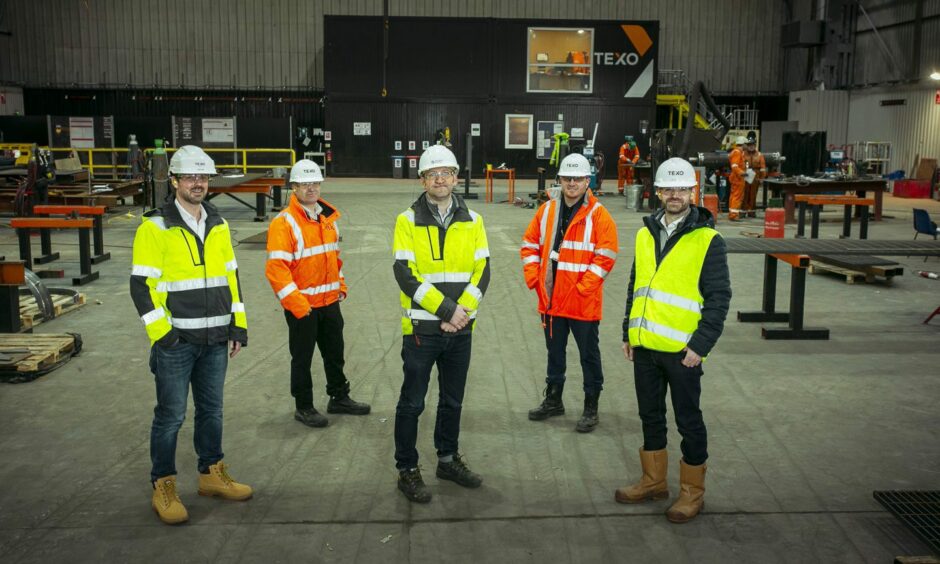 TEXO Engineering and Fabrication has been chosen as preferred fabrication contractor for Mocean Energy's range of wave energy generators.
Mocean and TEXO E&F announced the signing of a memorandum of understanding on Wednesday which would see the firm's Dundee yard handle fabrication, assembly and load-out for the Blue Star and Blue Horizon wave energy devices.
Aberdeen-headquartered TEXO E&F, part of the wider TEXO Group, was chosen after a competitive tendering process and is already providing technical support to design Mocean products for manufacture.
A formal fabrication and assembly contract is expected to be agreed following design completion, which backers have suggested would be multi-million-pound in scale.
Edinburgh and Aberdeen-based Mocean is developing two wave energy technologies: Blue Star, a device that will power a range of subsea equipment, including autonomous vehicles and control systems; and Blue Horizon, a larger machine designed to generate grid-scale electricity at offshore "wave farms".
Earlier in March the company reported progress on a £2m demonstrator project which will see a Blue X device trialled alongside an underwater battery and subsea equipment off Orkney.
Mocean managing director Cameron McNatt said: "TEXO E&F has a tremendous track record of the manufacture of complex technology for the offshore environment and is the ideal partner to fabricate our next-generation machines.
"From the beginning, our technology has been made in Scotland, and through selecting TEXO E&F we are ensuring our supply chain remains home grown. This underscores the wider economic benefits a thriving wave energy sector can bring to Scotland and the UK."
TEXO Group has already handled fabrication for another tidal energy device, having overseen the build of the O2 tidal turbine for developer Orbital Marine.
Taken for sea trials in 2021, it was the first vessel launch from Dundee since shipbuilding in the city ended more than 40 years ago.
"We are delighted to be working with Mocean on its cutting-edge wave energy technology," added TEXO E&F divisional director Donny Marshall. "Their Blue Star product is currently in its design to manufacture phase and is being tailored to be built at our dedicated fabrication facility in Dundee."
"Harnessing wave power is an exciting way to generate renewable energy, and both our companies are ideally placed to work together to make this technology a successful commercial reality.
"TEXO E&F having the engineering and design capabilities along with the fabrication requirements for Mocean made it a great fit from the outset and our Project Manager Stewart Kerr's technical knowledge and experience particularly in this area was a fundamental element which was evident during the tender process."
The award shows Mocean is wasting no time in scaling up, after securing £730,000 of equity funding from existing backers earlier this month.
It said it would use the cash to advance the design of the Blue Star machine and drive its adoption in subsea oil and gas.
Recommended for you

Scottish wave developer puts plans in Mocean