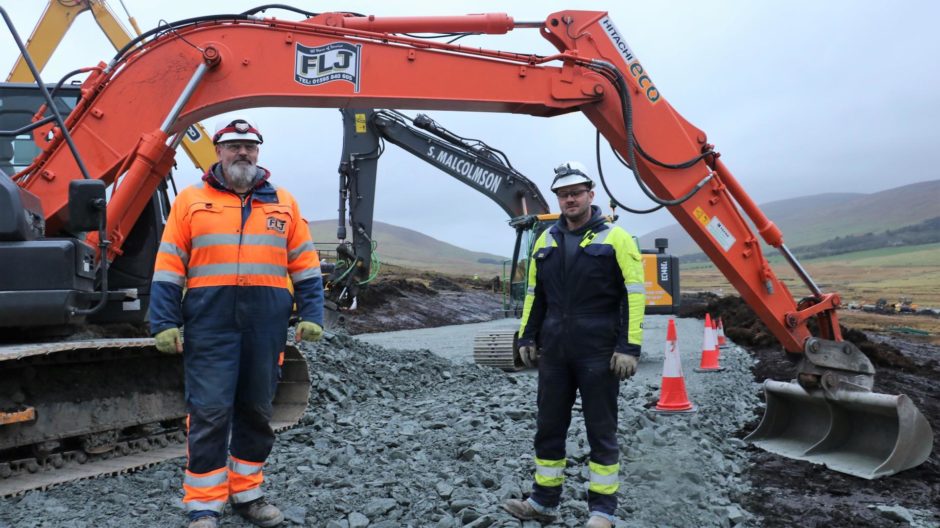 Shetland suppliers have benefitted from almost £5 million resulting from the development of a huge onshore wind farm on the island.
According to SSE Renewables, the firm behind the 103-turbine Viking Energy Wind Farm, between June and the end of last month, more than 30 companies profited from the project.
That includes Tulloch Developments, whose team of 25 workers recently completed an access road to the site.
So far, £4.53m has been spent on the project, which is still in the early stages of development.
With a planned installed capacity of 443 megawatt (MW), Viking is on course to be the UK's largest onshore wind farm in terms of electricity output.
It will produce enough energy to power almost half a million homes and is due to become operational in 2024
Currently, the project has 52 local workers employed by R.J. McLeod and SSE Renewables – that number is expected to increase as construction progresses.
Developers are also working in partnership with Highlands and Islands Enterprise, through their Open4Business web portal, to ensure potential suppliers are able to find out about upcoming opportunities.
Derek Hastings, SSE Renewables' project director, said: "Working closely with local businesses and tradespeople is crucial to every SSE Renewables development as we want to make sure the financial benefits of our projects are shared with the communities that we are part of.
"Over the coming years, there'll be many more opportunities for local businesses of all sizes and tradespeople in Shetland to enter the supply chain as the project progresses.
"These opportunities will range from providing equipment and trade services, to working on-site during construction, to providing operational support once the turbines start turning.
"We will continue to make it our priority to ensure a wide variety of employment opportunities are made available to as many local people as possible."
Recommended for you

'Milestone' moment for Moray West wind farm