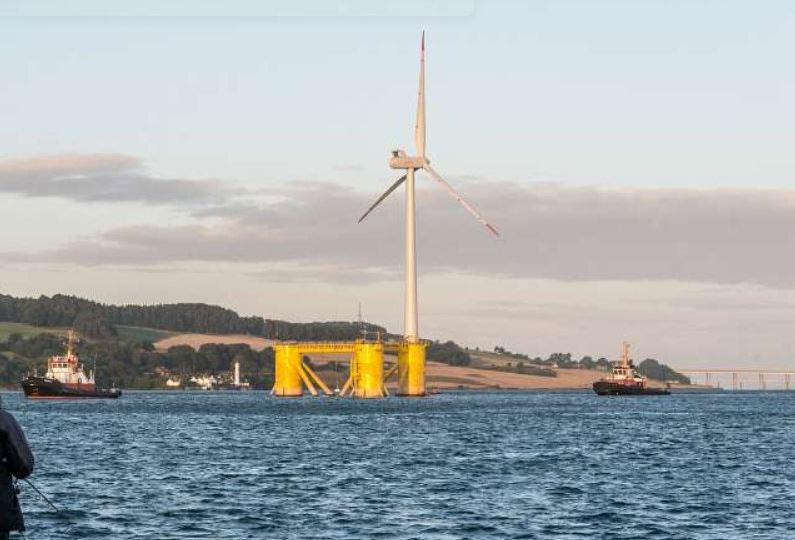 A leading renewable energy expert has heralded 2020 as having been a "massive year" for the development of floating offshore wind.
John MacAskill, business development and operations director for London-headquartered wind engineering advisers Offshore Wind Consultants, said it's now a "given" that large projects will be deployed globally in the coming years.
Floating turbines allow developers to target areas of deeper water, which typically benefit from higher wind but are out of reach for fixed-bottom installations.
It has played second fiddle to its elder brother in recent years but recently there has been a focus on driving down the costs associated with the technology in order to speed up the rate of deployment.
Earlier this year, Boris Johnson set out a target to deliver 1 gigawatt (GW) of floating wind capacity by 2030, more than 15 times the current worldwide worldwide.
The announcement formed part of wider plans to decarbonise the UK economy, with the aim of hitting net zero emissions by 2050 and stimulating a green recovery from the pandemic.
Mr MacAskill said: "What floating has done is open a much bigger door by attracting mammoth oil and gas companies. They see the technology now has a huge scale up potential and that it leverages their internal skill sets.
"You've now got Total partnering up with SPE on Erebus in the Celtic Sea. You've got the Green Investment Group in South Korea and Aker now also have their developments set aside. To these firms, the capital needed to deploy floating still dwarfs that required for oil and gas.
"This has been a massive year for floating but there are still huge challenges to come. Uncertainties remain about opex and the ability to do operations and maintenance on developments.
"It is still relatively theoretical but, looking ahead, I'm sure there's going to be some really exciting floating developments announced when ScotWind is completed."
Scotland, and the north-east specifically, has been at the epicentre of the emerging technology in recent years.
The Kincardine Offshore Wind Farm, around nine miles off the coast of Stonehaven, is entering the final stages of development and is due to become operational in 2021.
It adds to Equinor's Hywind Scotland development near Peterhead, which became the world's first commercial floating offshore wind farm in 2017.
Mr MacAskill said: "We're now seeing evidence of who's coming into the industry, the thirst for it and the stated aims that developers are looking to establish floating areas.
"There are also two projects now that are installing those next generation turbines; you've got WindFloat Atlantic with 8.4 megawatts (MW) and Kincardine's 9.5 MW.
"Before them, you had littles 2 MW turbines which are fine, but these are commercial sized turbines that you'd usually put onto a fixed structure.
"We've also seen the huge expansion of commercial scale project leasing which is the next stage. There's still a very long to go but the fact that countries like Scotland, France, Japan, South Korea and Taiwan are now making these huge areas available is a massive step in the right direction.
"From next year, the industry will start to get greater operational experience – that is what we need fundamentally.
"There's also exciting progress being made in combining floating wind with complimentary industries such as hydrogen and powering oil and gas assets.
"It's not just a case of plugging it into the grid, there's different kinds of uses emerging. These sorts of things are beginning to be developed and that's really exciting."