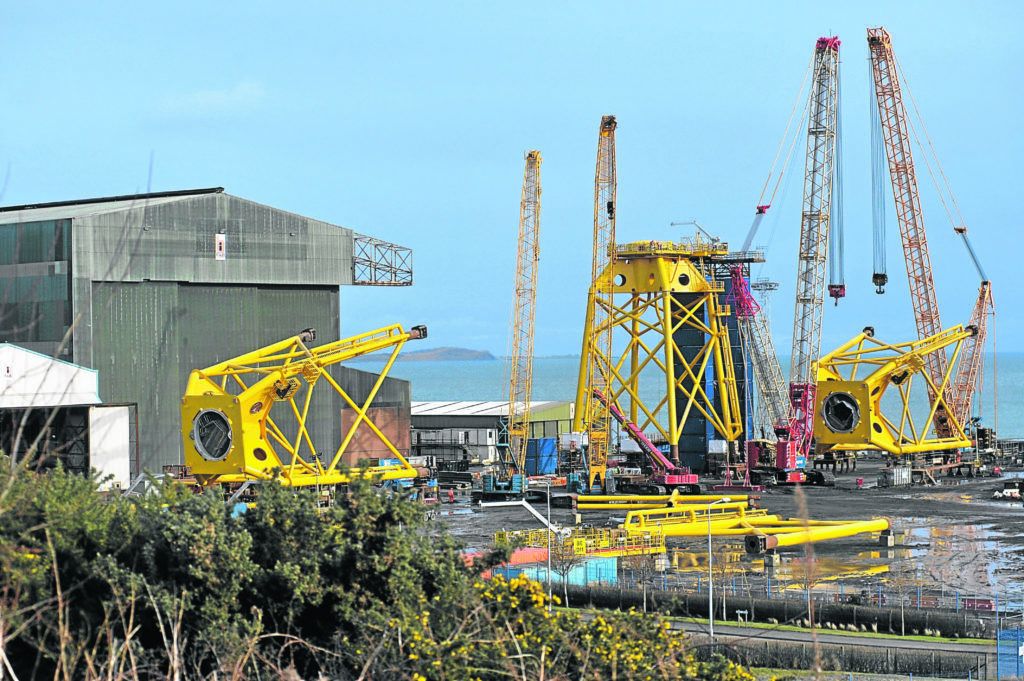 InfraStrata has landed a major contract with Saipem for work on the Neart na Gaoithe (NnG) Offshore Wind Farm in the outer Firth of Forth.
The London-listed firm will be responsible for the fabrication and load-out of eight wind turbine generator (WTG) jacket foundations for the EDF Renewables and ESB Energy development.
With a total value of £26 million, the contract is scheduled to get underway from July 1 2021.
It's expected to create around 290 direct and indirect Scottish jobs.
The work will primarily be carried out at InfraStrata subsidiary Harland and Wolff's newly acquired yard in Methil, Fife.
Additional support may be provided as required by the company's other facilities in Arnish, on the Isle of Lewis, Appledore and Belfast, with Saipem's consent and should the need arise.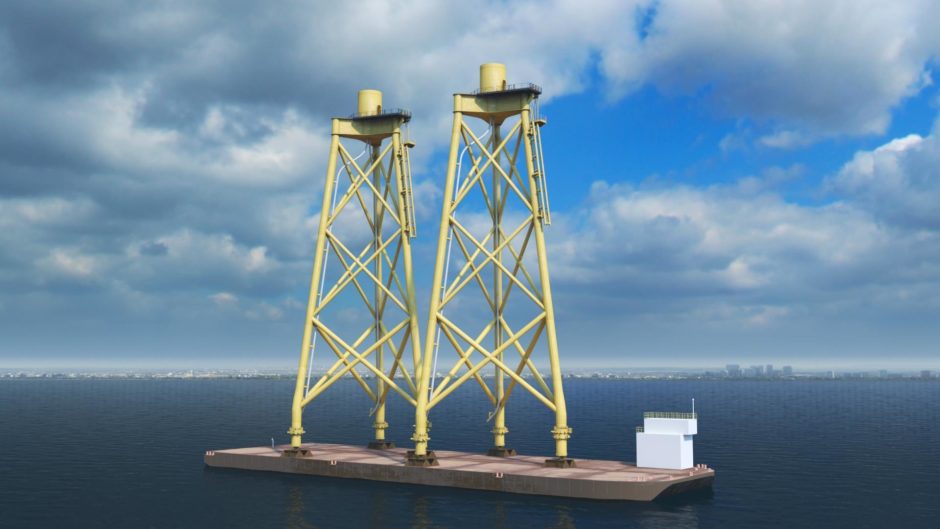 The 54-turbine NnG development is being built about 9 miles off the Fife coast and will be capable of producing enough energy to power around 375,000 homes – it's due to become operational in 2023.
The contract win is a first for InfraStrata since it agreed a deal worth around £850,000 to buy the Methil and Arnish yards through its Harland & Wolff brand.
The sites' previous owner, Burntisland Fabrications (BiFab), was placed into administration in December after a Scottish Government decision to remove support for stricken firm.
It resulted in the loss of a key contract to manufacture wind turbine jackets for the 450 megawatt NnG wind farm.
John Wood, chief executive of InfraStrata, said: "We are delighted to have entered into this contract with Saipem and I believe that this contract paves the way for the execution and delivery of future fabrication contracts, a significant number of which are currently in advanced negotiations.
"The geographical proximity of our Methil facility to the North Sea makes it an ideal site for fabrication and load-out to wind farm projects such as this. More importantly, it validates our strategic vision of expanding the Group's fabrication footprint into regions that are strategically located within close proximity to major wind farm projects.
"This will enable us to spread workstreams across our facilities to drive down costs, deliver against tight schedules and, crucially, align ourselves to the government's goal of providing wind generated power to all homes in the UK by 2030.
"I am confident that this is only the beginning of a stream of projects in our pipeline that we expect come to fruition. We are hugely excited about the massive potential that this first contract has unlocked, and we look forward to working with Saipem to successfully deliver under it."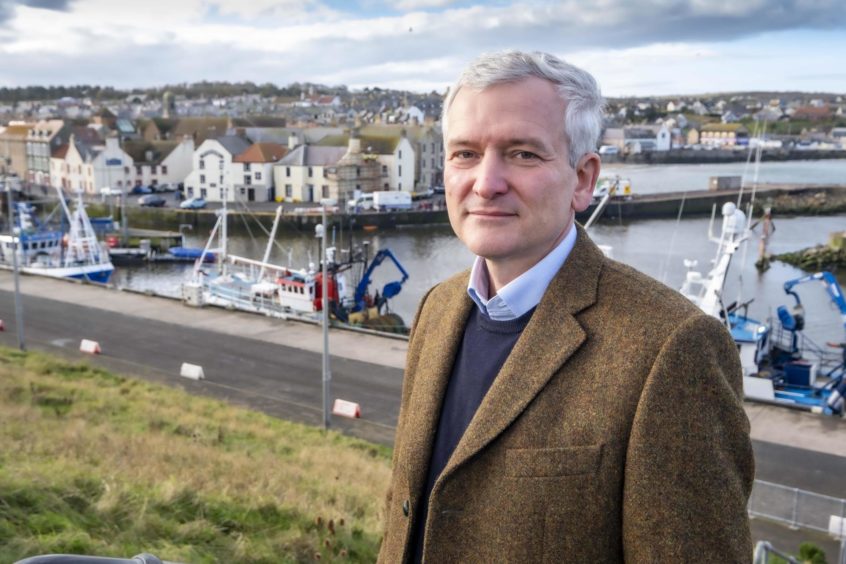 Matthias Haag, NnG project director, said: "This is an important day, for the offshore wind sector in Scotland and for our project. When we announced our main contractors in 2019, we made clear our commitment to the Scottish supply chain and the role it has to play in the construction of NnG.
"That's why this contract signing is such good news. We are pleased the contract has been awarded to Harland & Wolff with the bulk of the work taking place in Scotland.
"With the Port of Dundee supporting the project as NnG's marine hub, the Port of Leith as the marshalling point for the pile casings and planning permission recently granted for an Operations and Maintenance Base at Eyemouth Harbour, Harland & Wolff joining our project is yet further evidence of our commitment to Scotland."
Mauro Piasere, head of offshore new energies in Saipem's E&C offshore division, commented: "The Neart na Gaoithe Offshore Wind Farm is a key project for Saipem in an area of rising growth and potential such as the North Sea. The execution by InfraStrata stands to demonstrate the possibility for the North Sea fabrication industry to play a competitive role in the renewables market. Our vision is to create value in those countries where we operate and this collaboration with InfraStrata confirms this and allows us to contribute to the country's system involving the local supply chain."
Industry Reaction
Friday's announcement will go some way to alleviating fears amongst unions and politicians that the UK's much lauded green industrial revolution might not translate into domestic investment and jobs.
To date, significant proportions of work for wind projects in Scotland has gone overseas, with developers citing a lack of available facilities in the local supply chain.
RenewableUK's Deputy Chief Executive Melanie Onn said: "It's great to see an iconic company like Harland & Wolff creating 290 Scottish jobs with a big contract to manufacture steel foundations for a major Scottish offshore wind farm, especially as this will take place at the former BiFab site at Methil in Fife generating new opportunities there.
"This is another example of how the UK's offshore wind supply chain is a key part of the green industrial revolution which will play a leading role in the UK's economic recovery after the pandemic.
"Our world-leading industry is stepping up fast to quadruple the UK's current offshore wind capacity by 2030, which offers significant supply chain opportunities. By the end of the decade, offshore wind alone will be providing well over a third of the UK's electricity – a huge step towards the UK's net zero emissions goal as well as generating massive economic growth."
"A working yard is better than an empty yard"
Joint Trade Union Secretaries Gary Smith and Pat Rafferty, who represent GMB and Unite respectively, welcomed the announcement but said it needed to be the first step in a "long journey of investment" for Scotland's renewables supply chain.
They said: "This is a welcome development, a working yard is better than an empty yard, but it has to be the first steps in a long journey of investment and contracts for our offshore wind supply chain.
"We need to take the opportunity now to work together and set out an industrial plan for Scotland's future, it's the vital ingredient that has been missing since devolution and we can't succeed without it."
After the collapse of BiFab, there were widespread concerns that workers could be left high and dry by a lack of renewables supply chain.
Scottish Trades Union Congress general secretary, Rozanne Foyer said: "This is a vindication of the relentless campaigning of workers in Fife and the Western Isles and the tenacity of the unions, GMB and Unite, who represent them. They refused to give up as, time after time, hurdles were thrown in their path. It is good news for workers in Fife and, we hope, at Arnish too.
"We have always said that there can and must be a future for the construction part of the renewables supply chain in Scotland. This provides some hope. "It is of course one small part of what must develop into an industrial strategy for Scotland that ends the off-shoring of supply chain work and creates a plan for jobs.
"We expect the unions to examine the detail of the contract, enter talks with the employer, and to respond in due course."
Recommended for you

Saipem agrees to 'de-scope' Harland and Wolff NNG contract after 'delays'