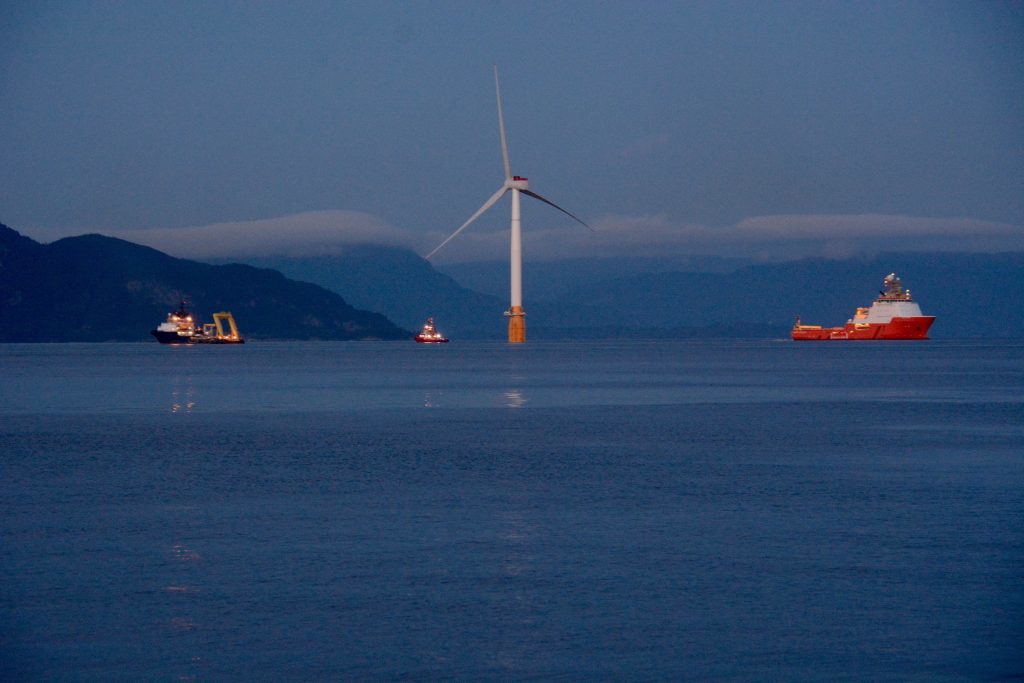 Equinor has solidified its position as one of the frontrunners in floating offshore wind with a new collaboration agreement.
The Norwegian energy giant has teamed up with renewable energy firm Vårgrønn to jointly apply for acreage to develop the technology in Utsira Nord in the Norwegian North Sea.
Vårgrønn, which is based in Stavanger, was established by HitecVision and Italian oil and gas firm Eni last year with the aim of developing 1 gigawatt (GW) of installed green energy capacity by 2030.
The Norwegian Ministry of Petroleum and Energy has opened up two areas for renewables – Utsira Nord and Sørlige Nordsjø II – and is currently designing a licensing process for offshore wind projects.
Equinor's other floating ventures include Hywind Scotland, around 15 miles off the coast of Peterhead, Scotland.
The five-turbine project became operational in 2017, making it the world's first commercial floating offshore wind farm.
It is also currently working on Hywind Tampen, which will become the first floating wind farm to power offshore oil and gas platforms – it's due to become operational next year.
This latest partnership builds on Equinor's existing relationship with Eni as partners in the Dogger Bank offshore wind farm, currently under construction in the North Sea.
Pål Eitrheim, executive vice president for new energy solutions at Equinor, said: "The North Sea has some of the world's best wind resources. A floating offshore wind farm at Utsira Nord could be the next project at scale to drive industrialisation of floating offshore wind and create new opportunities for Norwegian industry.
"Together with Vårgrønn, we are eager to contribute to a new chapter in Norway's energy legacy and position floating offshore wind as a new industry contributing to the energy transition. As the leading floating offshore wind developer Equinor has the experience and capabilities necessary to develop the next full-scale floating offshore wind farm in Norway after Hywind Tampen"
Olav Hetland, CEO, Vårgrønn, added: "We are excited to enter into a partnership with Equinor on floating offshore wind, contributing to the continued development of Norway as a leading energy nation.
"This project will be an essential part of our ambition to own and operate 1 gigawatt (GW) installed capacity by 2030. Developing a home market for offshore wind power, particularly floating, will be important for developing the Norwegian offshore wind supply industry, and positioning new technologies for a growing global market.
"Vårgrønn and its owners have the competence and a strong commitment to help further develop a new industry within the renewable energy sector on the Norwegian Continental Shelf."