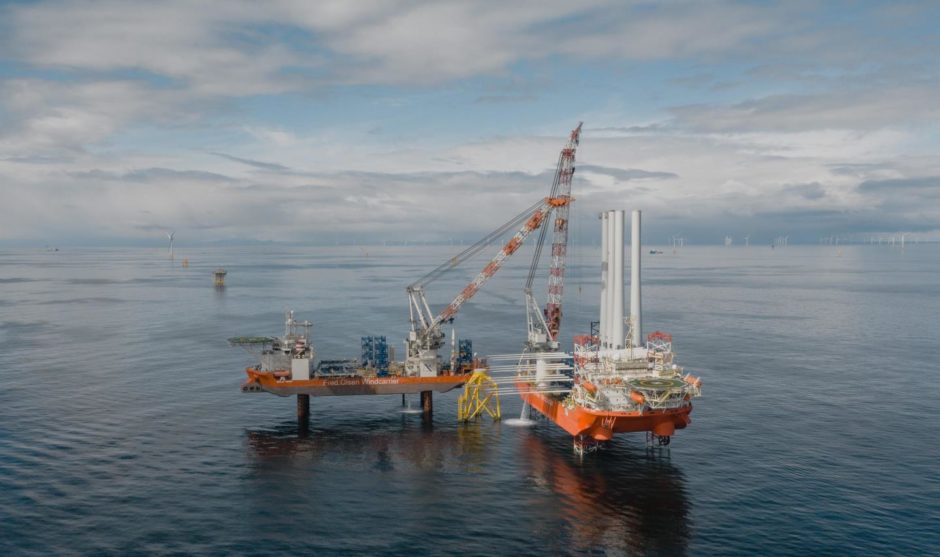 The results of Scotland's first offshore wind leasing round in more than a decade are expected to be released in a matter of days.
A total of 74 bids have been submitted by companies and consortia – featuring some of the biggest names in oil and gas and renewables – hoping to secure seabed rights in Scottish waters.
Since the application window slammed shut in July, ScotWind organiser Crown Estate Scotland (CES) has been whittling down the bids with just 15 leasing areas up for grabs.
And the list of winners that will shape the country's offshore wind future is due to be published on Monday.
ScotWind is fundamental to Holyrood's legally binding target to reduce emissions to net zero by 2045.
Developers are competing to plots of seabed that can be used as the foundation for commercial offshore wind farms.
It is a huge economic opportunity for Scotland and is expected to yields billions of pounds of investment, helping to fuel the just transition away from oil and gas.
Floating wind has been a point of particular interest, with majors such as Orsted and Shell opting to pursue the nascent technology.
ScotWind closed to applicants at 5pm on Friday, July 16, since when some entrees have made a raft of pledges in order to beef up their offerings.
A maximum bid threshold of £100,000 per square kilometre means companies are restricted in what they can pay for acreage.
That has prompted many applicants to add more strings to their bow, be they spending commitments, supply chain partnerships or job targets.
Given the gulf between bids submitted and areas available, it is not surprising that the Scottish Government has already committed to more ScotWinds.
Speaking at the Floating Offshore Wind Conference in Aberdeen in September, Energy Secretary Michael Matheson revealed plans are in the offing for future licensing rounds in the next few years.
BP and EnBW
As it did in the leasing process in England and Wales, BP has teamed up with Energie Baden-Württemberg AG (EnBW) of Germany to bid for one area in ScotWind.
The London-listed supermajor has made several big plays in recent times to expand its renewables operations as it sets course for a low carbon future.
A boss at BP previously said a successful ScotWind bid could extend the company's stay in the North Sea, where it has been at the forefront of oil and gas for the last 50 years, by several more decades.
And the company has pledged to make Aberdeen the centre of its global offshore wind business as part of a £10 billion spending spree if it's chosen by CES.
Alongside a 2.9 gigawatt wind farm, BP has ambitious plans to create thousands of direct and indirect jobs in Scotland and has already invested a large sum in Forth Ports' £40m renewables hub at the Port of Leith in Edinburgh.
TotalEnergies, Green Investment Group and Renewable Infrastructure Development Group
Fresh off the back of its energy transition rebrand, TotalEnergies, formally Total, announced its ScotWind entry.
Alongside Macquarie's Green Investment Group (GIG) and Renewable Infrastructure Development Group, the French supermajor has formed the Offshore Wind Power Ltd (OWPL) consortium.
The group is proposing to build the West of Orkney Windfarm, a 2 gigawatt (GW) offshore wind project.
In order to aid the development of the scheme, £140m of supply chain investment has been earmarked, while partnerships have also been formed with nearby ports.
Irrelevant of ScotWind, the French supermajor has already named Aberdeen as the base for its UK offshore wind operations.
The move is aimed at helping TotalEnergies workers to transition into low carbon roles.
Beyond offshore wind, OWPL has drafted plans to supply energy to the Flotta terminal in Orkney where it will be turned into green hydrogen.
Shell and ScottishPower
With cash and expertise in bountiful supply, the partnership of Shell and ScottishPower is one of ScotWind's biggest hitters.
The duo confirmed their involvement in the leasing round just hours before the deadline, sharing ambitious plans to develop the "world's first" large-scale floating wind farm off the north-east coast.
"Multiple proposals" have been submitted to the CES, a tantalising glimpse at what Scotland's future offshore wind sector could look like.
The partnership of Shell and ScottishPower is arguably ScotWind's biggest power couple.
Shell's track record of delivering huge energy projects is there for all to see. Meanwhile, ScottishPower is a subsidiary of Spanish firm Iberdrola, one of Europe's biggest wind developers.
Eni and Red Rock Power
With less than a week to go until the ScotWind deadline, Eni and Red Rock Power announced they had teamed up in order to enter the process.
The pair will be supported by Transmission Investment, which will deliver expertise in grid infrastructure, a pressing issue for Scottish wind farms.
Not content with just bidding in ScotWind, Red Rock Power and Eni also said they were looking at future renewables opportunities in Scotland, as well as ways to support and grow the local supply chain.
Italian energy giant Eni has a target to deliver 60 GW of renewables capacity by 2050.
Equinor
Given its pedigree in the area, it's not surprising that Norwegian energy giant Equinor has submitted a bid to build a 1 gigawatt (GW) floating wind.
It plans to use the "Wind Semi concept", which will enable industrial standardisation and maximise opportunities for local supply chains.
In 2017, Equinor's Hywind Scotland floating offshore wind farm, the first commercial development of its kind, began operating off the coast of Peterhead, Aberdeenshire.
Ocean Winds and Aker Offshore Wind
With an established offshore wind foothold in Scotland, Ocean Winds (OW) involvement in ScotWind was something of a given.
The Edinburgh-based company, a joint venture between European firms EDP Renewables and ENGIE, is behind the Moray East development off the Aberdeenshire coast.
OW has teamed up with Norwegian firm Aker Offshore Wind (AOW) to bid for three ScotWind sites.
If they're given the green light, the pair will build a mammoth 6 GW floating wind farm off the north-east coast, creating thousands of high-skilled jobs in Scotland in the process.
Separate from its partnership with AOW, OW has lodged two more bids with CES as a standalone.
Mainstream Renewable Power and Siemens
A fortnight after ScotWind closed to applicants, a consortium of Mainstream Renewable Power and Siemens Financial Services confirmed it had bid in the process.
The partnership confirmed that developing the supply chain in Scotland was a "core part" of its proposals,  with investments in re-skilling, training and employment.
It's hoped that the successes achieved through the Hornsea zone in Hull, where around 1,000 jobs have been created, can be repeated in Scotland.
If successful, Siemens Gamesa Renewable Energy and Siemens Energy will automatically become the project's tier one contractors.
Mainstream Renewable Power is also footing some of the cash for an offshore wind tower manufacturing facility which is being developed by Global Energy Group at Port of Nigg.
Vattenfall and Fred. Olsen Renewables
Another company with a strong renewables track record in Scotland taking part in the leasing process is Vattenfall.
The Swedish energy firm developed the European Offshore Wind Deployment Centre (EOWDC) in Aberdeen Bay as a test bed for future technologies.
In order to support its commitment to help Scotland to net zero, Vattenfall partnered up with Fred. Olsen Renewables, a wholly owned subsidiary of Bonheur, to bid in ScotWind.
SSE Renewables, Marubeni Corporation and Copenhagen Infrastructure Partners
One of the first companies to confirm its involvement in ScotWind back in November 2020 was SSE Renewables.
The Perth-headquartered company is bidding in partnership with Japanese conglomerate Marubeni Corporation and Danish fund management firm Copenhagen Infrastructure Partners (CIP).
SSE Renewables has a majority stake in the Beatrice offshore wind farm, which is currently Scotland's largest.
RWE
Another company to add its name to the impressive ScotWind roster at the last minute was RWE.
The German company already employs about 100 people in Scotland and has invested more than £180 million into local businesses.
Its renewables energy capacity north of the border totals 480 MW and comprises onshore wind, offshore wind and hydro sites – a further 350 MW are in the development pipeline.
RWE said it is committed to delivering new jobs and investment north of the border, adding to its already impressive footprint.
Orsted, Falck Renewables and BlueFloat Energy
In early 2021, shortly after ScotWind opened to applicants, Orsted confirmed plans to bid in the process.
The Danish company  has partnered with Falck Renewables and floating wind specialist BlueFloat Energy.
The consortium applied for seabed leases in sites which lend themselves to the deployment of "large-scale floating wind technology".
It would be Orsted's first move into the floating space, having established itself as a front runner in bottom fixed winds farms, with more than 10 developments in operation in England.
Orsted has lodged three bids as a standalone with a view to building a mix of floating and fixed-bottom wind.
TechnipFMC and Magnora Floating Wind
In order to drive the deployment of floating turbines, energy services giant TechnipFMC is entering ScotWind alongside Magnora Floating Wind, an arm of Norwegian renewable energy company Magnora.
The partnership, called Magnora Offshore Wind, has lodged bids to secure two plots of seabed and is aiming to realise "significant opportunities" in the offshore wind market.
It will also look to incorporate green hydrogen, which is made using water and renewable electricity.
BayWa r.e., Elicio and Ideol
Hailing from Germany, Belgium and France respectively, the consortium of BayWa r.e., Elicio and Ideol perfectly encapsulate the global interest in Scotland's natural resources.
Dubbed the Floating Energy Allyance, the partnership is proposing to build a "unique" floating offshore wind farm in Scottish waters.
Under the plans all the concrete foundations for the project will be manufactured in Scotland, creating almost 4,000 jobs.
Ideol is a well established floating wind player thanks to its Floatgen demonstration turbine, launched in partnership with BW Offshore.
BayWa r.e. employs about 75 people in Scotland and manages 890 megawatts of onshore wind projects across the UK.
Univergy Partners International
A relatively new name on the block, Univergy said in May last year that it was on the hunt for a ScotWind partner.
The company wants to build a 500 MW project, called Scotia Ventus, in the north-east of Scotland.
At the time Univergy said the total investment in the development phase of the scheme would be around £28m, while the construction phase is estimated at £1.2bn.
Deme Group, Aspiravi and Qair
European trio Deme Group, Aspiravi and Qair formed the "Thistle Wind Partners" joint venture for a ScotWind bid.
Announcing the partnership in September, the trio said the submission represents a "long-term commitment" to the Scottish renewable energy market.
As part of that it promised "maximum" local supply chain opportunities.
The group is expected to actively explore the role of green hydrogen in their projects to help Scotland achieve net zero by 2045.
Northland Power
Canadian player Northland Power has bid to build a wind farm off Lewis and signed a memorandum of understanding (MoU) with the Western Isles Council last year to back up its bid.
According to reports in the Stornoway Gazette, the company has also been "proactive in developing relationships on the island" with a view to developing projects that benefit the community.
Quaybridge, Parkwind, Maple Power & Sumitomo
Quabridge, of Scotland, Parkwind, of Belgium, and Maple Power, of England, formed the NextGen consortium to enter ScotWind.
Backed up by a "number of strategic partners", including BlackRock Real Assets and Sumitomo, the group has committed to delivering "high value local jobs".
Based in Fife, NextGen has engaged with stakeholders and community groups in Scotland over the last three years.
Critical path offshore ornithological, marine mammal and metocean surveys have already been completed by the consortium, reducing the time needed to bring the projects into construction.
Invenergy and BW Offshore
FPSO specialist BW Offshore and privately-held Invenergy want to to develop up to 5.4 GW off the north-east coast.
The duo said the wind projects will "bring billions of pounds of investment" to the Scottish and UK supply chain, creating specialised jobs.
Invenergy is a privately-owned firm headquartered in Chicago which focuses on large-scale energy generation, and said it has developed more than 180 projects across four continents.
Meanwhile BW Offshore is known for its competency operating floating production, storage and offloading (FPSO) vessels, as well as engineering, construction and procurement services.
EDF Renewables
Details about French energy giant EDF Renewables' two ScotWinds bid are scant to say the least.
In fact the company has only mentioned its applications in passing, making reference to them in an announcement about plans to build floating wind in the Celtic Sea.
EDF is already established in Scotland's offshore sector though and is currently building the Neart na Gaoithe (NnG) development.
ESB
EDF Renewables' partner on the NnG project, ESB is also bidding in ScotWind.
The Irish state-owned company has submitted applications for two floating projects, each up to 1GW in scale.
ESB is a joint owner, with Red Rock Power, of the fully consented 1 MW Inch Cape offshore wind project.
Cobra and Flotation Energy
Spain's Grupo Cobra and Edinburgh-based Flotation Energy lodged a ScotWind bid for up to seven gigawatts across several sites.
It has been submitted through Offshore Wind Limited, the pair's joint venture firm, with each project to be up to 1.5 GW in size.
Aberdeen-headquartered Wood has been drafted in to support the application.
Cobra and Flotation are behind Kincardine, the world's largest floating wind farm off Aberdeen.
Recommended for you

Cerulean Winds signs exclusivity agreements for three INTOG floating wind sites