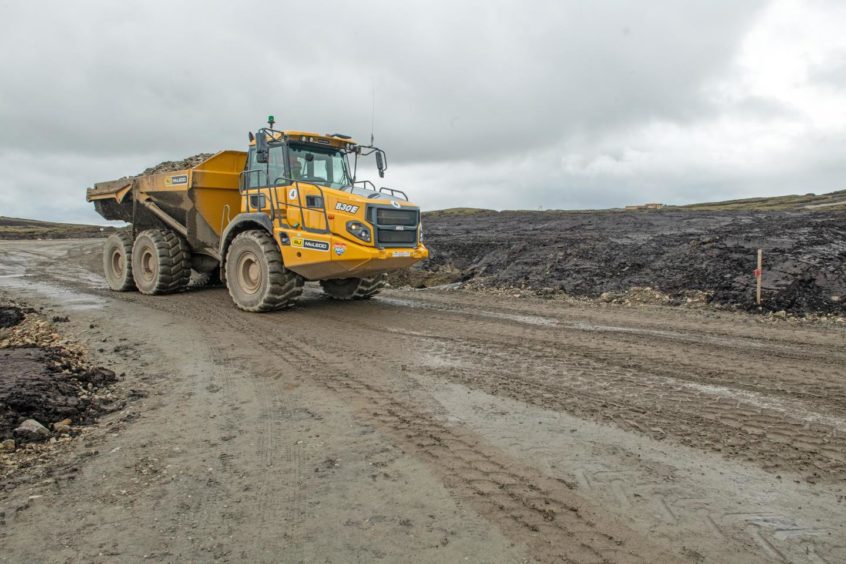 "We need more Viking type projects, it's just difficult to find the space", said Derek Hastings, SSE Renewables' head of onshore projects.
And having recently been given the chance to look around the sprawling construction site for the huge onshore wind farm, it's easy to see what he means.
Viking will consist of 103 Vestas V117-4.2 megawatt turbines, with a tip height of up to 155 metres, spanning an area of about 17,000 acres around central Shetland.
Indeed, due to the vast size of the development, currently under construction on the island, it has been divided into three sections; West, North/Central and East.
As it stands, just over half of the 44 miles of access tracks required for Viking have been formed, resembling veins across the hillside, and 30 turbine bases have been excavated.
And while the scale of Viking means some Shetlanders are less than keen on it, huge offshore and onshore wind projects will be vital to the UK's energy transition.
That need to decarbonise was thrown into sharp focus recently with the publication of the United Nations' Intergovernmental Panel on Climate Change (IPCC) report.
Released in August, the study found it is "unequivocal" that people are warming the planet.
It was described as a "code red for humanity" and prompted many calls for industry and government to get a move on with net zero.
Speaking at the Viking headquarters, Hastings reflected on the magnitude of the development to the UK's energy transition.
"It's profoundly important. You're looking at potentially half a million tons of carbon dioxide being avoided by working here, rather than using the thermal power station in Lerwick – that's hugely significant.
He added: "Every form of power has a compromise. Everything we do has a compromise and we know that everybody recognises that. The more we can do with projects like this, which are high yield and high efficient, the better."
And Hastings hasn't been shy in setting out his aspirations for Viking, which is due to start producing green energy in 2024.
He expects it to deliver "near offshore" levels of renewable electricity generation, while SSE Renewables said it will be the UK's "most productive onshore wind farm".
And the success of Viking could lead to a renaissance of onshore developments, which have suffered from offshore wind's popularity in recent times.
Hastings said: "Offshore projects are massive and need to be so, but we can't forget the contribution that onshore wind makes to the UK's current power demand.
"If we want to hit renewable electricity targets, we will need to increase not just what we do offshore, but what we do onshore as well.
"We're actively lobbying with others to highlight that an awful lot more needs to be done in the onshore space too. We've got a significant onshore pipeline and if you peruse the planning applications we've put in recently, we're continuing to develop that.
"We have no plans to slow down onshore, if anything we want to accelerate it."
But, like any project of its size, Viking has split public opinion in Shetland.
It hasn't struck a chord with many locals, who have flagged concerns about the visual and environmental impact of the wind farm.
Plans for the development even ended up in the Supreme Court in London after campaign group Sustainable Shetland brought forward an appeal.
But Hastings feels locals are becoming "more and more positive" about Viking, in no small part due to the use of local companies and workers.
A total of 174 people are currently employed by RJ McLeod – the wind farm's main contractor – and sub-contractors, 65 of which are islanders.
And north of £12 million has been spent over the course of the project with 20 contractors and 28 suppliers in Shetland.
Hastings said: "The intention is always to try to use as many local people as possible, and we're trying to do that more and more.
"Because of the relative remoteness of Shetland as well, I think it's really beneficial. This wind farm will be here for 30 years and we're wanting a local team over that piece as well."
He added: "If you look at the number of people we are employing and the amount of money we're spending locally, I would hope negative feelings would lessen."
As well as delivering community benefits in the construction phase, Viking could become a tourist attraction to rival Whitelee, currently the UK's largest onshore wind farm.
The ScottishPower Renewables development near Glasgow attracts tens of thousands of visitors each year and previously laid claim to being the world's most Instagrammed wind farm.
With more than 80 miles of tracks surrounding its 215 turbines, it is a popular spot for cycling, walking and running.
And Hastings says Viking could generate a similar pull.
He said: "It's not really an official view perhaps, but we are talking to the community about what access would be possible after it's built.
"From a Shetland perspective and without setting any hairs running, the ridge of Mid Kame, where 11 turbines are being constructed, could make an interesting five kilometre run, for example.
"There's routes available and there will be a lot we can do around mountain biking and horse riding – I think people will find it a wonderful amenity. We're also looking at how to make it accessible to wheelchair users – there's a lot going on."