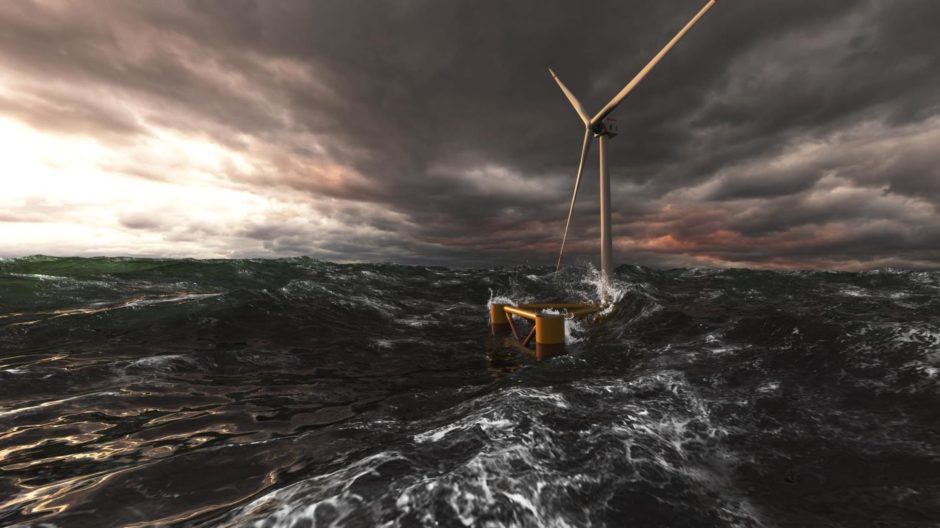 A floating offshore wind partnership has unveiled an ambitious 10 point plan, designed to deliver a green industrial revolution in Scotland.
Ocean Winds (OW) and Aker Offshore Wind (AOW) are hoping their proposals will create thousands of jobs and leverage billions of pounds worth of investment.
There are also plans to create a "major fabrication yard" that would build floating platforms and wind turbines.
In doing so the duo aim to create a skilled workforce and manufacturing opportunities through the supply chain for "generations to come".
If the proposals are delivered, it would be the largest industrial innovation in Scotland since the dawn of the oil and gas sector, according to the consortium.
Sian Lloyd-Rees, managing director of AOW UK, said it is "time for innovation in the North Sea to lead the world once again", this time in pursuit of net zero.
She added: "In our new manifesto, we have set out our vision on the conditions to make the green industrial revolution a reality, and have outlined how our expertise, leadership and investment commitment can achieve this in Scotland."
Outlined in the proposals – a nod to the UK Government's own 10 point plan – is an ambition to create more than 5,000 new jobs and the equivalent of up to £15 billion investment in floating offshore wind.
At the heart of the manifesto is the establishment of a major manufacturing plant in Scotland for the fabrication and assembly of giant steel floating structures.
They would then be installed in the deep waters of the North Sea as offshore wind deployment ramps up in the coming decades.
ScotWind
OW and AOW are vying to secure three sites as part of the hotly contested ScotWind offshore wind leasing round.
If they are given the green light, the consortium plans to build a combined 6 gigawatts (GW) of offshore wind capacity in the Outer Moray Firth.
That would make it far and away the largest wind energy development in the UK.
Through direct work and supply chain opportunities, it's estimated the project will generate more than 5,000 jobs and 200 apprenticeships in Scotland across all project stages.
By doing so, it will help to deliver a 'just transition' from fossil fuels by mobilising the existing oil and gas and engineering supply chains.
'Extensive investment'
OW and AOW have also committed to "extensive investment" in Scotland's existing ports and harbours to bring them up to speed.
That's coupled with a focus on innovative new subsea technology that would deliver the companies' lofty floating wind ambitions.
More than 30 Memorandums of Understanding (MoUs) are currently in place across the supply chain in support of the bids.
In line with UK Government ambitions, the duo have a commitment to 60% local content, of which a minimum of 40% will come from Scotland.
That will enable early investment to bolster the supply chain within the first four years of winning a site, OW and AOW said.
Ms Lloyd-Rees said: "Ocean Winds and Aker Offshore Wind are committed to delivering a green industrial revolution in Scotland with the jobs, manufacturing and supply chain to support generations to come.
"With Scotland's long history in hydro, experience in onshore wind, and advances in marine renewables, our next frontier is the development of floating offshore wind, moving out to deeper waters and stronger, more consistent winds."
Floating wind
Floating offshore wind is the latest advent in renewable energy technology and, despite being in its infancy, there are a lot of hopes pinned ton it.
Around 80% of the world's wind resources are in waters deeper than 60 metres, meaning they're out of reach for fixed foundations.
But by using floating turbines, developers are able to tap into the high wind speeds found far out at sea.
AOW and OW are the majority owners of Principle Power Inc (PPI), which has developed the steel-based floating platform called 'WindFloat'.
The technology is currently deployed in two operational projects, one of which is the Kincardine Floating Wind Farm near Aberdeen.
A fabrication yard of 'international significance'
The two partners are working with the National Manufacturing Institute Scotland and Strathclyde University to develop a 3D immersive visualisation of the fabrication yard where the WindFloat platforms and turbines would be built.
The design will be promoted globally to identify manufacturers before a final location in Scotland is selected.
According to the consortium, the yard could become an "industrial powerhouse of international significance".
Fabricators interested in setting up in Scotland are also being invited into early discussions.
Dan Finch, MD of Ocean Winds UK, said: "A decade ago, we had a vision for the Moray Firth – the competitive, large-scale deployment of offshore wind generation at 50m water depths, by commercialising the jacket technology used in the two-turbine Beatrice Demonstrator project," said Dan Finch, Managing Director of Ocean Winds UK.
"We have successfully delivered that vision in Moray East – cutting the cost of offshore wind generation by more than 50 per cent. Now we have a new goal. We want to take our turbines out into the deep waters of the North Sea, commercialising the WindFloat technology proven in demonstrator projects.
"We will create the opportunity for Scotland to lead in that next step of the renewables revolution – the fabrication and assembly of steel floating foundations and the manifesto we have published today explains how, with early supply chain investment and intervention, we will turn that opportunity into a new Scottish industry with global potential."
Edinburgh-based OW – a 50-50 joint venture by Spain's EDP Renewables (EDPR) and France's ENGIE – already has an established footprint in the north-east.
It is the developer behind Scotland's largest windfarm, the 950 megawatt (MW), 100 turbine Moray East wind farm.
AOW was established in 2020 by Norwegian industrial giant Aker so its maritime and offshore experience and expertise could be fully applied to the transition to low-carbon energy.
Recommended for you

BP advertises collaboration openings on Scottish offshore wind farm