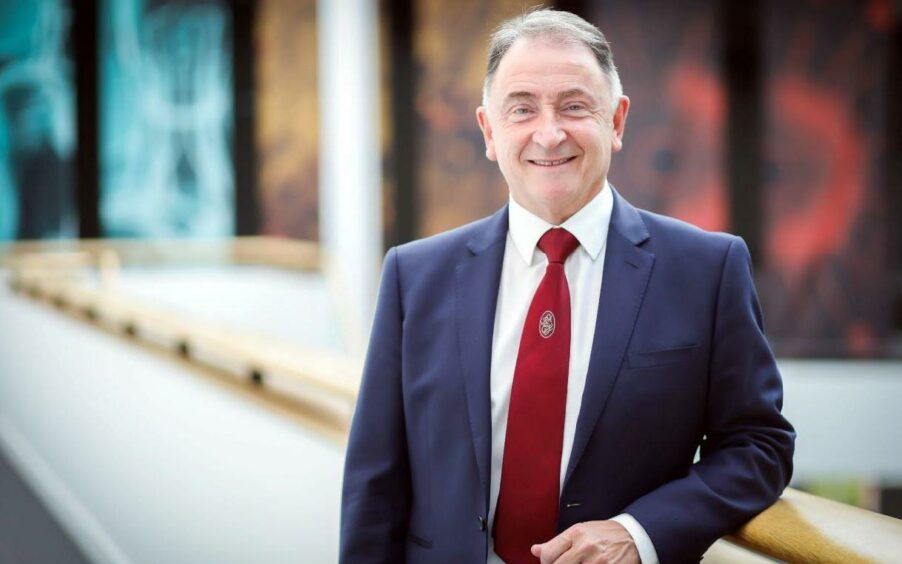 "Convergence" is how Sir Jim McDonald describes the way that Scottish industry, ports and government have come together to get after the potential prize of ScotWind, and the burgeoning floating wind sector more broadly.
One of Scotland's most accomplished engineers, Sir Jim recently published an independent report noting that Scotland will be one of the first countries to deploy floating offshore wind, making this a genuine opportunity, though its success in this field is by no means guaranteed.
If ScotWind's 8-10 gigawatt target is delivered then the country will account for five percent of the global floating wind market by 2030, which will require a huge volume of equipment and services; from assembly to platforms, anchoring, powertrains and blading.
"No one port can do that, but in cluster we can offer that", says Sir Jim, who co-chairs the Scottish Government Energy Advisory Board with First Minister Nicola Sturgeon, and is principal of Strathclyde University.
"They can invest in a complimentary way so that we minimise duplication and we maximise the opportunity to create that cluster where Scotland can then present itself in full."
The top recommendation of the report was the creation of a collaborative framework, including creation of a floating wind cluster, with each port using their individual strengths to capitalise on the opportunity, such as anchors and cables from Montrose or wind turbine towers from Nigg.
Beyond the £860million estimated for the public purse from the ScotWind auction, the Strategic Infrastructure Assessment set out a £1.5billion low-risk prize in gross value added to the Scottish Economy through such a cluster, with potential for that to grow to £4.5bn.
Report estimates '£1.5billion boost' to Scotland from floating wind port cluster
Awards are due for ScotWind later this month, with 74 bids made to Crown Estate Scotland, many of which focus on domestic industrial benefits to the country.
This is the chance, Sir Jim says, to convert the assertions and aspirations of ScotWind into reality by building up the coordinated port capability and skills, however "the opportunity has to be seized now".
"I think that's going to be an excellent way to tee Scotland up to serve our own immediate market opportunities through ScotWind, while facing out into what is a growing and ultimately will be an enormous international market opportunity.
"As we build that, we've basically got an echo of how the oil and gas industry in Scotland really started 50-60 years ago. So we're focussed on building infrastructure, combining that collaborative industrial community, building strong supply chain and, very importantly, building skills.
"This is a big part of what we're seeing in the report. The potential growth here, up to 5,000 jobs being created per annum during construction, around 2,800 jobs during the up to 30-year lifetime of operations.
"If we do that, where are the opportunities going to come to? They'll certainly include Scotland on the must-have list in terms of manufacturing, deployment and technical expertise."
The recommendations of the report are now owned and being implemented by the Scottish Offshore Wind Energy Council (SOWEC), a partnership between the Scottish Government and the offshore wind industry.
Asked whether he considers those recommendations a priority for the government, Sir Jim says that he has had meetings "five or six times in the last six months" with Scottish energy secretary Michael Matheson on the issue, on top of discussions with business and trade minister Ivan McKee.
"I believe that this report and its recommendations have been taken seriously right into the cabinet level of Scottish Government," he adds.
"There's a degree of convergence here between the government, industry and prospectively the investment community that I don't think has been so obvious over the past decade. And I think that bodes well for capturing the opportunity here in Scotland."
He adds that there "will be a competition" once these ScotWind projects eventually come around but the focus right now is ensuring that Scottish ports work together to effectively compete with international counterparts.
Following a meeting of wind industry leaders during COP26, which he convened with Mr Matheson, Sir Jim is clear that ports have the appetite to work together, seeing the benefits of doing so.
Meanwhile, as anticipation builds for awards this month, a key point is that the projects from ScotWind offer a steady pipeline of work to build upon. That's good news for those who look back on Scotland's chequered history with the wind industry and some large predictions in the past for jobs and industrial benefits.
Maf Smith, director of advisory firm Lumen and lead author on the report, says, on top of the drive for collaboration, there are other reasons to be optimistic.
"The primary reason that the benefits that were talked about, say, back in 2010 haven't delivered is that the pipeline didn't materialise. That wasn't because of a lack of ambition from the developers in the offshore wind industry, it was about projects maybe not being strong enough, or it was about the consenting process taking longer than had been expected.
"We got what could be expected from what was built out, which was only a tenth of what was projected back then. This is different, there is a pipeline now, but having said that, we can't take it for granted. A lot of hard work will be needed from a lot of people, including from the supply chain."
Building on that pipeline of work in our backyard then takes Scotland to that wider prize, the 95% of the global floating wind market by 2030 which will be away from our shores.
Smith says getting after that means Scotland needs to be top of its game in its execution.
"If we get it right, there is more on offer. That means being world class, investing in processes and equipment, investing in labour and skills, being able to compete on quality and price at the same time.
"That's why the partnership is really critical."
One point the report was specific on is the need for Scotland to play to its strengths, recommending creation of a port cluster focussed on floating platform fabrication and manufacturing.
The combination of floating wind being new on a global scale with Scotland hosting two of the three projects in Europe, the country's existing expertise in oil and gas, and platforms being the largest component for wind farms means it's the right call, Smith argues.
"We've got the support to create this cluster, we've got the space to do it with investment into ports – because these things are large structures – and we've got the ability to train and bring on a workforce over time.
"So it is absolutely the right thing to focus on, we need to do it quickly because there are other markets in Scandinavia, France, Spain and Ireland who are also active on floating offshore wind and if we don't grab this opportunity then somebody else will. But equally if we can grab it and make that successful then there's an opportunity to sell expertise and services globally.
"That might not mean exporting platforms, but it will mean exporting engineering expertise, which is similar to how we've developed expertise in oil and gas in Scotland."