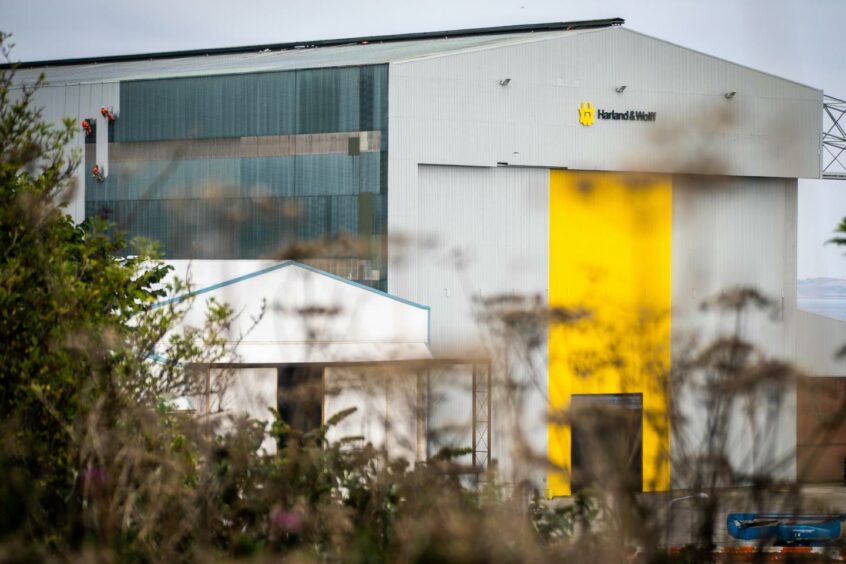 It is more than a year since the unceremonious collapse of Burntisland Fabrications (BiFab) and the apprehension that followed.
For many, the demise of BiFab – which had two yards in Fife, at Methil and Burntisland, as well as Arnish in the Isle of Lewis – was an ominous sign.
Announced in December 2020, the decision followed Holyrood's decision to pull financial support for the firm, which in turn is thought to have led to the collapse of a £2 billion lifeline deal to build eight turbine jackets for the Neart Na Gaoithe (NnG) offshore wind farm.
Trade unions said it exposed the "myth of Scotland's renewables revolution", while BiFab blamed the "absence of supply chain protections" for its fate.
Less than three months later, Arnish and Methil had been snapped up by a new owner, one that has turned their fortunes around.
Harland and Wolff, operating at the time under the InfraStrata banner, snapped up the facilities in February 2021 in a deal worth £850,000.
And in April the company confirmed it had won a contract with Saipem to fabricate eight wind turbine jackets for the NNG development, about nine miles off the Fife coast, at the Methil yard.
"We went into 2021 in lockdown and there was a lot of apprehension about what the year was going to bring. We've navigated our way through it and come out in pretty much the position we were hoping to be," said John Wood, chief executive of Harland and Wolff.
"If you look at the whole group, we're now in a position where we've acquired the assets, rebuilt them, established a pipeline, and we're now in the process of converting that into long term orders.
"We look forward to 2022 and the objective is to build up a backlog and capitalise on the opportunities that are out there."
When it was revealed that Harland and Wolff has scooped the NnG contract, it came with the pledge of around 290 new indirect and direct Scottish jobs.
And with work at the yard beginning to gather pace swiftly, that lofty promise is beginning to manifest.
Wood said: "Work's progressing well – all the materials are now on site for that project. The workforce is continuing to ramp up – we expect to peak at around 450 workers in February.
"There's no major concerns about timelines – everything is moving along well. It's always the case with projects like this that you've got a couple of issues, but you resolve them and recover it."
It is expected that the turbine jackets will begin to take shape around March and the project will be "out the door" by the end of July.
NnG, which is being developed by EDF Renewables and ESB, is slated to start up production in 2023.
Along with other offshore wind projects, such as Moray East and Seagreen, the 54-turbine development sets the tone for what is to come in Scotland.
Excitement is in the air north of the border, with the results of the ScotWind leasing round due to be published in January.
The process, which allows developers to secure rights to areas of seabed, will pave the way for the deployment of hundreds of turbines in Scottish waters.
While it will take years for projects to come to fruition, supply chain companies are readying themselves now to cash in on the inevitable boom.
For Harland and Wolff, it is a case of building on its established "track record".
Wood said: "With this first offshore wind job that's gone through, everybody can see the work that's been done on the yard.
"There's a real drive out there; developers do want as much local content as they can get. It used to be that everyone used to sniff at local content, now it's something that people are taking a lot more seriously.
"The outlook is very positive and it's a case of just continuing to do what we do."
As BiFab alluded to in its parting words, local content, or a lack thereof, in Scottish offshore wind has been a long running bugbear.
Trade unions in particular have been clear that unless developers use Scotland's supply chain, the benefits of the renewables boom for workers will be limited at best.
There are promising signs though that things are beginning to head in the right direction, with huge investments recently announced at Ardersier port and Global Energy Group's Nigg facility.
"You've still got competition from overseas, but with the rest of the world gearing up for renewables, capacity in the Far East is drying up," Wood said.
"Developers are also starting to see the true cost of doing work in the Far East and bringing it to the UK. That includes deficiencies coming in on kit, as well as the cost of managing projects out there with their own staff."
Whether it comes to be remains to be seen, but predictions that the offshore wind sector could be on the cusp of a local content drive will be music to the ears of many Scottish communities.
In few places will that be more true than the Isle of Lewis, where the Arnish yard lay mothballed for months on end under BiFab.
Activity at the site is beginning to pick up again under the stewardship of Harland and Wolff, and Wood teased that there may be more to come.
He said: "Arnish is moving in the right direction. There's certainly a lot of noise, and I will say noise at the moment, in relation to the work that's going on in the Celtic Sea so let's just see.
"We've got proposals into pretty much every single person that's tendering – we can't do anymore. But I think until some eggs are laid, you're kind of wasting your time a little bit.
"We're really looking for the offshore wind licensing rounds to come through and once they have, it will really tell us where things are going."
Perhaps what is most notable about Harland and Wolff's time in charge of the Methil and Arnish sites is the speed at which things have been achieved.
In less than a year the company has revived and started work on an offshore wind contract that looked lost, taken on a first cohort of apprentices and brought the dishevelled yards back up to speed.
Wood said: "When you look at these businesses, I think they move as quickly as the energy that you put into them. It's all about positioning yourself.
"The striking thing for me about the BiFab situation is the amount of effort and ambition the Scottish Government seemed to have to help, and the complete lack of interest they've had since we acquired the assets. I think it's because they got their fingers burnt the last time.
"We've made our own luck, pushed ahead and won work."