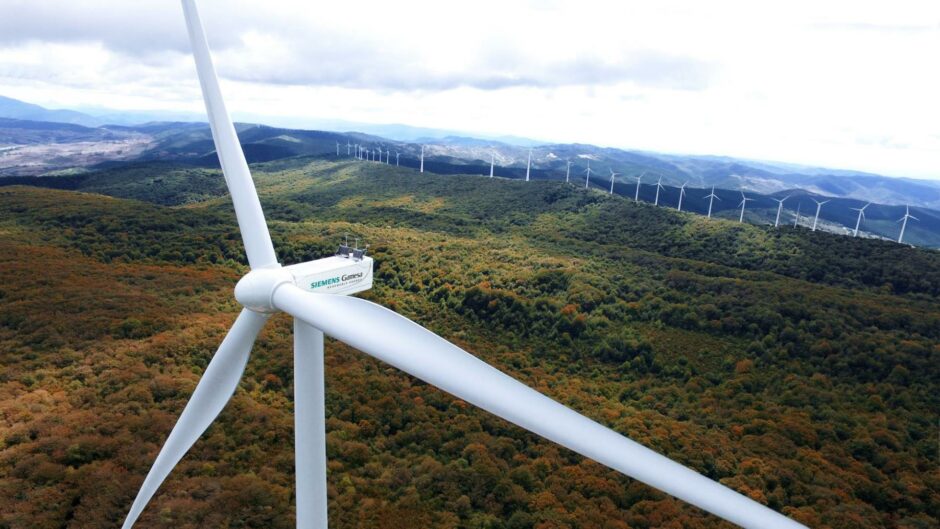 Europe invested almost £35 billion in new wind farms last year, bankrolling 25 gigawatts (GW) of fresh capacity.
But despite the eye watering figure, WindEurope says it is still "well short" of the cash required to deliver the 35GW a year the EU needs to hit 2030 targets.
The £34.5bn figure is also 11% less than the amount invested in 2020, according to the industry body's annual Finance and Investment Trends report.
It does cover 24.6 GW of new capacity though, a record for a single year.
Most of the new wind farms funded were onshore (19.8GW) which, given they are slightly cheaper, partly explains why investments are down year on year.
Eleven countries invested more than £840,000, with the UK emerging top of the pile, almost all of which was in offshore wind.
It was followed by Germany, France, Spain, Sweden and Finland.
Spain invested the most in onshore wind, while Sweden, Finland, Poland and Lithuania all invested more in new farms than they had done in any previous year.
WindEurope said: "The strong onshore wind investments show that Europe is starting to turn the corner on permitting. But the results are still far off from where Europe needs to be to reach its new climate change and energy security targets.
"The REPowerEU agenda now wants the EU to expand its wind capacity from 190 GW today to 480 GW by 2030. This means building 35 GW of new wind turbines a year until 2030. The new wind investments in the EU in 2021 covered only 19 GW of new capacity.
"Europe's wind supply chain could and should be building much more. The fact it's not, and that the market is only half the size it should be, is undermining the competitiveness of the supply chain. This is compounded by the rising costs of steel, other commodities and components, supply chain disruptions and higher shipping costs.
"All of Europe's five wind turbine manufacturers are now operating at a loss. To restore the health of the wind energy supply chain the EU must continue to improve permitting, ensure a strong home market and pursue trade and industrial policies that support the sector."
Inflationary costs are taking their toll on wind turbine manufacturers and Vestas previously said it expects the cost of turbines to increase further this year.
Many projects are also facing delays due to supply chain instability, sparking fears about country's ability to deliver on their renewables targets.
CfD
WindEurope has praised the impact of contracts for difference (CFD) though in helping to iron out market volatility.
CfDs deliver "stable revenues for project developers" by ensuring a fixed price for energy.
"Governments only pay out when the electricity price is below the auction price but get paid back when it's higher. CfDs also reduce finance costs because the clear revenue perspective means banks finance projects at favourable rates of interest," Wind Europe said.
Auctions
There are concerns however that the design of auctions for wind developments could be hampering deployment.
It is feared that by charging developers to build projects, it could increase energy bills for consumer.
In Scotland, winners of the ScotWind process paid just shy of £700 million to the Scottish Government in order to secure acreage for wind farms.
WindEurope said: "Europe will only reach its climate targets and ensure energy security if it removes barriers to the expansion of renewables and ensures wind remains an attractive investment. Governments should avoid running auctions that allow for zero bidding or negative bidding.
"Zero bidding increases the financial risk associated with wind farm development. Even worse, negative bidding, as seen in the Danish tender for the Thor offshore wind farm last year, requires developers to pay for the right to build a wind farm. These additional costs have to be passed on to electricity consumers – already struggling with higher electricity bills – or the wind industry supply chain – already strained by increasing costs for materials and components."
Recommended for you

North Sea wind farm to supply green energy to Google