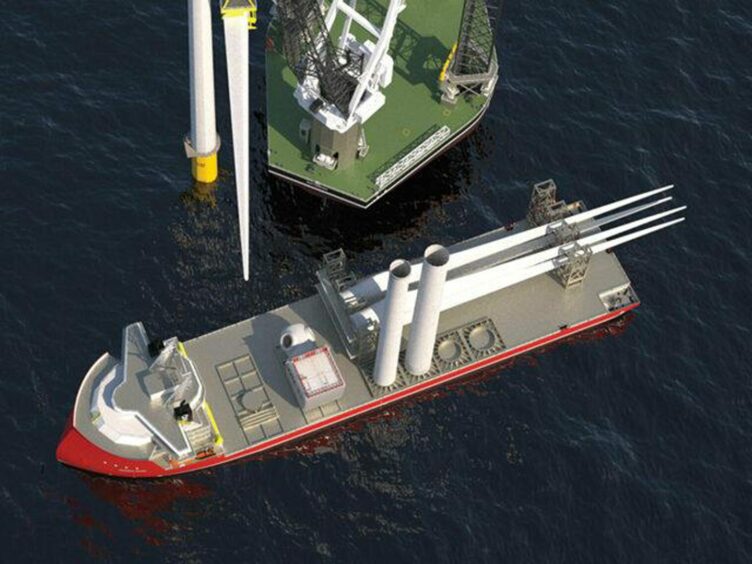 Dutch group Damen Shipyards is developing a new class of vessel that will be capable of supporting the next big development in offshore wind; the large-scale roll-out of large floating offshore wind turbines.
Ulstein of Norway is also working on the future opportunities explosion taking place in locations like the North Sea, in this case developing a new class of construction ship to handle large monopile and jacket type turbines larger than anything manufactured and installed to date.
Floating turbines (FOWTs) are the talk of the industry bordering on high fashion. Current  forecasts point to a massive 13,500 (200GW aggregate capacity) being installed over the next 30 years.
Given the size of the turbines and the depths of the water in which they will be positioned, each unit will require huge mooring spreads.
Even just one installation starting to drag an anchor upwind of others could have a serious impact on the output of an entire wind farm, so the anchoring systems and how they are installed must leave nothing to chance.
Research indicates that each floater will require three to  six anchors each, with chain diameters increasing from a typical 152mm for a large offshore structure to upwards of 220mm.
While the anchoring technologies will remain much the same – simply scaled up – the vessels required to handle them will need to be much bigger than today's oil and gas industry anchor handling vessels.
And, according to Damen, given the predicted massive demand for their services, they will also have to be very efficient.
In co-operation with suppliers and vessel operators, Damen is now working on a new class that will be able to meet this need.
Tackling the challenge
As integrated R&D, design, engineering and shipbuilding groups, each believes it has all the resources needed to undertake this challenge.
In Damen's case the company also has its own anchor and chain production facility, giving it additional insights.
While there is much work to be done, initial feedback from anchor handling specialists has been positive, says the company.
Damen is also in discussions with other suppliers regarding new deck systems that can accelerate the loading of chain, synthetic rope, steel wire, clump weights and other possible mooring line components in port, while maintaining safety, which has to be a major consideration given the sizes and weights being contemplated.
Aside from building the ships and manufacturing mooring spreads, Damen's offshore construction facility at Damen Shipyards Mangalia, Romania, will also play a part in the floating offshore wind market development.
It claims to be well positioned and equipped to produce the large number of floating foundations on which the turbines will be mounted.
"There are many variables relating to the new vessel concept still to be assessed and explored, not least the final nature of the FOWT mooring systems," says Damen's Business Development Manager Offshore Wind, Wijtze van der Leij.
"If larger numbers of lighter anchors and chains per turbine are judged superior to fewer but larger, the vessel design will adapt accordingly.
"But whatever the outcome, rapid growth in the offshore wind turbine sector is just around the corner."
8,000-tonne crane capacity
Meanwhile, in Norway, Ulstein has come up with its HX122 concept. Featuring the increasingly ubiquitous X-Bow and an ultra-high-capacity crane, it is intended to enable offshore windfarm operators and contractors to efficiently transport and install monopiles or jacket foundations up to 5,000 tons in weight.
However, Ulstein warns that immediate action is required in this fast moving market.
There is already a shortage of vessels capable of handling the ultra-large turbines now becoming available.
Fortunately the company has experience of this class of vessel to fall back on albeit originally designed and built for the offshore oil & gas market.
Basically the HX118 is the third generation of the successful Ulstein SOC 5000 design, of which several examples are operational or under construction, notably Heerema's  211m Aegir, which entered service in 2013, and Subsea 7's 182m Seven Borealis, which was ordered in 2007 and entered service in 2012.
Each has a signature massive "mast" crane located at the back end. Aegir's is 4,000 tonnes capacity; Seven Borealis is 5,000 tonnes. Both cranes were designed and built by Huisman.
The 230m HX122 will have a crane capacity of 8,000 tonnes and methanol-fuelled "power station" with extensive battery storage support to enable ultra-low emissions operation.
Ko Stroo, product manager at Ulstein Design & Solutions BV in the Netherlands says: "Significant R&D effort has been put into the development of our heavy lift vessel portfolio, working closely with industry partners on mission equipment integration, operability performance and lowering CO2 emissions, creating safer and more efficient installation vessels using proven technologies."
The company claims that it has received favourable new-build pricings from multiple yards worldwide and that an order placed now could be ready to enter service by 2025. That's fast.
Aeolus upgrade
Meanwhile Dutch contractor Van Oord has reported that its offshore installation vessel Aeolus will get a major crane upgrade. The new 133m long boom is being designed and built by Huisman.
The company says that, by installing a new, longer boom on Aeolus' existing crane, the vessel will be able to handle 12-15MW class turbines whilst retaining its lifting capacity of 1,600 tonnes for foundation installations.
But the ambition doesn't stop there as Van Oord has a mega jack-up vessel on order. 175m long Boreas is currently being built in China will  operate on methanol and be capable of installing up to 20MW class super-turbines. Designed lifting capacity is 3,000 tonnes. Boreas is expected to be ready for work in 2024.