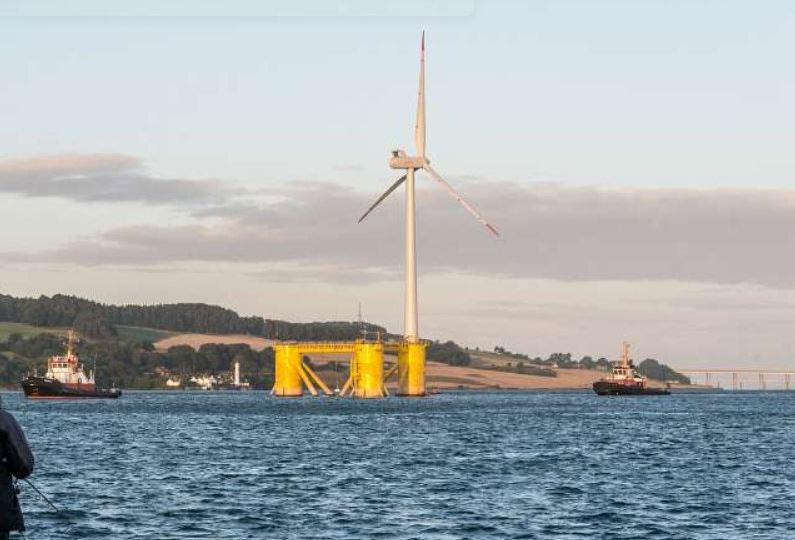 Edinburgh-headquartered Flotation Energy has been acquired by Japanese utilities giant Tokyo Electric Power Company (TEPCO).
Flotation Energy, known for its work in floating wind and energy transition projects, said it will become part of the TEPCO group under the deal.
Further details of the takeover have not been disclosed, but Flotation said it means the firm is in "an even stronger position" to work on projects globally.
TEPCO is the largest utilities firm in Japan, with a market capitalisation of £4.3bn.
Flotation's co-founders developed Kincardine, the world's largest floating wind farm off Aberdeen, and the firm is delivering another 12 GW of floating and fixed wind globally.
CEO Lord Nicol Stephen said: "This is a very exciting development for Flotation Energy and recognises the strength and success of our world class team.  We have pioneered the growth of floating wind across the globe and have a very significant pipeline of projects in the UK, Ireland, and Asia Pacific.
"This new partnership between Scotland and Japan represents a major commitment by TEPCO.  It will allow us to move forward quickly with our existing projects and to kick start new opportunities right around the world.  Climate change is the biggest challenge facing our planet. A future of clean, green renewable energy has always been our goal."
It comes amid a burgeoning floating wind market in Scotland, through round like INTOG and ScotWind, alongside increasing development interest in Japan.
The Goto wind project, a 16.8MW development and Japan's first floating development, is due to be operational in 2024.
Masashi Nagasawa, TEPCO Renewable Power President said:   "We are very pleased and heartened to partner with Flotation Energy, which shares our mission to "deliver clean renewable energy and create a carbon neutral society" as we work together to further develop both companies.
"Flotation Energy's experience and knowledge of the world's biggest floating offshore wind development and their global network will vastly accelerate the development of our offshore wind business both domestically and internationally.
"Through our collaboration, we will realise our management philosophy of, 'Harnessing the Natural Resources to Energy, and further Society' on a global scale."
Recommended for you

Energy giant TotalEnergies comes aboard Orkney subsea wave power project