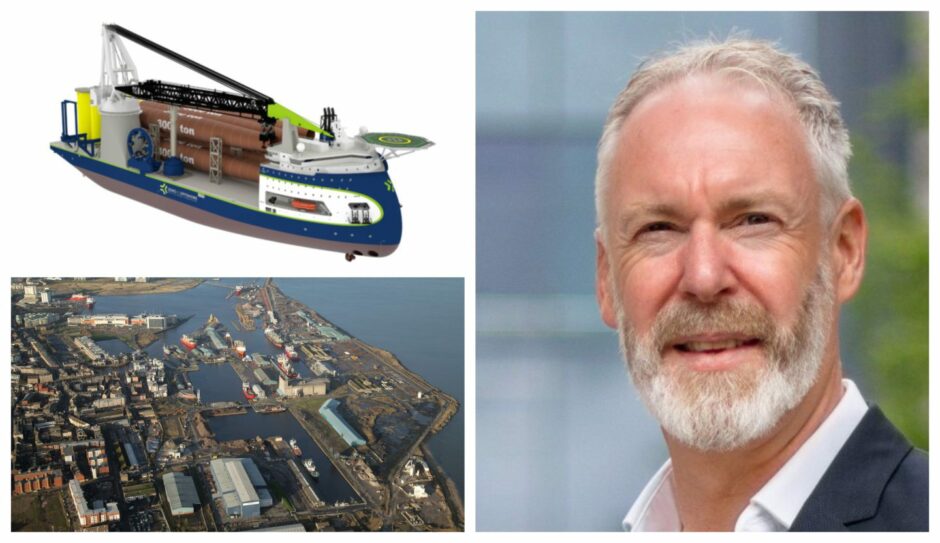 A UK-based heavy lift business is being launched by the former CEO of Aberdeen-based Awilco Drilling.
Jon Oliver Bryce, who led the rig operator for nearly a decade, said his firm Zero-C Offshore will help address an "extreme bottleneck" in the offshore wind market, particularly for foundation installation.
Headquartered either in Aberdeen or Edinburgh "or between both at the same time", with the home port "likely" to be Leith, the heavy lift business will have a "massive advantage in a very hot market" in the UK and Europe more widely.
Bryce is being supported in building the company by ship designer Ulstein, broker Clarksons Platou and crane designer Huisman who have " been involved from day one".
Aberdeen or Edinburgh HQ
By December 2023, Zero-C aims to be nearly a year into its three-year build programme which will cost hundreds of millions of dollars, Bryce told Energy Voice.
He said the firm has already created the design for its specialised "Installer Max" foundation installation vessel (FIV), and priced out shipbuilding yards in China, Singapore and Korea.
There are only four purpose-built vessels in the market for this activity, according to Zero-C, none of which are from UK companies, despite a surge in demand.
Others, designed for the oil and gas sector, are "reaching their technical limit" as windfarms become larger and turbines more powerful, so they are "going back to oil and gas".
That comes amid huge installation targets for turbines across the UK and Europe by 2030: 50GW and 160GW, respectively.
"Demand is about to go bonkers from 2025 onwards," says Bryce.
"It's not rocket science there's a there's an extreme supply bottleneck looming.
"Without foundation vessels, unless there's a disruptive technology, this 160 gigawatts in Europe, let alone the stuff around the rest of the world, just isn't going to happen.
"There is no British heavy lift contractor, so what we are aiming to do is build a fleet of FFIV's which are, by definition, heavy lift vessels to serve the UK wind industry and the global wind industry.
"We are a UK company. We will be based in the UK headquarters in UK, pay UK corporation or shipping tax and we will employ Brits."
'We will serve the UK wind industry as a UK heavy lift vessel owner'
The market is currently dominated by firms including Boskalis, Van Oord, Jan de Nul, and  Deme – the latter of which's vessel "Orion" has been booked up since launching earlier this year.
The UK has a voluntary 60% local content target for offshore wind, and being able to contract a UK heavy lift business will help operators get "to the front of the queue" on leasing, according to Bryce.
He says: "We will serve the UK wind industry as a UK heavy lift vessel owner. Why is that important? Well, it's important to Scottish Government and British Government because we've got this local content requirement for offshore windfarms at the moment.
"(Zero-C) is something green, where there's not green vessels already, it's something British, where there's not British vessels already, and we can help companies achieve their goals of offshore wind farm delivery, and also the UK Government and their goals of energy security."
Raising finance
Bryce, who led Awilco for nine years after building up Odfjell Drilling UK as a business arm, is no stranger to raising funds for projects.
He, alongside an "in-place" management team have "worked very closely with a number of banks and advisors" to raise funding for its current stage – stage two – of a four-stage company build-out.
After building the business case first, Zero-C is now working hard with customers to secure a letter of intent for a first contract.
The next step will be a major capital raise for stage three to help fund construction of a vessel with a deposit.
To get funds to "put deposits down" on rig construction, Bryce is looking to go down the "well-trodden path" for startups in this sector of an Oslo initial public offering (IPO).
Generally, what happens at that stage, when a vessel is due to come out of the yard after three years, companies go back and raise debt against a secured contract.
"That's a fairly well established model we're looking to replicate that with Zero-C for its vessels," says Bryce.
Delays
Uncertainty in the energy market due to the invasion of Ukraine saw some investors retreat, Bryce concedes, but he now sees a "resurgence in interest".
Investors are now realising "this supply and demand story that we had painted is actually reality".
Bullish, he adds that new energy strategies across Europe, unveiled in the wake of the invasion, have "supercharged confidence in the demand side, so our business case looks better than ever".
"The capital markets are interested again, anchor investors who get involved in the capital markets are interested again, but what's also more interesting are some very large private funds have now appeared in the last two months."
First-mover?
Zero-C says it is "oven-ready" to go, but concedes that others have now caught on to this opportunity too.
The former Awilco boss' firm does have a design head-start and is ready to go with the build once finance is secured.
They have engaged one UK yard, but Bryce is clear that Asia will be the site for construction due to price.
"We've quoted the shipyards already. My background is drilling and I've been involved in a lot of new build projects, so and I kind of know my way around.
"And when it comes to shipyards big enough to undertake a project like this – and I say 'big enough' you know this vessel will be 220 meters long, 60 meters wide, it's a monster. I mean, British aircraft carriers are 280 meters long."
Bryce also said that, like DEME's Orion, the vessel will be flexible, and could even take on work like offshore decommissioning if needed.
"These are incredibly versatile and flexible vessels, by virtue of the deck shape, the crane capability, and positioning, the DP (dynamic positioning) that it has, thr amount of people that can take on board, the power it's got.
"So these will be heavy lift vessels, absolutely focused on wind turbine foundations, but they can do other tasks also. "