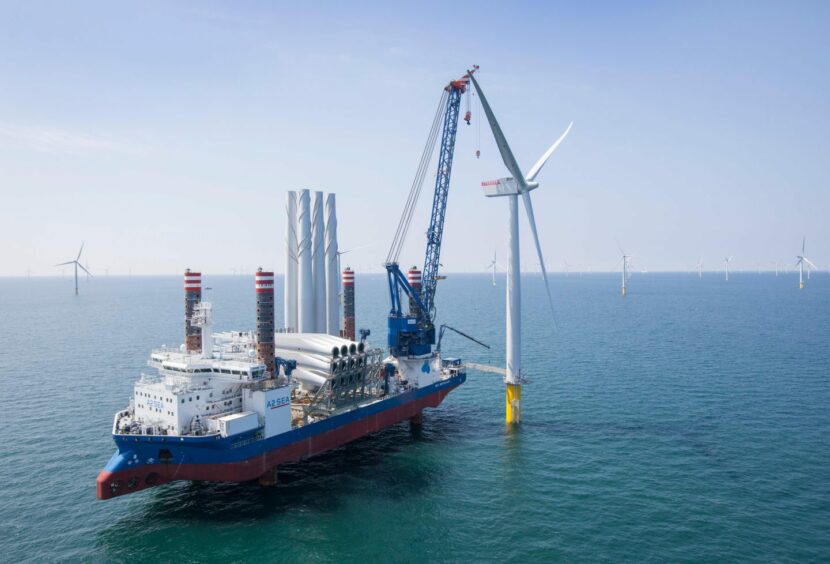 By the end of the decade, the UK is aiming to have 50 gigawatts (GW) worth of turbines spinning in the sea.
Successive energy secretaries, north and south of the border, have, in varying terms, made one thing abundantly clear: they expect offshore wind to be the backbone of the future net zero energy mix.
But while the end goal may be obvious, the path is long and full of stumbling blocks.
There has been much discussion in recent months around two shortages the UK offshore wind industry will need to overcome – skills, and port and harbour capacity.
But a third pitfall is starting to become more apparent; a distinct lack of vessels capable of transporting, installing and then maintaining turbines.
And it's a problem that will inevitably become more evident towards the end of the decade, as competition for everything from foundation installation vessels (FIV) to cable lay vessels heats up.
Jon Oliver Bryce, an energy vessel market expert and founder of UK-based heavy lift business Zero-C Offshore, puts in bluntly – "a looming vessel shortage threatens to derail offshore wind ambition."
He said: "There is a significant risk to this green ambition, which is due to the current lack of the specialist vessels, in particular those in the heavy construction space.
"In simple terms, large offshore turbines and their components need large ships to move them. As offshore wind farm activity increases, the vessel shortage is set to worsen, jeopardising offshore wind targets."
Competition on all fronts
Crucially, it is not simply UK offshore wind farm developers that will be racing to snap up what ships there are available; countries on the continent have similarly lofty ambitions.
As well as trying to solve Europe's gas shortage, Norway is opening up vast areas of its waters for renewables developments.
It is a similar story across the length and breadth of the Baltic and North Seas, as countries seek to decarbonise, and fast.
Bryce, who used to head up North Sea firm Awilco Drilling, said: "Offshore wind farms are becoming a very familiar sight on our coast lines, and the amount of them is set to increase dramatically from 2025.
"As well as the commercial drivers within industry for their continued rollout, European governments have also set new supply and security strategies following Russia's attack on Ukraine, which are centred on urgent large-scale delivery of offshore wind.
"Within Europe alone, the UK, German, French, Polish, Dutch and Belgian governments have a combined wind generation target of 140 GW by 2030, which equates to 14,000 of the largest turbines available today."
Increasing size of turbines fanning the flames
It is a problem that, to some extent, the offshore wind industry is making worse for itself.
Turbines makers are targeting efficiency, and units are growing in power, and more importantly size, dwarfing those that used to dominate the market.
It is a trend that is expected to continue, and 20MW turbines – that need considerably bigger foundations – may soon be on the menu.
"The root cause of the FIV and wind turbine installation vessels (WTIV) shortage comes from the evolution of wind turbines themselves," says Bryce.
"The global fleet of installation vessels was originally a blend of heavy lift ships and small general-purpose jack-up rigs which could adequately handle first generation turbines. Due to this increase in turbine size, most of this fleet has now reached, or is reaching, its technical limit.
"The cargo deck sizes and crane capacities of the majority of those vessels is simply no longer fit for purpose, and upgrading those existing unit is not always straight forward or feasible.
"Modern vessels now are required to have green fuel solutions and are expected to have high operational efficiencies, which has also contributed the demise of the original turbine installation fleet."
No new FIV orders in the offing
In the past decade, a "dozen or so 'next generation' WTIVs" have been built, but Bryce says "not nearly enough are in service for the 2025 demand increase", and it's a similar story for FIVs.
He added: "To install Europe's vast planned inventory of turbines by 2030, let alone those in the rest of the world, many more FIVs are required and required quickly.
"It takes approximately three years to build a FIV; so even if a vessel building boom kicks off tomorrow it is unlikely that the supply chain will be able to deliver this target.
"What is most concerning for the wind industry is that despite an increasing number of analysts picking up on this story, there are still no new FIV orders in the offing."
Vessel owners in the driving seat
But while a vessel shortage is something of a looming spectre for offshore wind developers, it will benefit some, namely vessel owners themselves.
Much like for drilling rigs in the oil and gas industry, day rates for wind service vessels are on the up, and as long as a shortage persists, they are likely to stay there.
Specialist wind vessel owners – the likes of Cadeler, Fred. Olsen WindCarrier, Eneti, Maersk and Havfram – are all "likely anticipating a healthy return on their investment", says Bryce.
That is proving to be the case across the board, with Seacat Services, which boasts a fleet of more than a dozen crew transfer vessels (CTV), planning for a offshore wind vessel "market reset" in 2023.
It reverses several years of "depressed" demand for CTVs, and the market is now "coming back with a vengeance", says Ian Baylis, the company's founder and director.
"Those that have navigated the downturn are now coming into what is a rapidly accelerating market, for a number of reasons, largely how many wind farm extensions and new builds in the pipeline.
"Rather than the heavy up and down trends that we've seen in recent years, if you look at all the prediction graphs, we see much more of a straight line, in an upward direction, and for decades or more to come."
But after so many years of market stagnation – during which the supply chain didn't have the confidence to splash out on fresh ships – Baylis agrees that "there isn't a massive pipeline" of new builds ready to do the work.
Spare capacity being snapped up
For Seacat, that means high fleet uptake, and 2022 was the firm's busiest year since 2014, with numerous "large and juicy" tenders put up for grabs by developers.
As such, the company is not envisaging "any tendering worries after Christmas", giving it a "unique" certainty around required crew numbers, in some cases, for years ahead.
But while day rates are on the up, that doesn't necessarily translate into bumper profits for vessel operators, many of which are seeing their own costs rise.
"Day rates have been somewhat static since 2012, and probably hit their highest in 2014 before retreating again. Cautiously though, we are seeing a rise at the moment," says Baylis.
"That means we're able to counter our rising costs. Every January our engine manufacturer puts its prices up by around 3% to 5%; this year, it has made it clear it is going to be 10%
"We haven't been able to do anything particularly spectacular with our crew wages for a while, and these higher rates are allowing us to address some of those things."
A potential rise in wages comes at a fitting time, as offshore wind competes with other energy sectors to attract talent, which is increasingly thing on the ground.
"A lot of the challenge isn't necessarily going to be physical things such as vessels," says Baylis, "it's going to be the skills shortages – that is something that we really need to think about. There's no point in getting new boats if you've nobody to crew them."
Market backed to solve the problem
Indeed, 'new boats' are something Baylis is tentatively forecasting for the coming years, as vessel owners react to increased demand and higher day rates.
He said: "I think history tells us that the market is capable of reacting. In the case of Seacat, we have UK designed, built, flagged, owned and operated vessels.
"There is a limited amount of ship building capability domestically to be able to realise all of the hopes and dreams of the UK offshore wind market.
"However, there are some big global players building vessels overseas and capable of producing a relatively high amount of ships in a relatively short space of time.
"The market is set to react and we're getting some early noises that there are operators out there contracting boats in some of these yards."
Baylis added: "It's always healthy for the vessel owners, if there's slightly more demand than there is vessels. But I think that our market is capable of reacting and filling that void relatively quickly."
Recommended for you

WTIV fleet receives two-ship boost from China