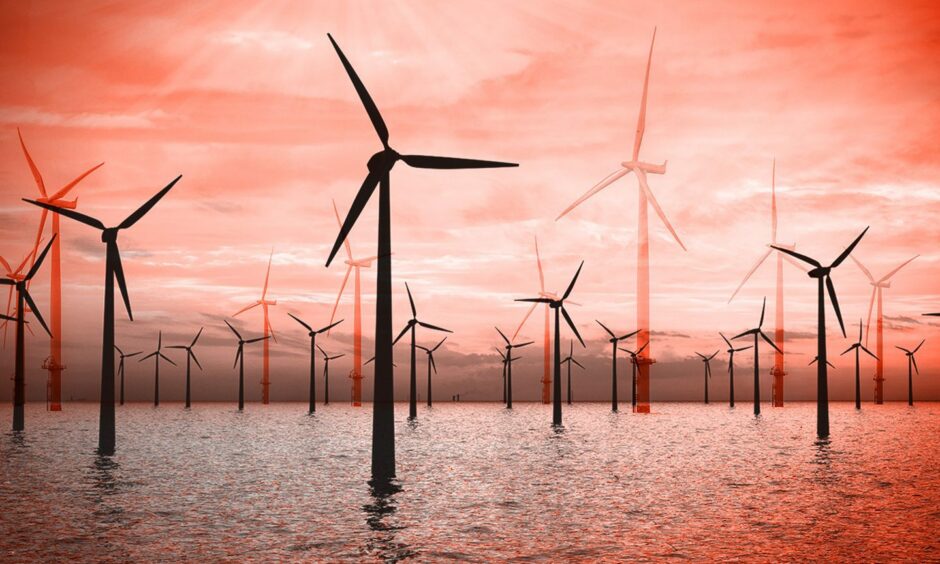 Wind farms have become a ubiquitous part of the Scottish landscape.
How it all started
Wind power isn't a new invention. We have used it for centuries to provide power.
Before there were turbines there were windmills, used for a variety of different things such as to pump water, make salt, and mill flour.
Professor James Blyth of Anderson's College, now the University of Strathclyde, built the first wind turbine.
The surplus electricity from his Marykirk holiday home was offered to the village to light the main street, but was refused, and a turbine was instead built later for emergency power to an asylum, infirmary and dispensary in Montrose.
It was the 19th century and wind power wasn't yet seen as economically viable in Scotland.
In other places in the world, turbines were also being constructed.
In Cleveland, Ohio, Charles F Brush was also building a machine, larger and more heavily engineered, between 1887 and 1888. It operated until 1900 and was used to either charge a bank of batteries, or operate up to 100 incandescent light bulbs, three arc lamps and various motors within his laboratory.
In 1891, a turbine was constructed to generate electricity to produce hydrogen for experiments and to light a high school in Denmark, by scientist Poul la Cour.
By 1900, there were around 2,500 windmills in the country, which produced a rough peak power of around 30 MW.
Wind generators have been competing against more widely used fossil fuel plants.
However, in more recent years, there has been a fresh focus on renewable energy and hundreds of wind farms have become operational in the last few decades.
How does a wind turbine work?
Wind turbines transform a natural asset – the wind – into energy that can be used to power homes and businesses.
We've broken down how they work step by step in the diagram below.
How much energy?
Onshore and offshore wind turbines generate wind power – a renewable and infinite energy source.
In 2021, Scotland generated a total of 19,896 GWh of electricity through turbines.
This is a significant increase on totals from 2008, when the country generated 3,362 GWh.
In 2011, the total was 7,256 GWh, which means there was a 36.5% increase in the amount of energy generated in the span of 10 years, despite numbers dipping from the high in 2020.
Wind power provides the greatest source of renewable electricity in Scotland according to data from the UK Government.
Renewable electricity generation was at a record-high in 2020, as shown in the chart, but fell slightly during 2021.
"Less favourable weather conditions" drove the decrease, which includes wind, sun hours and rainfall.
As shown by the data, hydro was the second highest generator of renewable energy, and produced 4,959 GWh of power in 2021.
Other biomass, including co-firing, was the third-highest method at 1,931 GWh. This method also includes plant biomass, animal biomass and biodegradable parts of energy from waste.
The Scottish Government has created a policy around wind power, and aims to deploy 20GW of onshore wind by 2030.
Renewable energies, such as wind, will allow the country to achieve net zero.
In June 2022, onshore wind reached 8.78 GW. Thus, to reach the target, the capacity would have to be more than doubled.
For offshore wind, the target is hoped to increase to 8-11 GW by 2030.
On the rise
In June 2022, it was 1.9GW, and there is also a pipeline of 3.8 GW already consented to. This means the capacity for offshore wind also needs to be more than doubled by 2030.
These targets, as well as other renewable energies, were set under Scotland's Energy Strategy and Just Transition Plan.
But how does our output compare to other countries?
Global data from 2021, the most recent year with full data provided, shows that the United Kingdom was the sixth highest producer of electricity from wind power across all countries.
As the data shows, China produced significantly more wind power than any other country – almost double that of the United States – the second highest producer.
The UK wind power industry
The map below shows the location of wind energy projects across the UK based on locations provided in the Renewable Energy Planning Database (REPD), up to date to January 2023. The database only includes projects with capacity over 0.15 MW.
Click on an icon on the map for more information regarding the wind energy project.
Of these larger scale projects, there are 751 onshore and 45 offshore sites operational across the UK, with 9,541 individual turbines. Scotland has the highest share of wind farms, with 331 currently operating. Most of these are onshore.
These energy projects range from individual turbines all the way up to mega farms capable of producing 1,300 MW electricity – the Hornsea 2 site off the coast of Yorkshire holds the title of the world's largest wind farm.
The Dogger Bank mega farm currently under construction dwarves this – with 400 turbines under construction at 'Sites A&B' and a further 200 at 'Site C' also on the east coast. The project by SSE/Equinor (formerly Statoil) will have a generative capacity of 2600 MW.
Wind curtailment and energy storage
Scotland has already hit the milestone of producing more wind energy than households use: Back in 2019 it produced the amount needed to power all homes in the country twice over.
Generating electricity is only half the battle. Producing at the right time, and connecting it to where it is needed, are major challenges.
There are many monitoring techniques used to predict wind power output, but these can never be 100% accurate. When wind output is inaccurately forecasted if there are unexpectedly high winds, or if demand is unexpectedly low in Scotland where more wind energy is produced, this leads to wind curtailment.
This is when some or all of the turbines at a wind farm are shut down in order to reduce electrical output into the grid.
Scotland produces lots of wind energy which it cannot use. The Western Link subsea power cable, operational since 2019, is one route that transfers electricity from Scotland to the south.
Constrained
However, grid interconnections between Scotland and England cannot take all the excess electricity. As a result, Scottish wind farms are curtailed more often than farms in England.
According to the Renewable Energy Foundation, this constrained 13% of generation in Scotland on average from 2015 to 2021. That is, energy was discarded that could have been used. A high of 19% curtailment was recorded in 2020.
2021 required less curtailment. This was due to lower wind speeds and less energy produced, as well as the new Western Link.
However, the curtailed 1,783 GWh at a cost of £107m in 2021 still represents a big economic and environmental loss. Non-renewable energy was used in place of wind.
At the end of last year, the UK Government announced £32.9m of funding for renewable energy storage projects. These are crucial to address the issue of wasted renewable energy in the future.
Scottish wind power jobs
It can be difficult to get precise statistics on the number of wind power jobs in Scotland. The national accounts do not define the renewables sector.
A recent report by the Fraser of Allander Institute, commissioned by Scottish Renewables, attempted to answer the question. It created estimates based on data already published by the Office for National Statistics.
This report provided estimates for direct, indirect and induced jobs related to the sector.
Direct employment refers to employment within renewable energy companies.
Indirect employment relates to the relevant supply chains.
Induced employment then refers to wages spent by these direct and indirect employees in other parts of the economy.
In total the Fraser of Allander report estimated 10,115 full time jobs in the onshore wind sector. In offshore wind, this was 6,735 jobs.
The ONS estimates fewer people employed in the sector than the FOA report. However, it reports growth for the sector in Scotland in recent years. Scotland reporting more people employed in onshore wind power than the other three UK countries combined.
Recommended for you

West Orkney wind farm becomes first ScotWind project to submit consents