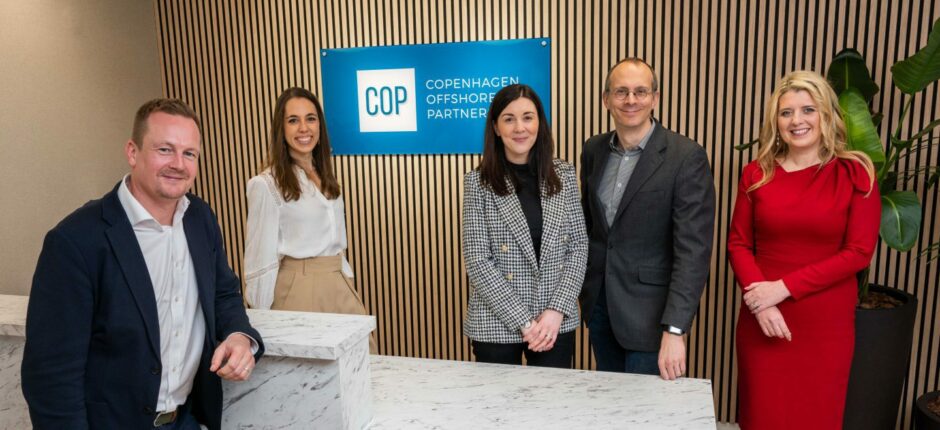 Copenhagen Offshore Partners (COP) has opened a new office in Scotland which will host its global competence centre for floating offshore wind.
Formally launched on Thursday, the Edinburgh base provides a location for COP – the development arm of infrastructure fund CIP – to further grow its team and speed up large-scale deployment of the technology across the UK and globally.
COP UK CEO and partner Alan Hannah said: "The opening is an important moment in what will be a significant year for FLOW. It puts Scotland and the UK at the core of our global floating offshore wind ambitions, building on strong maritime heritage, a history of innovation, and world-class energy supply chains.
"The UK has established an early capability in FLOW and while it must continue to innovate, there can be no substitute for learning through doing. We must get projects in the water to better understand how to industrialise floating technology in the face of fierce global competition.
"The centre will play a crucial role to build the industry's understanding of how to efficiently maximise the floating offshore wind opportunity so that we can achieve a highly localised, industrialised model for deployment for future commercial scale projects."
Opened on the same day as the UK government's 'Powering up Britain' energy policy drive, the news was welcomed by energy security and net zero minister Graham Stuart.
"The UK has a world leading position in FLOW and I'm grateful to COP for its investment in what is a fantastic FLOW opportunity in the UK," he said.
"Partnership between business and Government is vital, which is why I'm delighted to see the launch of the £160m Floating Offshore Wind Manufacturing Investment Scheme (FLOWMIS), which will make a difference to delivering the port infrastructure upon which the industry depends."
COP is currently developing the Pentland floating wind farm in Scotland's northern coast.
Located around 5 miles off the coast Caithness, the 100-MW scheme will generate enough power for approximately 70,000 homes, and COP hopes to use the scheme to help qualify future large-scale floating wind projects.
It has also secured rights to build the 3.6-GW Ossian floating site as part of a consortium with SSE and Marubeni under last year's Scotwind leasing round.
It expects to make further bids as part of the Celtic Sea leasing round later this year.
Indeed, one-third of parent CIP's portfolio of more than 50GW of offshore wind is now comprised of floating sites.
Recommended for you

Kincardine wind turbine taken to Rotterdam for maintenance