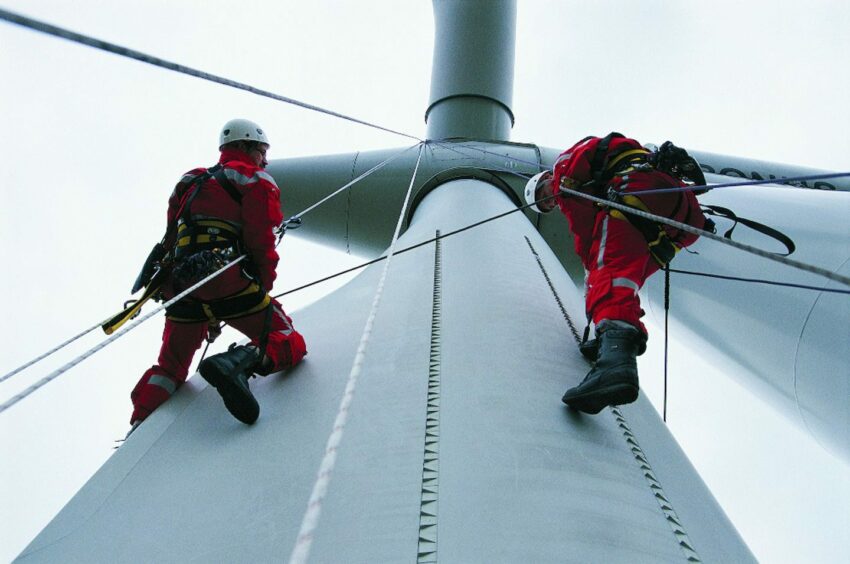 The global offshore wind industry skills body has been accused of "putting in place roadblocks" to the creation of a jobs passport for oil workers to transfer into renewables.
Efforts have been underway for years to develop such a document, considered vital for allowing oil and gas workers to transfer into renewables without hefty retraining fees, which pose a major barrier to the transition.
But Global Wind Organisation (GWO) has been warned to "seriously reflect on its stance" by union bosses, lest government intervention is called for.
The group has been accused of trying to "push its own brand" and is "resist(ing)the idea of commonality of standards".
Oil and gas body OPITO has been targeting the creation of a passport this year, working with GWO – both have accreditations which are vital for employees working in their respective industries.
But RMT regional organiser Jake Molloy and Unite Scotland secretary Pat Rafferty said GWO has taken an "unacceptable" position, adding "there is too much at stake".
Mr Rafferty said: "The skills passport is based on removing barriers and the GWO are putting in place road blocks which is unacceptable. Everyone bar the GWO recognises the skills passport as being an important step in the march towards a 'just transition'.
"OPITO and other stakeholders including Unite are working very hard to get the passport introduced by the end of this year, and all should be congratulated for our collective efforts in trying to make this a reality.
"The GWO needs to seriously reflect on its stance, or we are calling for government to intervene because there's too much at stake, and this important initiative requires everyone pooling together."
Meanwhile RMT's Jake Molloy, who is on the passport's steering group and the Scottish Government's Just Transition Commission, said GWO "continues to push its own brand".
It comes after a report from UK wind champion Tim Pick last month highlighted that the two are not aligned on the issue despite commitments being made by industry in 2019.
Mr Molloy said: "I thought we were getting close to it. But sadly, we're still struggling. Because one body in particular – Global Wind Organisation – continues to resist the idea of commonality of standards and acceptance of standards. (It) continues to push its own brand and its own standards.
"And despite the efforts of the Scottish Government, despite the efforts of trade unions and even some of the industry, we still appear unable to get Global Wind Organisation to buy into it.
"So, the passport – if we don't get that particular party involved – will be of lesser value because, effectively, it will be exactly what it does now with OPITO standards.
"The concept has to be all-encompassing and all-inclusive."
GWO: Employers want to see oil workers transition
Global Wind Organisation is a non-profit body founded and owned by its members – all of whom are wind turbine manufacturers and owners/operators.
Training providers, like Scotland's Clyde Training Solutions, note that accreditation from GWO is mandatory for anyone working in the wind and renewables sector both onshore and offshore.
In reply to theunion bosses' comments, a spokesperson for GWO said it represents a "broad coalition of employers" who "want to see the oil and gas industry make a successful transition into renewables and be able to apply those skills with a system of recognition that applies across different technologies and international boarders".
They added: "To achieve this goal, we must work collectively to get the right solution in place; one that works for all concerned so that skilled people can move into and out of renewables with the right training and certifications to work safely."
Last month, UK wind champion Tim Pick's report to the UK Government said: "Despite £5m of funding from the Scottish Government's Just Transition Fund and extensive discussions, alignment between the relevant certification bodies (OPITO for offshore Oil & Gas and GWO for Offshore Wind) has not yet been reached."
Skills passport this year
John McDonald, CEO of OPITO, said his group will deliver the passport later this year.
"With the support of industry, governments, trade unions and standards bodies, OPITO will deliver an energy skills passport later this year. The real value of the passport is in bringing together the standards across the oil and gas and offshore wind sectors for the benefit of the workforce, with safety at its core.
"We will continue to do everything we can to encourage the offshore wind industry to be an active participant and fully realise the benefits of a just and managed energy transition for all."
Recommended for you

Talent and timing: Can Aberdeen's oil and gas skills make the energy transition?