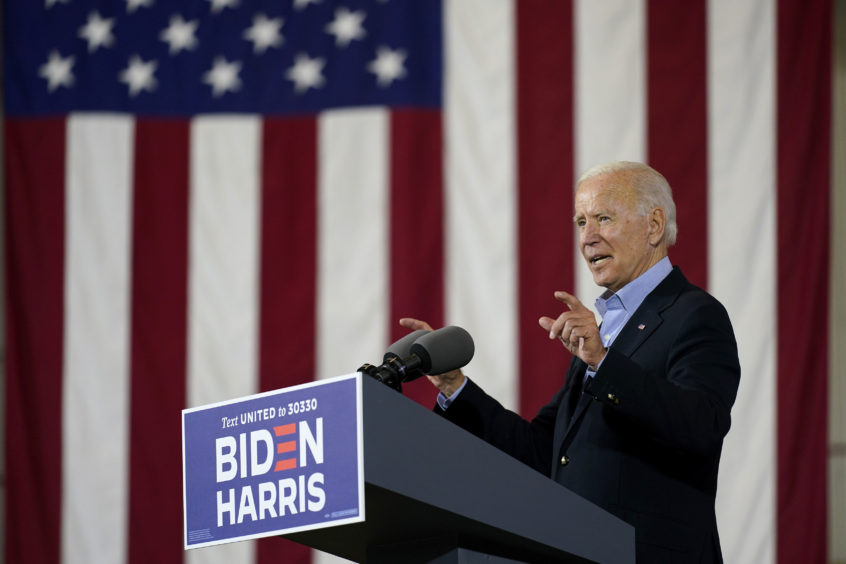 A leading industry expert is expecting a "rapid" uptake in renewable projects in the US post-election as the new administration makes good on its clean energy pledges.
Jeff Tingley, senior consultant at energy consultancy firm Xodus Group and a Rhode Island business specialist, says he expects to see the wide scale deployment of offshore wind in the mid-Atlantic region.
It's less than a week since Joe Biden was declared President-elect after he was projected to pass the 270 electoral college votes needed to take the White House and already the world is planning for a different type of administration.
Unlike his predecessor President Trump, who choreographed the US' withdrawal from the Paris Climate Agreement, the 77-year-old is expected to deliver that most "progressive" climate policy the world's second-largest carbon emitter has ever had.
Mr Biden has already announced his intention to re-join the United Nations deal, as well as calling for the US to reduce its greenhouse gases to net zero by 2050.
Mr Tingley says there's "huge" potential for the renewables industry across pond, where Xodus has bases in Houston and Boston.
He said: "We're anticipating a fast pace of change from an energy perspective post-election with the Biden/Harris administration having pledged to re-join the Paris climate agreement and calling for net zero by 2050.
"Renewable energy has been a pillar of the campaign, not only from an environmental stance, but also as a job creation vehicle. It's expected this will encourage project approvals, job creation and training support and new funds to help with infrastructure needs. All eyes will now be on the global wind original equipment manufacturers (OEMs) such as MHI Vestas, Bladt and Siemens Gamesa to follow through with investments in new locations and manufacturing operations.
"The renewable industry has huge potential in the US and the power purchase agreements (PPAs) in place are a leading indicator of this potential. Previous consent delays gave the OEMs pause as they desperately want to see steel in the water. We now expect to see more rapid project approvals which will lead to construction to enable those large-scale projects and a more predictable pipeline of developments."
Supply Chain
It's thought the new pro-green energy administration could deliver benefits for the wider offshore wind market as clusters of industry begin to spring up across the US.
He added: "Confidence that there will be a robust offshore wind industry and that projects will be approved will drive local supply chains and stimulate greater investment. It will encourage industry clusters to form around projects and existing assets. Importantly, it will give the global offshore wind tier one suppliers the confidence that establishing US operations makes long term economic sense.
"A renewable energy strategy driven by the White House will unlock significant investment in the mid-Atlantic region and you only have to look at the New Jersey Windport development as an example of the ambitious state-led impetus for renewable energy. The state is looking at various funding options for a proposed $300 million to $500 million port infrastructure development. Increased support from the White House would be likely to move discussions with OEMs forward from concept to reality.
"And it won't only be larger states that benefit. All major undeveloped (or underdeveloped) locations should see serious discussions regarding investments. The current plan calls for more than 30gw by 2035 and when looking at how current planned and expected power purchase agreements will roll out, in 2025 and beyond there will be over 300 turbines per year installed which will require multiple locations along the entire Atlantic coast.
"Whilst the new administration will cause some decision-making headaches for traditional hydrocarbon players, as an industry we also have to look to the opportunity. Both oil and gas majors and the supply chain have recently been altering their business narratives. The Biden-Harris administration is likely to bring an acceleration of already-commenced activities to reduce or offset emissions. Of course, some of the global majors are already investing in offshore wind and the supply chain is rising to the challenges of the energy transition, so we are poised for the growth in opportunities within the US."
COP 26
Mr Tingley has also given his take on where and when he think the Biden administration should launch its net zero push.
He added: "COP 26 in Glasgow in November would provide the perfect opportunity for the new administration to actively demonstrate its climate commitments on the world stage and we can expect renewed confidence in cooperation with other global leaders on climate policies."
Register for free to join Energy Voice's virtual Energy Transition Idea Exchange (ETIDEX) summit on November 19 here.
Recommended for you

Asia's offshore mega wind farms risk delays from ship shortage