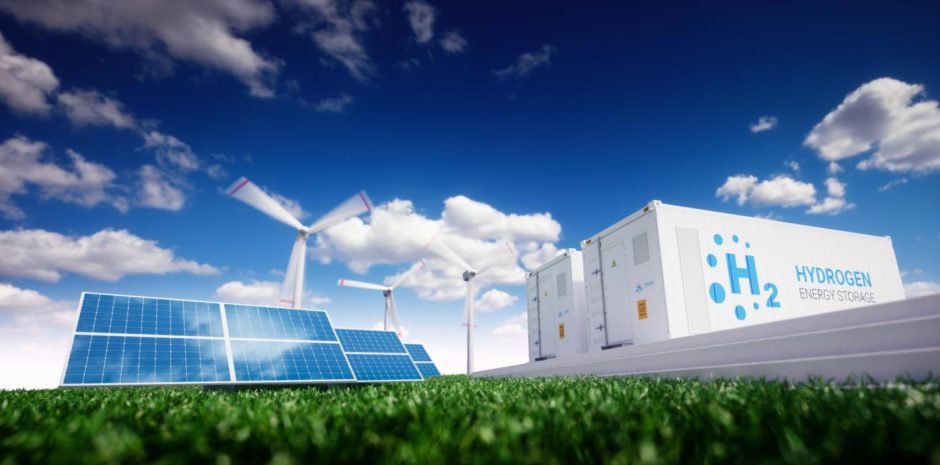 The energy transition will come in a variety of forms, but playing a critical role will be offshore wind, carbon capture utilisation and storage (CCUS), and hydrogen.
These three technologies, all at different stages of development, each have their own merits and challenges.
However, the common link of efforts to tackle carbon emissions – and how this drives companies' investments – means there are more points of similarity than difference.
All companies are taking steps to embrace the energy transition. Investments in these three alternatives allow these companies to spread risk and finance in terms of opportunity and timeframes.
Offshore wind is the most advanced, both in technology and development status, where there has been extraordinary progress in the last few years.
Demonstration of this came in September 2020 when BP – which will participate in Energy Voice's upcoming New Energy Opportunities event – struck a deal with Equinor, agreeing to pay $1.1 billion for half the Norwegian company's ownership in two offshore wind projects. The two companies also agreed to pursue more such US opportunities.
Shortly after the deal closed, the US announced an aggressive schedule for additional lease auctions.
Despite progress, no large utility scale offshore wind projects are generating power in the US.
The first to power may be the 800MW Vineyard Wind 1 project, in federal waters off Massachusetts. There were some teething problems, mainly around permitting.
However, in May, the regulator endorsed the plan.
States have been broadly positive in their support of offshore wind projects, in line with local net zero goals. Offshore renewable energy credits (ORECs) have helped de-risk projects.
The federal government had proved a tougher nut to crack and there was uncertainty over permitting during the previous administration. The new government has driven major changes in offshore wind and expectations are high, helping secure new capital.
Technology and innovation have made progress in offshore wind possible but there needs to be a robust policy architecture for co-ordination among federal agencies and with states. Success in offshore wind should pave the way for similar co-operation in CCUS and hydrogen.
Like offshore wind, CCUS is gaining momentum as a valuable tool in the energy transition. Unlike offshore wind and hydrogen, which are clean power sources, CCUS can reduce emissions from power generation and manufacturing dependent upon fossil fuels.
Generally, CCUS can be utilised to capture CO2 from industrial sources, or from ambient air, using direct air capture. Lucrative US federal tax credits may be available if such captured CO2 is properly stored, injected for enhanced oil recovery, or utilised in a product or process that prevents the release of such CO2 into the atmosphere.
In the US, a new industry is emerging, providing transportation and storage services for carbon dioxide captured from industrial sources. There are also opportunities for connecting emitters capturing CO2 with others seeking sources of CO2 for use in enhanced oil recovery or a product or process.
There is a need for large-scale storage facilities. The next opportunity for storage of CO2 emissions may be the shallow waters offshore.
Another critical use of CCUS is in producing low-carbon hydrogen. In this process, a fossil fuel – natural gas – is used as the feedstock to produce hydrogen, and CCUS reduces the CO2 emissions that otherwise would be released in the process.
The hydrogen sector is the least mature of the three in the US, but is incredibly versatile.
There are challenges around creating both supply and demand but this has not slowed industry from early stage investments. Air Liquide, for instance, completed construction of the world's largest Proton Exchange Membrane (PEM) electrolyser in January.
Widespread deployment of hydrogen requires new relationships across industries.
Utilities are leveraging existing relationships to pursue demonstration projects. But the transportation sector has taken the lead in hydrogen use.
Accelerating this deployment will require commitments from government.
This could be in the form of tax incentives or grants to address the price differential. Or it could be in the form of decarbonisation requirements, such as low carbon fuels, power sector decarbonisation and zero emission vehicle requirements.
While politicians are considering, industry is not waiting.
Low-hanging fruit, such as warehouse applications and data centres for backup power, comes first. Microsoft, for instance, has made a commitment to be carbon negative by 2030. As part of its drive, the company aims to eliminate diesel use by that same year, with hydrogen an attractive zero emission alternative.
The size of the US market makes clear success here will provide a model for many countries to emulate.
Companies are not waiting around to make sure all the fine details are settled, they are jumping in now.
Bracewell is a leading law firm known worldwide for its unique depth and experience in the energy, infrastructure, finance and technology sectors.
On August 12, Energy Voice, in association with Bracewell, will host the New Energy Opportunities virtual event, focusing on the new energy mix and three key strands: offshore wind, hydrogen and CCUS. Find out more: neo-2021.com
Recommended for you

ESG, oil & gas and the energy transition