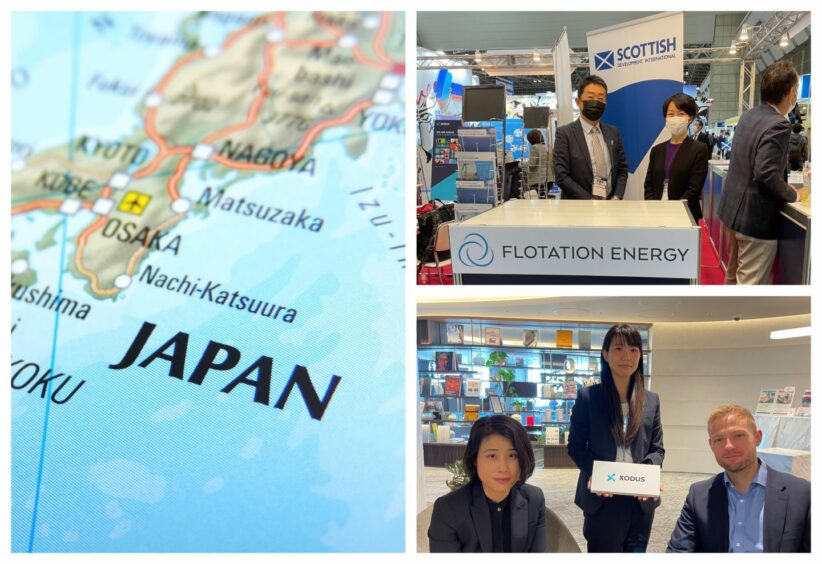 Several Scottish companies, including SSE, Xodus, and Flotation Energy, are laying the groundwork to play a key role in developing Japan's nascent offshore wind market.
Opportunities also exist for Scottish EPCI contractors, installation, and commissioning specialists, as well as Scotland's subsea expertise, as there is very limited indigenous offshore capability in Japan.
Crucially, even though the sector in Japan remains in its infancy, with few projects underway, it takes time to establish the necessary trust and relationships with Japanese companies that will be needed to succeed in the market, Yukiyo Miyakita, a senior trade advisor at Scottish Development International (SDI), based in Tokyo, told Energy Voice.
"It's important to establish trust and collaboration with Japanese companies even before actual project construction starts," added Miyakita, who specialises in energy and the low-carbon transition sectors.
Scottish Wind Developers Get Foothold in Japan
Indeed, Scottish wind developers are already moving into the market, along with European companies, such as Orsted, RWE, and Shell. In October 2021, Scottish-based SSE Renewables, part of the integrated UK-listed energy group SSE, entered Japan by forming SSE Pacifico to deliver offshore wind projects. It is owned 80% by SSE Renewables and 20% by Pacifico Energy, one of Japan's largest developers of renewable energy.
SSE aims to leverage its expertise in developing, building, and operating offshore wind farms, to tap into Japan's potentially huge market.
According to the Global Wind Energy Council (GWEC), Japan has around 128 GW of fixed-bottom offshore wind potential and 424 GW of floating offshore wind potential. Japan, the world's third largest economy and home to a huge power market, needs to develop this potential to cut its heavy reliance on imported fossil fuels and hit net-zero targets.
Teaming up with Pacifico allowed SSE to tap the Japanese company's domestic experience in local preparatory development work and gave it access to a 6GW portfolio of early-stage development opportunities – both fixed-bottom and floating.
SSE considered the Asia Pacific region for opportunities before targeting Japan, SSE Pacifico's chief executive, Mike Seaton, told Energy Voice. "Japan has a stable government, which was important to us. And it has set real offshore wind targets, which gave us confidence," added Seaton, who is based in Tokyo.
SSE Pacifico is pursuing around 10 projects totaling 6GW – of this 60% are floating and 40% are fixed-bottom. The most advanced are its 500MW project in Wakayama Prefecture and another 500MW scheme in Shizuoka Prefecture.
Despite the huge opportunities there are several challenges that Japan needs to overcome, cautioned Seaton. The initial challenge is due to the lack of clarity of legal ownership of the seabed around Japan, it is impossible to start negotiating with local politicians about developing offshore wind within 12 nautical miles of Japan's coast until agreements in principal have been agreed with local fisheries interests.
Beyond 12 nautical miles from the coast in Japan's exclusive economic zone (EEZ), it is even less clear how to address the interests of fishermen.
Significantly, Japan also risks falling behind other countries in Asia Pacific that are competing for inward investments in offshore wind if the government does not encourage larger scale projects, said Seaton. Other developers echoed this sentiment, saying Japan needs to offer gigawatt-size developments. Indeed, there is some frustration from developers and the supply chain that Japan is not making big decisions on the future direction for offshore wind fast enough.
Still, Seaton said, SSE Pacifico is delighted to be in Japan for the long term and is busy building its team, as well as relationships with stakeholders, to help Japan achieve its future net zero targets.
Floating wind remains a big opportunity for Japan to tap and the fact that the government has offered an attractive 36 yen per KWh for small floating projects is positive, added
Seaton. However, the global industry is quickly moving towards bigger floating developments and OEMs are not keen to support many of these small-scale schemes.
Norwegian developer Equinor believes that floating offshore wind, where much of the potential in Japan lies, can be cost comparable with fixed-bottom in the early 2030s, but only with gigawatt-scale developments.
Scotland-based Flotation Energy has also got a foothold in Japan and is pursuing a 2GW portfolio of offshore floating wind projects – and it was announced last week that the firm was being taken over by Japanese utilities giant Tokyo Electric Power Company (TEPCO).
To support its market entry, Flotation Energy teamed up with Japan's Mitsui O.S.K. Lines (MOL) last December.
Announcing the TEPCO deal last week, Flotation, which is behind Kincardine, the world's largest floating wind farm off Aberdeen, said it would allow it to kick-start projects around the world.
Masashi Nagasawa, TEPCO Renewable Power President, added: "Flotation Energy's experience and knowledge of the world's biggest floating offshore wind development and their global network will vastly accelerate the development of our offshore wind business both domestically and internationally.
"Through our collaboration, we will realise our management philosophy of, 'Harnessing the Natural Resources to Energy, and further Society' on a global scale."
Xodus Eyes Early Mover Advantage
Scotland-headquartered global energy consultancy Xodus has also entered the Japanese market which,  despite being slow to ramp up, could eventually be one of the biggest markets globally for offshore wind. The company is planning to get an early mover advantage by building relationships in Japan before the sector really takes off, Conor Wells, head of Japan operations, told Energy Voice.
Xodus opened its first Asia office in Japan in October 2021 and hired Itsuka Ogawa as its Japan country manager. "Japan has enormous offshore wind potential and Xodus can help to realise it. However, to achieve Japan's ambitious targets of 10GW by 2030 and 30-45 GW by 2040, we need to start now. The Japanese government must provide clarity on policy and public and private companies must work together to create the local supply chain. Xodus has extensive experience in various phases of offshore wind projects and can work with developers to enter this exciting Japan market, and we can also help local manufacturers with transition​​​," said Ogawa.
Xodus aims to support the development of the sector by engaging with Japanese regulators and transferring decades of experience from the UK offshore wind market. Significantly, the government is analysing the development of the UK offshore wind sector as it builds its regulatory framework, said Wells.
For now, a big hurdle in Japan is the lack of clear regulatory frameworks and impending rule changes around upcoming auctions, Ogawa told Energy Voice. Still, Xodus expects offshore wind projects to really start ramping up around 2025/26.
Numerous Opportunities for Scottish Companies
"There are numerous opportunities for experienced Scottish companies as Japan lacks many of the skills needed for offshore wind," said Wells. However, "Scottish players considering entering the market need to have a long-term vision, as well as a local presence, which signals real intent. Determination is also key as negotiations can be very lengthy," he added.
SDI's Miyakita said there are opportunities in operations and maintenance, as well as in subsea engineering, cable related technologies, moorings, and remotely operated vehicles (ROVs), for Scottish companies.
"These technologies are needed for project delivery and Japanese companies do not have any experience," she added.
Significantly, Japan does not have a domestic oil and gas industry. Therefore, "many Japanese companies are looking for technology and experience from the overseas oil and gas industry to transfer to domestic offshore wind. And Japan has huge potential for floating offshore wind, as the archipelago is surrounded by deep waters," said Miyakita.
"Over the next 10 years fixed-bottom wind will dominate Japan's industry, but in the 2030s floating wind will play a larger role, as it offers greater potential for Japan," she added.
"SDI has been introducing Scottish companies to Japan, but due to COVID travel restrictions, which were only lifted recently, Scottish companies were not able to physically travel to Japan. However, SDI supported virtual connections. Several Scottish companies have identified potential Japanese partners despite the circumstances," said Miyakita.
"Now that Scottish companies can physically travel to Japan, we plan to set up more interactions between Japanese and Scottish companies. We are aiming to recruit up to 12 Scottish companies for a trade mission to exhibit under the Scottish Pavilion at Wind Expo 2023 in Tokyo," she said.
Energy research company Wood Mackenzie expects more than $20 billion in project capital expenditure will be invested into the Japan offshore market over the next ten years (2022-2031) based on their 10-year offshore wind forecast in Japan.
Recommended for you

'Novel approach' needed to meet ScotWind floating supply chain ambitions