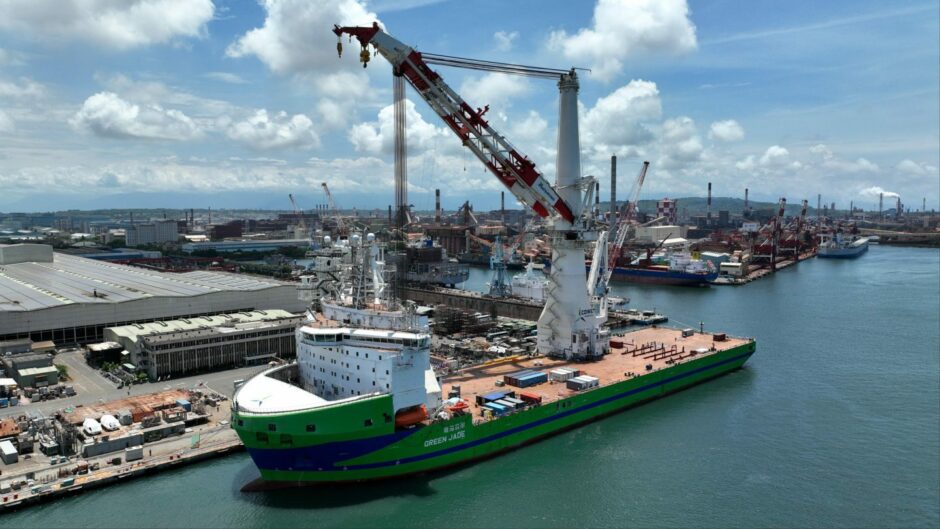 Taiwan's first offshore wind installation vessel, the Green Jade, has been in operation for less than a month but will already need a bit of attention after a collision today.
A report in a local agency showed video of the Green Jade colliding with a product tanker, the Hua Yun. The encounter does not seem to be serious and there were no reports of injuries.
DEME Group had only just received the wind installation vessel. The company announced on June 30 that the Green Jade had joined its fleet after construction at the Kaohsiung shipyard was completed.

The collision took place today in the shipyard. Data from Marine Traffic shows the two vessels remain in the yard.
DEME said the Green Jade had a 4,000 tonne crane capacity and cargo area of 8,200 square metres. The vessel can transport "multiple jackets and foundation components for next generation, mega wind turbines in a single shipment, significantly enhancing cost effectiveness", the owner said.
DEME will use the vessel, via a joint venture with shipbuilder CSBC, to install wind farms offshore Taiwan. Construction of the Green Jade was a first for Taiwan.
The Green Jade's first job will be to install jacket foundations at the 298 MW Zhong Neng project, off Changhua County.
Zhong Neng will involve 31 of Vestas' V174-9.5 MW turbines. The project was due to be commercially operational in 2024.
DEME has not yet responded to a request for comment on how long the accident may delay work.
Taiwan aims to install 40-55 GW of offshore wind by 2050.
Recommended for you

Wind growth requires new thinking on supply chain challenges