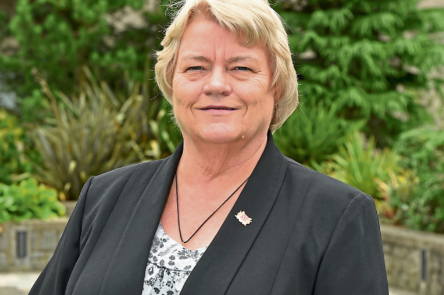 The head of the Aberdeen Renewable Energy Group is confident Westminster's "green industrial revolution" pledge will create opportunities for the city to demonstrate its expertise.
Jean Morrison also says the development organisation will be "fighting for every penny" of the £160 million announced by Boris Johnson for upgrades to ports and infrastructure up and down the UK.
The prime minister used his speech at the Conservative Party conference to pledge that the UK will become a world-leader in "low cost clean power generation".
Plans were also revealed to power every home with offshore wind by the end of the decade, a move Mr Johnson claims will generate hundreds of thousands of jobs.
However, Ms Morrison thinks that's likely to be more of an aspiration opposed to a feasible target.
She added: "Governments have been talking about the benefits of clean electricity for quite a long time and that's mainly going to come from wind.
"Aberdeen needs a share of the £160m for port upgrades. We've been at the forefront of offshore wind with the European Offshore Wind Deployment Centre in Aberdeen Bay – that took a long time to get there but it was a first in Scotland.
"We've shown that we can produce the goods, we've got projects ready to go as well as the skills that will be required and we'll be fighting for every penny we can get.
"The £160m fund is not a lot when you think about costs involved in offshore wind but it's a start and that's how we've got to look at it. We're in tough financial times at the moment with Covid-19 so hopefully we'll get a good share of that and we can put it to good use."
Ms Morrison also hopes Aberdeen will be the centrepiece of Westminster's drive to establish the UK as a global force in clean energy.
She said: "What we've done in the north-east of Scotland, off both the coasts of Aberdeenshire and Moray, has showed that we're able to deliver these offshore projects.
"We've got skills currently deployed in the oil and gas industry that are transferable and there's the will to make the energy transition happen.
"The new TECA is heated and lighted through the use of renewables and other areas have got catching up to do, but that doesn't mean that we can stand back and think we've done it all because we haven't.
"I hope this announcement will encourage more companies to move into the renewables market – it's the way forward and we've seen that in the growth of membership.
"There's opportunities for firms to come into the supply chain, as well as new opportunities for the existing companies. What it's about is organisations recognising they've got the transferrable skills, addressing that and then getting on with the job."
Register for free to join Energy Voice's virtual Energy Transition Idea Exchange (ETIDEX) summit on November 19 at www.etidex.co.uk
Recommended for you

Shell boss on 'pioneering' efforts needed to decarbonise North Sea