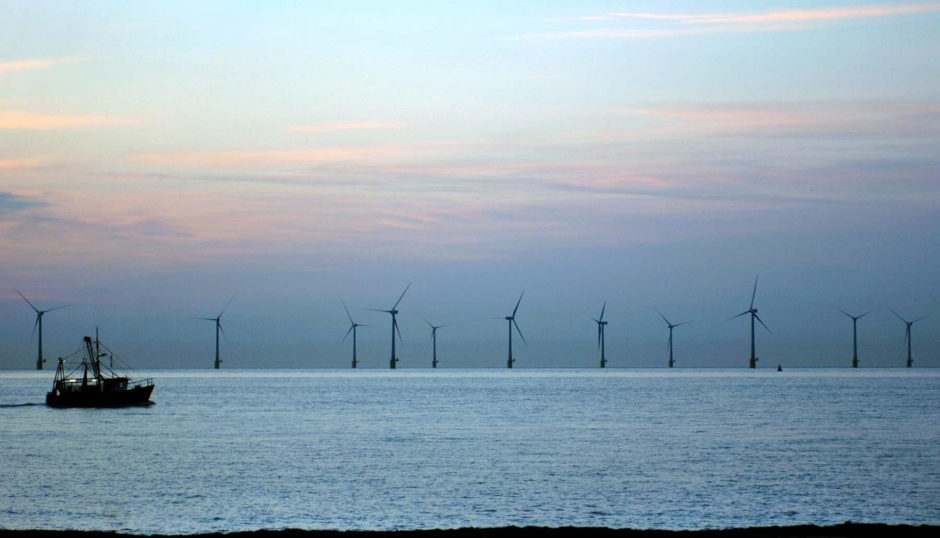 Very few offshore wind turbines have so far been decommissioned anywhere — and little significant activity is expected on that front until the end of the current decade.
When large-scale activity starts to gain momentum, the primary focus is likely to be the repowering of existing farms with only partial removals anticipated.
This will mostly involve turbine power heads, which will likely go for re-manufacture, and blades, the disposal of which has already been making waves.
That's due to the failure to come up with sustainable, environmentally responsible recycling solutions for many thousands of blades already dumped by onshore wind farm changeouts.
Offshore, the towers, transition pieces and foundations of possibly tens of thousands of turbines are more likely to be adapted where possible to accept more powerful generator packages.
Most leases offshore Europe are for 25-50 years and planned project lives are mostly 20-25 years, so the system is already set up with half-life repowering already pencilled in.
At government level, the Big Wind offshore decommissioning conversation began tentatively around the turn of the Millennium and is now gradually evolving.
In 2016, Eva Topham and David McMillan of Strathclyde University published a paper on the issue of offshore wind farm decommissioning and they were critical of progress.
It has an early North Sea oil and gas industry ring to it as oil companies paid only lip service to that aspect of their business until they were forced to.
"The offshore wind industry has historically focused on setting up new projects, with the decommissioning phase receiving little attention," said McMillan and Topham in their paper.
"This can cause future problems as decommissioning needs to be planned at the beginning to prevent complications that may arise, as it implies important operations and high costs.
"There are numerous features that make decommissioning a challenge, such as the marine environment, the technical limitations of vessels and the lack of specific regulations that determine what should be done, increasing the uncertainty of the process.
"Additionally, the unique characteristics of the sites involve exclusive optimal solutions for each project."
The duo set about designing and building a model with which to analyse what little had been done and developed a decommissioning methodology based on this analysis, taking into consideration the technical aspects of the process, and minimising environmental impacts.
It became clear from this modelling work that decommissioning plans were inadequate.
The academics proposed that repowering could in itself be considered as a type of decommissioning. From a redevelopment perspective, replacing power heads and blades but keeping everything else would be a way of holding costs down.
They also point out that the lifetime of foundations will depend on the type and the loading they are subjected to, but could last more than 100 years in the case of gravity bases.
On the electrical side, array and export cables could last more than 40 years, and 35 years for transformers.
There are various tentative estimates for the possible decommissioning costs of wind farms. McMillan and Topham claim the price tag will be 2-3% of the total capital cost.
They say: "This means that the developer needs to save money during the life cycle of the wind farm in order to be able to pay its end of life.
"The middle life accrual is the preferred mechanism as funding structure, and consists of starting to save money when the wind farm is in the middle of its operational period."
Almost a year ago, at the Decom North Sea conference, the then CEO of the trade body, John Warrender, said more than three gigawatts (GW) of offshore UK wind capacity would reach the end of its design life by 2034 and that the cost of removing the turbines could be around £4 billion.
A serious effort is now being made to really get to grips with the challenge, orchestrated by the WindEurope trade body, which last year launched a large taskforce to drive things forward.
A key objective of the taskforce is "harmonising" the various EU national standards that apply to the decommissioning of wind turbines.
This is key to ensuring cost- and resource-efficient processes, as is working towards a more sustainable and circular approach to wind turbine decommissioning.
The taskforce is preparing a submission of practical recommendations to the International Electrotechnical Commission (IEC), which, in turn, intends to use this input to define global standards.
Late this month, WindEurope will publish a comprehensive document on this initiative at its End-of-Life Issues and Strategies seminar, but declined to provide a foretaste of its study.
The taskforce will also present its recommendations.
Running in parallel is the DecomTools initiative, which comes under the EU's Interreg VB umbrella. Its brief is to slash decommissioning costs by 20% and reduce the environmental footprint while improving the know-how and expertise of North Sea Region-involved stakeholders.
Last year, DecomTools published a detailed, country-by-country market analysis authored by Mirko Kruse of the Hamburg Institute of International Economics, with Aberdeen University and the Western Norway University of Applied Science listed among the sponsors.
The report identifies 21 criteria that might influence the results, which are in four categories – economic, environmental, social and technical.
It questions "outdated calculations" for the UK that led to an early conclusion that about £40,000 was the average expectable cost for decommissioning one megawatt of offshore wind energy, but then goes on to map out revised, perhaps more realistic estimates.
"This would have amounted to about 2.5% of the total project costs which were assumed to be £1.5million per MW or about 2% of operating costs when spread over the project's lifetime," says the report.
"New calculations operate with significantly higher estimated costs from £100,000 to £300,000 per MW for modern wind parks which consist of larger structures and are located in deeper waters in greater distances from the shore.
"The structure of costs is calculated in such way that 40% of the overall decommissioning cost is offshore preparation; 35% is foundation removal: 19% is vessel mob/demobilisation and 6% disassembly.
"Decommissioning time is estimated to range from 0.7 to 1.7 days per MW depending on the site structure and decommissioning technique."
Overall, DecomTools reports that there cannot be a one-size-fits-all approach to decommissioning all offshore sites since the requirements of a decommissioning scheme are considered to be unique to each site.
Still, a variety of questions arising from the decommissioning process have not been addressed yet.
For instance, the composite blades used for turbine rotors are said to render proper recycling "near to impossible".
The report attempts to forecast the rate at which offshore turbines in the North Sea Region will come up for the chop beginning with 22 this year before rising to 80 in 2022 and 123 in 2023.
However, the research and the forecasting were conducted before the Covid-19 pandemic struck and so these estimates may have already been compromised.
Mention was made earlier of the ORE Catapult based in Glasgow. It works with academia, industry and initiatives such as the Oil and Gas Technology Centre in Aberdeen to achieve its objectives.
Steve Ross is the catapult's data and digital lead and has 17 years of data and commercial experience in the renewable energy sector to call upon.
"We've been talking about wind farm decommissioning with the Crown Estate in London because some of the UK Round One projects are coming up for decommissioning," says Ross.
"This has implications not only for the operators but also the offshore power hubs that are operating in that space as well.
"We have started to explore what that could mean and, because there is very limited work done with regard to wind decom, we've started to talk with industry."
One key factor being explored is understanding the cost of decommissioning. If an operator was to decommission a wind farm tomorrow, would the bond lodged with government at the time the leasing round took place be sufficient to cover the costs.
According to Ross, the big issue is that nobody, has a proper grip on exactly what may or may not be acceptable.
And that comes down to the way in which decommissioning was viewed in relation to the original leasing agreement.
Ross: "If you talk to the Crown Estate, their focus is very much around: 'You will leave the site in the same pristine state that you found it in.' But if you talk to the owner-operators, their view is, well, we cut the piling, leave the cables and we're off.'
"This has huge ramifications including cost and ecological impact. If we start to do that work now, by the time 2023-25 comes along, we will understand where the cost strategy needs to be and can start to introduce innovation and cross-sector understanding, especially from the oil and gas and nuclear sectors, to actually bring those costs down.
"If you look at it from an operations and maintenance perspective, 10-12 years ago you had a high output for O&M but then there was a massive drive to keep those costs down to a more acceptable level. The same needs to happen with decom, but there are these other ramifications, not least ecological.
"We know the heat coming off wind farm cables is creating localised marine environments which would not normally have been there, such as mussel and oyster beds.
"Obviously, if you turn the cables off, that heat register drops and therefore you can end up with that ecosystem reversing.
"There's also the fact that, when you look at the wider recycling element, you end up in the situation where, on one level, we are talking about taking down for disposal the blades which may be 14 tonnes of composites, wood, steel and other elements while, at the same time, potentially leaving the cables on the seabed where we have no real understanding of the impacts of the plastics, lead, copper and other associated materials on that environment.
"Those sort of questions are really where our focus is."
Ross warned that it is important that the industry gets a proper grip on the issues and impacts.
He adds: "Because there hasn't yet been a structured debate around how and what the impacts are for the sector and government, if we leave it too late, we're going to have an almighty bun-fight as to how it will all work.
"Our view is simple – short-circuit that, and establish best-practice and standards at an early stage so that the industry will be able to conduct its decommissioning properly."
Register for free to join Energy Voice's virtual Energy Transition Idea Exchange (ETIDEX) summit on November 19 at www.etidex.co.uk