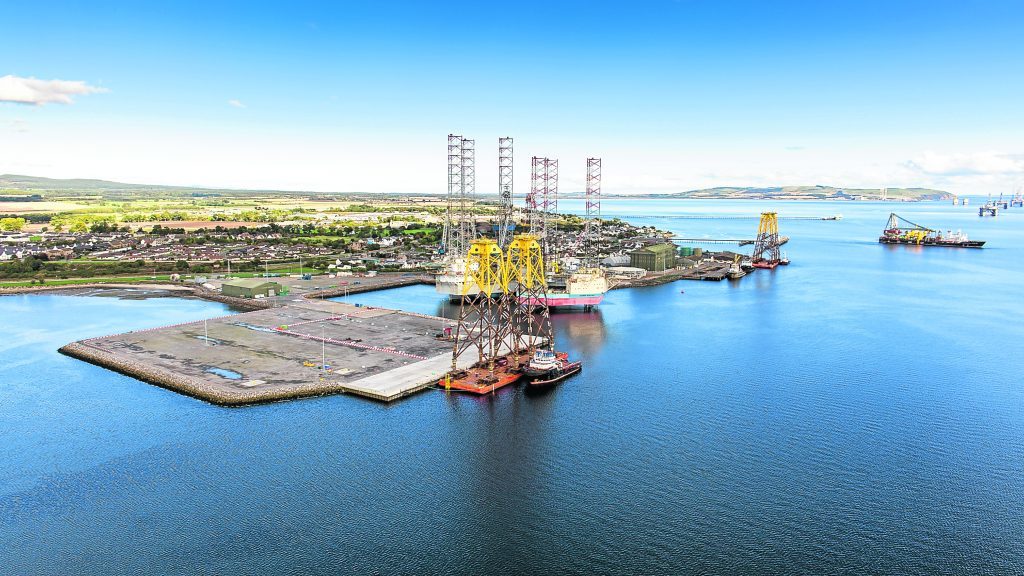 Port of Cromarty Firth (PCF) aims to be at the heart of a jobs bonanza after signing a "letter of intent" to bring new renewable energy work to the north.
PCF said yesterday its partnership with French company Ideol, a global leader in floating foundations for offshore wind projects, could create "well in excess" of 500 new Scottish construction jobs.
The agreement would see Ideol and its future local construction partners use the port's land and firth berthing sites, while also co-operating towards further developing facilities and infrastructure, and establishing a manufacturing yard for incoming floating wind tenders.
Besides spawning many new business opportunities for local suppliers, PCF said the new manufacturing plant would need "time-tested and proven concrete construction methods and create a mix of skilled and semi-skilled work in the Highlands".
Ideol – headquartered in La Ciotat, on France's Mediterranean coast – teamed up with Belgian offshore wind developer-operator Elicio and German renewables company BayWa r.e. in a consortium, the Floating Energy Allyance, to bid in Crown Estate Scotland's 10 gigawatt offshore wind leasing round, ScotWind, launched earlier this year.
PCF said its new cross-Channel partnership was "a huge vote of confidence" in the port's ability to help support a massive expansion of offshore wind off the Scottish coast.
A fast-growing pipeline of developments is predicted to be worth more than £26 billion in the first ScotWind round alone.
Chief executive Bob Buskie said: "It shows the vital manufacturing role the port can play in the rapid expansion in renewable projects off Scotland's shores.
"We have some of the best marine resources in the world and are in close proximity to around 14 of the 15 areas identified in the Crown Estate Scotland's marine plan for offshore wind development.
"This agreement is a significant boost to the long-term future of the port, Invergordon and the Highlands, as it looks to capitalise on the transformation of the energy market from oil and gas to renewables."
Ideol chief executive Paul de la Gueriviere said: "This agreement is testament to our vision to build our floaters as close as possible to the offshore installation sites and in close collaboration with the local communities.
"We have demonstrated such high local content track records in France and Japan, and do not see any reason why we could not reiterate such success stories in Scotland."
Ideol said its 500-plus jobs figure was arrived at after an assessment of the workforce a civil contractor would need to produce 25 of its concrete floating substructures per year.
The company also used analysis from economic advisers who calculated the local full-time equivalent jobs requirement, based on forecasted expenditure.
Last month it emerged that up to 150 jobs could be created under £100m plans by Global Energy Group (GEG) to build what has been described as the "UK's largest offshore wind fabrication facility" in the Highlands.
It was forecast the huge manufacturing plant, which Inverness-based GEG is aiming to develop at its Port of Nigg facility at the entrance to the Cromarty Firth, would also lead to work for more than 300 people in the local supply chain.
Recommended for you

Loganair flies Highland flag for Opportunity Cromarty Firth green freeport bid