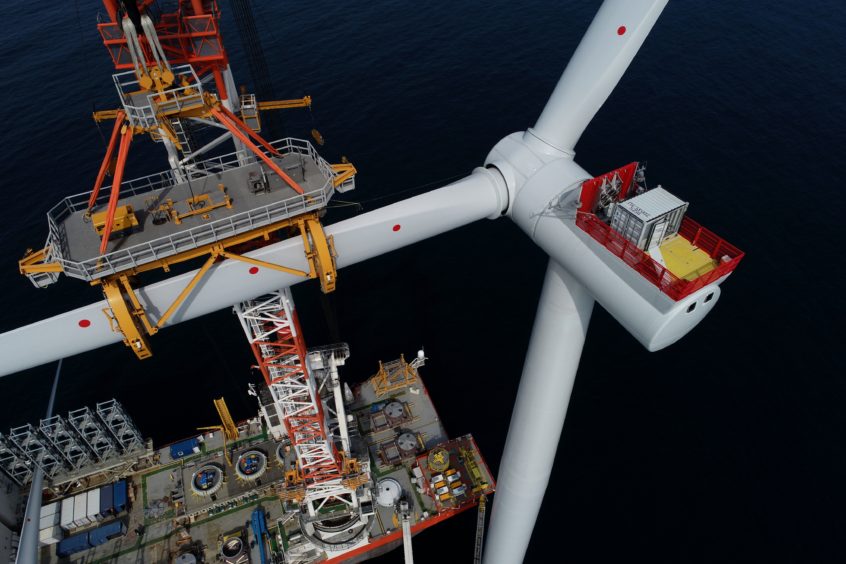 Offshore wind is fast becoming the hottest industry to be if you're an aspiring low carbon energy apprentice looking for adventure.
Various jobs creation estimates are out there, the latest claiming that demand for offshore wind staff will triple by the end of the decade, surging to 868,000 full-time jobs from an estimated 297,000 in 2020.
Indeed the hiring bonanza will already be visible by the middle of the decade, as the tally may not be far short of 600,000 within just four years.
If the Renewable UK rule-of-thumb ratio of jobs generated versus apprenticeships is applied to the anticipated global offshore wind demand forecast, then the demand for smart youngsters to train as apprentices will literally rocket.
RUK calculates that, out of the 30,000 new offshore wind jobs by 2030 forecast for these islands, 3,000 or so will be apprentices; which equates to around 300 a year.
Europe, Asia (excluding China), and the Americas will drive the offshore wind jobs boom. Europe alone is expected to leap from 110,000 jobs last year to around 350,000 by 2030.
Apply the UK apprentice rule-of-thumb ratio and this points to some 35,000 more apprentices being needed for North Sea and Baltic windfarms, with much of that pent-up demand growth likely to occur over the next four to five years.
Celia Anderson, offshore wind sector deal – people and skills director at Renewable UK, is keen to point out that Britain's offshore wind sector offers not only traditional apprenticeships but also degree apprenticeships such as the one now offered by Hull University in association with turbine manufacturer Siemens Gamesa.
This has particular value in encouraging more women into the industry where, like oil & gas, achieving anything resembling credible gender balance is challenging; and in providing a pathway for already experienced people to pursue new careers in green energy.
While the focus of this piece is apprenticeships, like the oil & gas industry, Big Wind is of course keen to attract suitable people from other industries, not least from Big Oil itself and not forgetting the armed forces.
According to Anderson, this is partly because the average age in the UK offshore wind sector is around 40, much lower than other subsets of engineering in Britain, including oil & gas, which she knows well.
This is because Anderson spent 12 years of her early career in Aberdeen, working as a member of the then Department of Trade & Industry's oil & gas team in a variety of roles, including skills issues and building relationships with trade organisations such as NOF and EEEGR, both of which today play prominent local roles in a mix of oil & gas and offshore renewables.
She watched from the side-line, the early days of Aberdeen Renewable Energy Group as it strove to establish Aberdeen Offshore Windfarm Limited too.
To more or less quote her Linkedin profile, Anderson is today responsible for leading on the delivery of a tightly skilled and diverse offshore wind workforce, supporting its expansion to 2030 and overseeing the new accreditation framework for apprentices and workers, as agreed between the government and the offshore wind industry in the UK's Offshore Wind Sector Deal agreed in 2019.
And a core commitment of that deal is to triple the number of full-time roles in the UK-based renewables industry over the next decade.
Her mission includes ensuring that the offshore wind industry becomes the number one choice for apprentices, for STEM graduates and so-forth, and NOT oil & gas.
That mission also includes trying achieve gender balance in the wind industry, challenging though that is. Encouraging girls leaving school into renewables apprenticeships including non-technical is one way of helping to gradually correct the situation.
Big Wind operators are not only significant sponsors of apprenticeships, they have helped a number of local colleges, especially in England, gain a foothold in offshore renewables-related training. For example, Orsted has partnered with the Grimsby Institute and Furness College to offer offshore wind turbine technician apprenticeships on both the East and West coasts.
Another valuable feature of the English system flexibility of the Apprenticeship Levy system. If companies are not using their levy they can transfer it to others within the supply chain. This is not a system used in Scotland.
"As per oil & gas, with offshore wind projects it depends where you are in the development as to whether you're in a position to take on apprentices," says Anderson.
"If a project is early-stage and the developer has unused levy, it is very useful that they can hand over to others who can make good use of it.
"Another current focus for us is the apprenticeship providers framework; identifying the top ten and then reviewing them to discover whether they're meeting existing needs and what does the industry need to do to embody the future of skills needs.
"However, during the four-year lifespan of many apprenticeships, the industry will have advanced a lot by the time these young people qualify.
"Just look at the difference in the size of turbines over the past four years. Today we're talking about 15 megawatt machines which, four years ago was in the future!
"Four years ago we weren't talking much about floating wind turbine farms."
Another thing about having the apprenticeship work group is to encourage the increase of collaboration.
Anderson: "This enables us to increase training cohort sizes and that's part of the reason for asking what are the top ten standards and frameworks that we need and are using."
An excellent example is the new MHI Vestas offshore wind technician apprentice programme in north east Scotland and which is to initially be located on NESCol's Fraserburgh College Campus, carrying out both classroom and workshop activities.
This will be followed by practical work experience at offshore wind farms, primarily in the UK, that feature MHI Vestas turbines.
It has the potential to become one of the top apprenticeship programmes in the country from which other colleges may learn. It is already the subject of immense local pride.
Recommended for you

What's happening with the oil and gas skills passport?