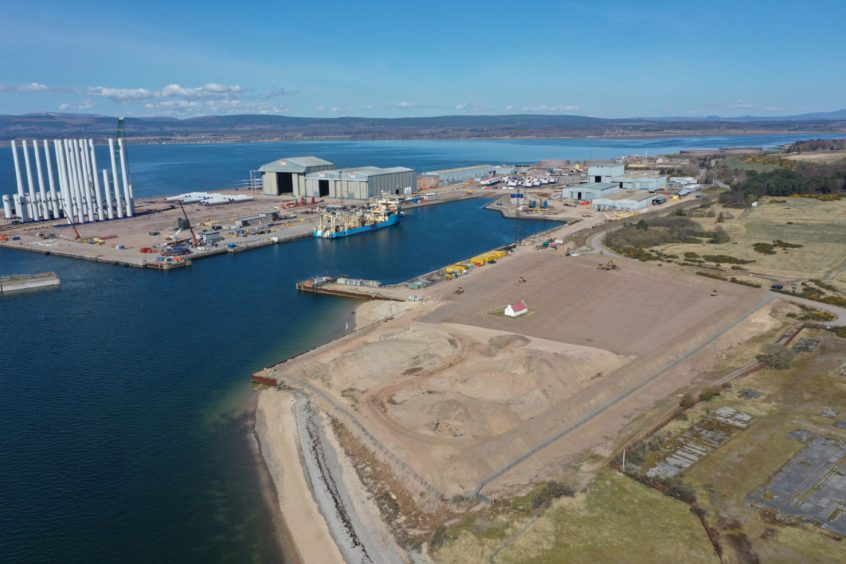 Global Energy Group is planning to develop a manufacturing cluster around the £100million fabrication plant it is proposing to build at its Port of Nigg facility on the shores of the Cromarty Firth.
Chairman Roy MacGregor said the company is aiming to build further factories at the site, to make related products, including electrical equipment and cabling, which would create "worthwhile", rather than "transient" jobs in the area.
Mr MacGregor added that plans for the new plant, which will manufacture steel towers, jackets and foundations and has been described as the "UK's largest offshore wind fabrication facility," were "just about there."
Global's intention to build the facility first emerged in October, with estimates that it would create up to 150 new jobs and more than 300 in the supply chain.
Mr MacGregor said: "On the back of that there are probably going to be some more developments and some more manufacturing at Nigg.
"At the moment Nigg is a staging and assembly port and now it's going to go into manufacturing. We will add other manufacturing things, like electrical equipment and cables.
"The new plant will be a centrepiece of a wider manufacturing cluster, of which we will sometimes just be the landowner and sometimes we will be participants."
The Global chairman also repeated his support for efforts to gain free port status for the Cromarty Firth, which would allow companies within the zone to manufacture, import and export goods without incurring tariffs.
He said: "We very much hope that we have the area of Nigg round to Inverness in a free port hub. It is really important because the free ports agenda is really creating jobs.
"We need to bring manufacturing back, because we've lost it in the Highlands. We have a huge talent here and we need to use it."
The proposed fabrication plant at Nigg will include a 376,000 cubic foot steel-rolling hall, capable of producing 90-100 towers a year. There will also be a blast and paint shop hand robotics will be used in fabrication processes.
Global has signed a memorandum of understanding (MoU) with energy giant Scottish Power to identify processes and plant that could be powered by green hydrogen.
A training facility for former workers from in the oil and gas industry is also planned at the site.
Global also gave an update on the multi-million pound project currently under way at the Port of Nigg to extend its quayside by more than 700ft and increase its laydown capacity.
The expansion involves almost 10 acres of land and the first phase of ground works, including the formation of a perimeter bund and preparation and rolling of a hard core surface, has now been completed by contractor, GF Job.
The main construction contractor fort the East Quay development, Farrans, is on site and rock from local quarries is being used to form a temporary causeway into the firth.
The developments are due to be completed by the summer of 2022.
Nigg currently has around 3,000ft of quayside, including its dry dock, which is the largest of its kind in Europe.
Inverness-based Global acquired the then virtually derelict former North Sea platform fabrication yard from US company KBR in 2011.
Recommended for you

Huge investment at Port of Cromarty Firth may swell to £330 million