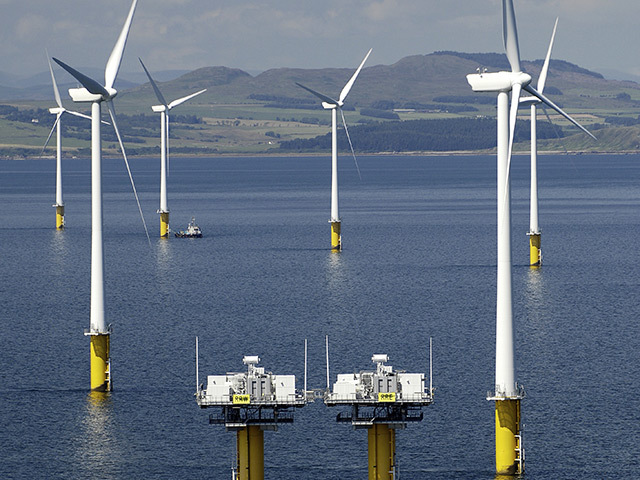 Magnora Offshore Wind has confirmed it has submitted applications to secure two plots of seabed off the coast of Scotland.
The company, a partnership between Magnora and TechnipFMC, gave an update on its ScotWind bid on Monday after the process closed to submissions last week.
Magnora Offshore Wind said it had been working closely with the local supply chain to ensure that concepts can be delivered with "sustainable solutions" that will benefit the local economy.
The application window for ScotWind slammed shut at 5pm on Friday after more than six months.
At the final whistle, there was an impressive roster of companies that had publicly declared plans to submit bids, including BP, Shell and Eni.
Crown Estate Scotland, which organises the process, will decide which companies have won offshore zones early next year, opening the door for them to build wind farms.
Investment in leases could be close to £10 billion, delivering additional supply chain and community benefits.
Scotland's renewable energy resources are "among the best in the world", Magnora Said.
Magnora Offshore Wind was formed earlier this year to realise "significant opportunities" in the growing offshore floating wind market.
Initially, TechnipFMC's involvement was undisclosed, with the energy services giant being described only as a one of the "most experienced companies" within the hydrogen, E&P and floating wind markets.
In addition to its ScotWind bid, Magnora Offshore Wind also intends to participate in the first offshore wind application round in Norway.
Torstein Sanness, executive chairman of Magnora, said: "In Magnora, you find some of the world's leading experts within wind development. Coupled with TechnipFMC's project management expertise and extensive service and technology portfolio, we believe we can provide a market-leading floating offshore wind offering."
Meanwhile, German renewables developer RWE also announced its involvement in ScotWind last week, shortly before the deadline closed.
As well as looking to expand its offshore wind portfolio, the company said it is committed to delivering new jobs and investment north of the border.
RWE already employs about 100 people in Scotland and has invested more than £180 million into local businesses.
Moreover, it has 480 megawatts (MW) of installed renewable energy capacity in the country, across onshore wind, offshore wind and hydro sites – its development pipeline is more than 350 MW.
RWE is also the operator of the country's first offshore wind farm, Robin Rigg, in the Solway Firth, which has been operational since 2010.
Tom Glover, RWE UK country chairman: "The ScotWind process is a critical step for Scottish Government delivering its ambitious target of 11 gigawatts of offshore wind by 2030.
"As a long standing partner and investor in the Scottish renewables industry, RWE is pleased to be able to support this through our participation.
"Our company is a highly experienced, innovative and globally-recognised player in the offshore wind sector, and anticipates that success in ScotWind would unlock significant opportunities to re-energise the local supply chain, while helping create important, high quality, long term employment.
"We look forward to continuing as a trusted partner to Scotland in the delivery of its offshore ambitions."
A full list of the publicly declared ScotWind hopefuls can be found here.
Recommended for you

Technip, Subsea 7, Samkang win FEED for SK's Gray Whale 3